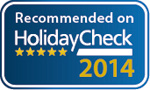 Hotel's awards
Discover the Hotel

The Hotel Riu Caribe (24h All Inclusive) is located in the hotel area of Cancun, Mexico, in a seafront location on a beach with turquoise water and fine sand.
This complex includes all the facilities you could need for a perfect stay. You will find two fresh water swimming pools, a diving pool, a solarium-terrace, a gym, sauna, steam bath, Jacuzzi and the "Renova Spa" wellness centre. 
Thanks to the All Inclusive system you can enjoy Mexican cuisine at its best. It includes a wide variety of recipes and is recognised for its distinctive and sophisticated flavours which incorporate many spices. It is a combination of gastronomic traditions, including Mesoamerican and European ones, as well as many others, which is why the buffet restaurant and the different themed restaurants of the hotel offer the best menus and made to order dishes.
From its beachfront location in Cancun, this complex offers you marvellous views and the perfect area for enjoying different activities and water sports. If you're travelling as a family, couple or with friends, you can enjoy the All Inclusive system with sports like table tennis, volleyball, cycling, golf, catamaran, snorkelling and much more. At night we invite you to watch the different shows, listen to live music and come dancing in the "Pacha" club. Your children can join the exclusive RiuLand entertainment programme where they can do crafts and activities with other children. 
If you want to discover inland Cancun you can go on excursions to see impressive places like the pyramids of Kukulkán in Chichen Itzá, the Turtle Conservation Centre of Isla Mujeres, the archaeological museum, the stage tower, Isla Holbox, the water park and many other sights that are not to be missed. The tourist area also has many shops, bars, restaurants, cafés, clubs and terraces where you'll find lively night-life and a good atmosphere. 
Exceptional views of Cancun beach, sun and a good Caribbean atmosphere, that's the Hotel Riu Caribe. Enjoy the best offers of Mexico and spend some relaxing time at the hotel.
Discover Mexico with these YouTube videos
Important Information
Currency exchange: due to new goverment legislation all Riu Hotels Resorts in Mexico will be unable to receive cash payments in US dollars. All payments are now required in Mexican pesos in order to be received in the resort.The new regulation also indicates that it won´t be possible to provide currency exchange services in USD within the resort anymore. This new regulation will not affect transactions in other currencies. ATM available in the hotel to withdraw Mexican Pesos
Spring Break Policies: at least one person of 21 years or older is required in every room during March & April. During the remainder of the year, at least one person 18 years or older is required in every room. The hotel reserves the right of admission and may request clients to show passport or official ID to prove age. Guests can and will be removed from the property at their own expense in case of any disturbance or complaint from other guests or hotel staff. Parties in rooms are not allowed. Spring break groups or unruly behavior is not allowed all year round at any property.
Highlights
All Inclusive 24 hours
On beachfront, free sun loungers on beach
Awarded GOLD certification for the Travelife Sustainability System
Buffet style and theme restaurants
Three swimming pools
"Renova Spa" with a variety of treatments
Free gym, steam bath and whirlpool bath
Other Offers of Hotel Riu Caribe
All Inclusive 24 hours
Hotel Riu Caribe
All Inclusive 24 hours
Double Room + All Inclusive From USD 122 Pers. / Night

Valid from 08/18/2015 to 10/26/2015

Included:*

Double Room + All Inclusive From USD 125 Pers. / Night

Valid from 05/01/2015 to 06/22/2015

Included:*

2 Kids Free
SPA discounts
Golf Discounts

Double Room + All Inclusive From USD 130 Pers. / Night

Valid from 04/06/2015 to 04/30/2015

Double Room + All Inclusive From USD 132 Pers. / Night

Valid from 10/27/2015 to 12/23/2015

Included:*

Double Room + All Inclusive From USD 146 Pers. / Night

Valid from 06/23/2015 to 08/17/2015

Included:*

Double Room + All Inclusive From USD 169 Pers. / Night

Valid from 01/21/2015 to 04/05/2015
Discover our destinations
Recommendations, photos and maps to help you choose