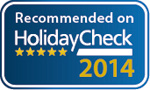 Hotel's awards
Discover the Hotel
The Hotel Riu Plaza Panama is located in the heart of the financial district of Panama City, very close to many banks, shops and shopping centres. 

The hotel rooms are spacious and include a sofa, desk, free wireless Internet , flat screen TV and fully equipped modern bathroom. From the upper floors you can enjoy spectacular views of the city. 
With a focus on business guests, the Hotel Riu Plaza Panama offers 23 conference rooms with room for up to 1300 people, as well as wireless Internet access available in all rooms. 
The hotel has a wide range of cuisine on offer: fusion dishes in Tastes Restaurant, as well as the Sushi Lounge, Arts Restaurant, Studio 50 and Ibiza Lounge (in the outdoor pool area). 
The luxurious complex offers its visitors excellent facilities, such as a gym, a fabulous spa with health and beauty treatments and an outdoor swimming pool with a Jacuzzi-hydro massage. 
In the vicinity of the hotel you can enjoy of all the cultural and leisure activities Panama City has to offer, with endless shops, restaurants and museums. 
Enjoy the best offers of Panama and spend some relaxing time at the hotel.
Discover Panama with these YouTube videos
Important Information
Spring Break Policies: at least one person of 21 years or older is required in every room during March & April. During the remainder of the year, at least one person 18 years or older is required in every room. The hotel reserves the right of admission and may request clients to show passport or official ID to prove age. Guests can and will be removed from the property at their own expense in case of any disturbance or complaint from other guests or hotel staff. Parties in rooms are not allowed. Spring break groups or unruly behavior is not allowed all year round at any property.
Highlights
Located in the heart of the banking and business district of Panama City
Close to entertainment and shopping centres
13 miles from Tocumen International Airport (PTY)
Conference centre
Several bars and restaurants
Room service 24 hours a day and Take Away 24 hours a day
Outdoor swimming pool
Spa & Wellness Centre, fully-equipped gym
Other Offers of Hotel Riu Plaza Panama
Accommodation + Breakfast From USD 119 Room / Night

Valid from 02/06/2015 to 03/29/2015 (From Friday to Sunday)

Accommodation + Breakfast From USD 125 Room / Night

Valid from 11/13/2015 to 12/13/2015 (From Friday to Sunday)

Accommodation + Breakfast From USD 125 Room / Night

Valid from 04/17/2015 to 10/31/2015 (From Friday to Sunday)

Accommodation + Breakfast From USD 125 Room / Night

Valid from 11/13/2015 to 12/13/2015 (From Friday to Sunday)

Accommodation + Breakfast From USD 129 Room / Night

Valid from 04/01/2015 to 04/05/2015

Accommodation + Breakfast From USD 135 Room / Night

Valid from 11/01/2015 to 11/10/2015
Discover our destinations
Recommendations, photos and maps to help you choose