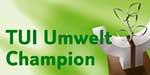 Hotel's awards
Discover the Hotel
The Hotel Riu Monica is located in Nerja, Malaga, with only the promenade separating it from Playa de la Torrecilla beach. It is a perfect location to enjoy Malaga in a calm atmosphere as a family, couple or with friends. 
This hotel is situated in a quiet area of Nerja, and thanks to this atmosphere you can regain strength and take the opportunity to enjoy relaxing holidays. It includes a fresh water swimming pool, solarium terrace, indoor pool and the Naturaclass health and beauty centre with a range of different treatments and massages. In the buffet restaurant you'll find a tasty and varied range of cuisine prepared by our chefs to satisfy every palate as you enjoy splendid sea views.  
When you're not using the facilities or sunbathing, we recommend you to try out the various activities and sports that you can do in the hotel or the surrounding area. The hotel includes a playground, table tennis, shows and live music. Near the complex, you will also have the opportunity to rent a bike or play golf on the Baviera course where you can practice your technique. 
The Costa del Sol is an excellent observation point for admiring the wonderful horizon of the Mediterranean Sea and taking the best pictures of the coast of andalusia. If you visit the village either on foot or enjoying a ride on a horse-drawn carriage, you'll see bars, restaurants, shops, terraces, viewpoints and squares that retain all their traditional Spanish and rustic features. Situated between the Almijara mountains and the Mediterranean Sea, and at close proximity to many of Andalusia's treasures, this is a unique place for discovering sights such as the caves of Nerja, the church of El Salvador, the famous Balcón de Europa, the bridge of Águila and Verano Azul park. 
Come and discover why the village of Nerja is such an inspirational place for artists, photographers and tourists who visit every year. 
Enjoy the best offers of Nerja and spend some relaxing time at the hotel.
Discover Nerja with these YouTube videos
Highlights
Separated from "Playa de la Torrecilla" beach only by beachfront promenade
Awarded GOLD certification for the Travelife Sustainability System
80 km from Malaga airport
Swimming pool and children's pool
Free gym
Health and beauty centre
Discover our destinations
Recommendations, photos and maps to help you choose