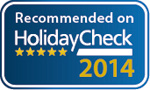 Hotel's awards
Discover the Hotel
The ClubHotel Riu Palm Azur (All Inclusive) is located in the south of the island of Djerba, Tunisia, in a beachfront location on one of the most spectacular beaches of the island. It is surrounded by a 35,000m2 palm grove that will bring you comfort and a relaxing atmosphere so you can enjoy your holidays in this oasis.
The ClubHotel includes all the facilities you could need to rejuvenate and have a well-deserved rest. It has two fresh water swimming pools, an indoor pool, a solarium terrace and a spa with a range of different treatments and massages. 
Tunisian cuisine is very rich and varied. It is influenced by the different peoples who occupied the country in the past, such as the Berbers, Andalusians, Persians, Turks and Egyptians, which is why its dishes and flavours are so unique and delicious. Thanks to the All Inclusive system you can sample the best recipes and dishes in the buffet restaurant and à la carte restaurants, where our chefs prepare a wide variety of menus each day to satisfy every palate.
Activities, sports, entertainment, shows and much more: everything you could need for fun-filled holidays as a family, couple or with friends. You will have the opportunity to enjoy table tennis, volleyball, darts, pétanque, shuffleboard, water gym, horse riding, cycling and special services for those who want to play golf. During the week you can attend dance lessons, learn Arabic or Tunisian cooking. Your children can join the exclusive entertainment programme where they can do crafts together with other children. At night we invite you to enjoy shows, have a drink as you listen to live music or dance all night long in the club. 
The island of Djerba, also known as "The Island of the hundred mosques" because of its many sanctuaries, is undoubtedly a place not to be missed. Dunes, palm trees and a pleasant Mediterranean breeze make this destination an oasis of rest and relaxation. If you want to go on excursions we recommend places like Houmt-Souk, Midoun, the village of Djerba, the different markets full of colours and aromas, the crocodile farm, the Explore Park of Djerba, Dar Dhiafa, and many other exotic places to visit. If you walk around the coast or the city you can also discover several bars, restaurants and shops, where you'll have a great time finding the best souvenir. 
Come and discover Tunisia where vast, beautiful beaches with crystal clear water offer the perfect setting for sunbathing or splashing around in the calm sea. 
Discover Tunisia with these YouTube videos
Highlights
All Inclusive
Located on the island of Djerba, directly on beachfront
30 km from Djerba airport
Restaurant and bars
2 freshwater swimming pools and children's pool
Spa with a variety of body treatments
Recreation and entertainment for children and adults
Discover our destinations
Recommendations, photos and maps to help you choose