Golf e Wellness in Golden Sands
Wellness & Spa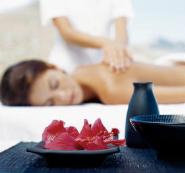 Spa Centre offers every day to our customers a wide choice of massages and beauty treatments and personal attention. It's time to take a vacation, get away from everyday stress and start enjoying every minute of your stay at the Hotel Riu Dolce Vita.
Renova Spa offers the following facilities:
Massage room
Cosmetic cabin
Whirlpool bath
Sauna
Steam bath
Among the wide range of treatments you can choose the one that best suits your needs:
Massages:
Full body massage
Foot reflexology
Anti-cellulite massage
Head & shoulder massage
Hot stone therapy
Lymphatic drainage
Soap massage
Hammam massage
Facial treatments:
Facial massage
Firming treatment
Sensitive skin care
Gold therapy
Wraps:
Fruit wrap
Algoplast anti-cellulite wrap

Chocolate therapy 

Bulgarian rose 
Baths:
Seaweed bath
Aromatherapy bath
Cleopatra bath
Other treatments:
Manicure, pedicure
Hair removal
Body exfoliation
Relax, enjoy and pamper yourself because this is all possible at the Hotel Riu Dolce Vita in Golden Sands.
Scoprite le nostre destinazioni
Raccomandazioni, foto e mappe per aiutarvi a scegliere