Golf e Wellness in Algarve
Golf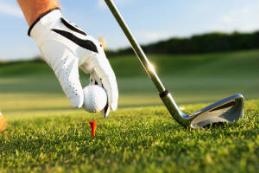 If you are passionate about golf, Riu Hotels & Resorts offers you several hotels that are located near some of the best golf courses in the world. We know that holidays is not only for golfing, but also to have the best stay. That is why you will find a pleasant atmosphere and the personalized service you deserve. So you can enjoy your favorite sport without losing sight of comfort and good service. Just choose your favorite destination and the area closest to our hotel and we will do all the rest.
Portugal, Algarve
Pine Cliffs Golf Club
T: +351 289 500 113  
F: +351 289 500 350  
golf.algarve@starwoodhotels.com  
www.pinecliffs.com
Vila Sol Golf Club
T: +351 289 300 505  
F: +351 316 499  
golfreservation@vilasol.pt  
www.vilasol.pt
Oceanico Golf Courses
T: +351 289 310 333  
F: +351 289 310 349  
bookings@oceanicogolf.com  
www.oceanicogolf.com
Wellness & Spa
Spa del Mar offers the best beauty treatments, massages for our customers to enjoy a relaxing day. It's time to take a vacation, get away from everyday stress and start enjoying every minute of your day at the ClubHotel Riu Guarana.
Spa del Mar
Treatment rooms
Gym
Whirlpool bath
Sauna
Steam bath*
*At Riu Palace Algarve
Among the wide range of treatments you can choose the one that best suits your needs:
Massages:
Full body massage
Relaxation massage
Therapeutic back massage
Sports massage
Foot reflexology
Lymphatic drainage
Ayurvedic massage
Shiatsu massage
Thai massage
Chocolate massage
Hot stone massage
Body treatments:
Paraffin bath
Anti-cellulite treatment
Facial treatments:
Facial masque
Special eye treatment
Bio-lifting with essences
Wraps:
Seaweed wrap
Therapeutic fango wrap
Other treatments:
Manicure, pedicure
Hair removal
Body exfoliation
Relax, enjoy and pamper yourself because this is all possible at the ClubHotel Riu Guarana in Algarve.
Scoprite le nostre destinazioni
Raccomandazioni, foto e mappe per aiutarvi a scegliere