HOTELES PARA REUNIONES, EVENTOS Y CONFERENCIAS
No solo es posible disfrutar de unas magníficas vacaciones en RIU, es también el lugar perfecto para reuniones y eventos. Por lo que muchos de nuestros hoteles y resorts ofrecen modernas salas de conferencias totalmente equipadas. Además, el entorno confortable de los hoteles proporciona un ambiente agradable en el que celebrar cualquier evento que organizes. ¿Por qué reunir a tus huéspedes en una ciudad gris? cuando puedes hacerlo en un destino soleado como Gran Canaria, Bulgaria, México o Jamaica entre otros muchos destinos turísticos.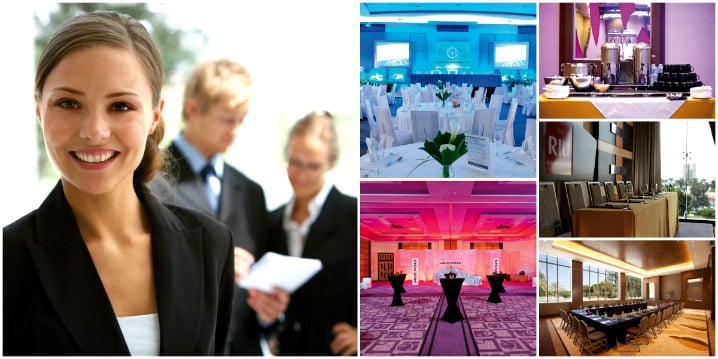 UNA NUEVA DIMENSIÓN PARA TUS REUNIONES
Con amplios espacios adaptables, algunos incluso diáfanos y con luz natural, Riu Hotels cuenta con salones para organizar reuniones, eventos, conferencias y convenciones. Algunos de esos salones tienen capacidad para más de 500 personas y están totalmente equipados tecnológicamente. Hemos acogido a varias empresa nacionales y internacionales los últimos años con gran éxito: convenciones, presentación de productos o de vehículos, congresos, cursos de formación, ruedas de prensa, rodajes, reuniones de empresa, catas o degustaciones o viajes de incentivo y por esa razón nos resulta tan importante que nuestros profesionales estén atentos a tus necesidades.
Si quieres solicitar información sobre cómo reservar salas de reuniones en nuestros hoteles o hoteles para bodas puedes acceder a nuestra web de grupos, donde encontrarás toda la información y ofertas de cada uno de los resorts que ofrecen este servicio. Dale una nueva cara a tus negocios ¡Tus grupos y reuniones jamás volverán a ser lo mismo con RIU Hotels & Resorts!
Germania · Berlín

Prossimamente
ENJOY ALL THE RIU CLASS ADVANTAGES
With the Riu Class program you will receive a member card that identifies you as a valued guest in our hotels. You can enjoy multiple benefits booking through our website.
Register by filling the online registration form.