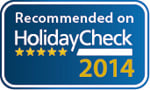 Hotel awards
Gerenoveerd in de zomer 2014.
Hotel Riu Caribe (24u All Inclusive) bevindt zich in de hotelzone van Cancun, Mexico, pal aan de kust met een strand van fijn zand en turquoise water.
Dit complex beschikt over alle faciliteiten die u nodig hebt voor een perfect verblijf. U vindt er twee zwembaden, een duikzwembad, een zonneterras, een fitnessruimte, stoombad, jacuzzi en het wellnesscenter 'Renova Spa'.
Dankzij het All Inclusive-systeem kunt u genieten van de Mexicaanse keuken op haar best. Deze bestaat uit een grote variëteit aan recepten en is gerenommeerd vanwege haar typerende en subtiele smaken, die ontleend worden aan tal van specerijen. Het is een combinatie van gastronomische tradities, waaronder Meso-Amerikaanse, Europese, en vele andere. Het buffetrestaurant en de verschillende themarestaurants bieden daarom de beste menu's en à la carte-gerechten.
Vanaf zijn fraaie locatie aan het strand in Cancún, biedt dit complex u spectaculaire uitzichten. Bovendien is dit de perfecte plek voor het beoefenen van allerlei activiteiten en watersporten. Of u nu met uw gezin, partner of een groep vrienden reist, u kunt altijd gebruik maken van het All Inclusive-systeem. Ga tafeltennissen, volleyballen, fietsen, golfen, windsurfen, catamaranzeilen, snorkelen of waar u maar zin in hebt. Er zijn mogelijkheden te over. 's Nachts bent u van harte welkom om de verschillende shows bij te wonen, naar livemuziek te luisteren en te dansen in de club 'Pacha'. Uw kinderen kunnen meedoen aan het exclusieve Riu Land-animatieprogramma. Hier kunnen ze samen met andere kinderen naar hartenlust spelen en knutselen.
Trek ook eens het binnenland van Cancún in en ontdek indrukwekkende plaatsen als de piramiden van Kukulkán in Chichen Itzá, het schildpaddenreservaat op Isla Mujeres, het archeologisch museum, de stage tower, Isla Holbox, het waterpark en tal van andere bezienswaardigheden die u niet mag missen. De toeristenzone beschikt daarnaast over vele winkels, bars, restaurants, cafés, clubs en terrassen die garant staan voor een bruisend uitgaansleven en een gezellige sfeer.
Adembenemende uitzichten over het strand van Cancún, zon en een gezellige Caraïbische sfeer, dat is waar het bij Hotel Riu Caribe om draait.
Currency exchange
Important Information, due to new goverment legislation all Riu Hotels Resorts in Mexico will be unable to receive cash payments in US dollars. All payments are now required in Mexican pesos in order to be received in the resort.The new regulation also indicates that it won´t be possible to provide currency exchange services in USD within the resort anymore, however this won´t affect the usage of USD through Traveler Checks nor Credit Card Payments. This new regulation will not affect transactions in other currencies. ATM available in the hotel to withdraw Mexican Pesos
Spring Break Policies
At least one person of 21 years or older is required in every room during March & April. During the remainder of the year, at least one person 18 years or older is required in every room. The hotel reserves the right of admission and may request clients to show passport or official ID to prove age. Guests can and will be removed from the property at their own expense in case of any disturbance or complaint from other guests or hotel staff. Parties in rooms are not allowed. Spring break groups or unruly behavior is not allowed all year round at any property.
Hoogtepunten
Geheel gerenoveerd in lente/zomer 2014. Heropening augustus 2014
24 u all inclusive
Pal aan het strand
Toekenning van het GOLD Award van Travelife Sustainability System
Hoofdrestaurant en themarestaurants
3 Zoetwaterzwembaden en infinity zwembad
'Renova Spa'
Fitnessruimte en jacuzzi, gratis
Andere aanbiedingen van Hotel Riu Cancun
All Inclusive 24 hours
Hotel Riu Cancun
All Inclusive 24 hours
Double Room + All Inclusive USD126 Persoon / Nacht

Geldig van 11/01/2014 tot 12/23/2014

Inbegrepen:*

Double Room + All Inclusive USD130 Persoon / Nacht

Geldig van 04/06/2015 tot 04/30/2015

Double Room + All Inclusive USD136 Persoon / Nacht

Geldig van 05/01/2015 tot 06/22/2015

Double Room + All Inclusive USD157 Persoon / Nacht

Geldig van 01/02/2015 tot 01/20/2015

Double Room + All Inclusive USD176 Persoon / Nacht

Geldig van 01/21/2015 tot 04/05/2015

Double Room + All Inclusive USD199 Persoon / Nacht

Geldig van 12/28/2014 tot 01/01/2015

Double Room + All Inclusive USD199 Persoon / Nacht

Geldig van 12/24/2014 tot 12/27/2014
Ontdek onze bestemmingen
Aanbevelingen, foto's en kaarten te helpen kiezen