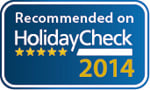 Hotel awards
Hotel Riu Caribe (All Inclusive 24h), dat direct aan het strand van Cancun ligt, is ideaal om van een onvergetelijke vakantie te genieten samen met de uwen, dankzij het comfort dat het "All Inclusive"-systeem biedt en daarnaast is er een groot aanbod recreatie in de omgeving.
Cancun bevindt zich in de staat Quintana Roo, het noordwestelijke punt van het schiereiland Yucatan. In de jaren 70 verandert het, na de bouw van de eerste hotels, in een exclusieve toeristische bestemming. Cancun is verdeelt in twee geheel verschillende streken: de hotelstreek, is een apart eiland dat de noord- en de zuidkant verbindt door twee bruggen. In het centrale deel is er een lagune genaamd Nichupté. De tweede streek is het centrum van de moderne stad Cancun, met haar winkels, restaurants en spektakels. Een bestemming om volop van uw vakantie te genieten.
Currency exchange
Important Information, due to new goverment legislation all Riu Hotels Resorts in Mexico will be unable to receive cash payments in US dollars. All payments are now required in Mexican pesos in order to be received in the resort.The new regulation also indicates that it won´t be possible to provide currency exchange services in USD within the resort anymore. This new regulation will not affect transactions in other currencies. ATM available in the hotel to withdraw Mexican Pesos
Spring Break Policies
At least one person of 21 years or older is required in every room during March & April. During the remainder of the year, at least one person 18 years or older is required in every room. The hotel reserves the right of admission and may request clients to show passport or official ID to prove age. Guests can and will be removed from the property at their own expense in case of any disturbance or complaint from other guests or hotel staff. Parties in rooms are not allowed. Spring break groups or unruly behavior is not allowed all year round at any property.
Hoogtepunten
24 u all inclusive
Pal aan het strand
Toekenning van het GOLD Award van Travelife Sustainability System
Hoofdrestaurant en themarestaurants
3 Zoetwaterzwembaden
'Renova Spa'
Fitnessruimte, stoombad en jacuzzi, gratis
Andere aanbiedingen van Hotel Riu Caribe
All Inclusive 24 hours
Hotel Riu Caribe
All Inclusive 24 hours
Double Room + All Inclusive USD 122 Persoon / Nacht

Geldig van 08/18/2015 tot 10/26/2015

Inbegrepen:*

Double Room + All Inclusive USD 125 Persoon / Nacht

Geldig van 05/01/2015 tot 06/22/2015

Inbegrepen:*

2 Kids Free
SPA discounts
Golf Discounts

Double Room + All Inclusive USD 130 Persoon / Nacht

Geldig van 04/06/2015 tot 04/30/2015

Double Room + All Inclusive USD 132 Persoon / Nacht

Geldig van 10/27/2015 tot 12/23/2015

Inbegrepen:*

Double Room + All Inclusive USD 146 Persoon / Nacht

Geldig van 06/23/2015 tot 08/17/2015

Inbegrepen:*

Double Room + All Inclusive USD 169 Persoon / Nacht

Geldig van 01/21/2015 tot 04/05/2015
Ontdek onze bestemmingen
Aanbevelingen, foto's en kaarten te helpen kiezen