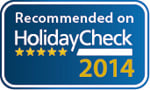 Hotel awards
In het Mexicaanse Cabo San Lucas vinden we Hotel Riu Palace Cabo San Lucas (24u All Inclusive). Het hotel ligt te midden van schitterende tuinen met prachtige uitzichten op het strand en biedt zijn gasten luxe services aan tijdens hun verblijf.
Dit Palace, dat een ontspannen sfeer ademt, biedt de beste mogelijkheid voor een verkwikkende vakantie en om even weg te zijn uit de drukke stad. In het hotel vindt u twee zwembaden, een jacuzzi, een zonneterras, een fitnessruimte en een sauna. Of geniet van het ruime aanbod aan behandelingen en massages in het wellnesscenter 'Renova Spa'.
Dankzij het All Inclusive-systeem kunt u genieten van de Mexicaanse keuken op haar best. Deze bestaat uit een grote variëteit aan recepten en is gerenommeerd vanwege haar typerende en subtiele smaken, die ontleend worden aan tal van specerijen. Het is een combinatie van gastronomische tradities, waaronder Meso-Amerikaanse, Europese, en vele andere. Het buffetrestaurant en de verschillende themarestaurants bieden daarom de beste menu's en à la carte-gerechten.
Tevens worden er talloze activiteiten en sporten aangeboden om tijdens uw verblijf gebruik van te maken. U kunt er gaan duiken, volleyballen, fitnessen, windsurfen, catamaranzeilen, kajakken, bodyboarden, golfen of diverse watersporten op het strand beoefenen. 's Avonds mag u de diverse shows en livemuziek die ons animatieteam voor u heeft verzorgd, niet missen. Wilt u gaan dansen, ga dan eens naar de club 'Pacha', waar onze DJ's de beste ritmes laten klinken. Uw kinderen kunnen meedoen aan het exclusieve Riu Land-animatieprogramma. Hier kunnen ze samen met andere kinderen naar hartenlust spelen en knutselen.
In het zuiden van het schiereiland Baja California vindt u Los Cabos, een van de meest schitterende en exclusieve bestemmingen in Mexico. Het is een adembenemend mooie plaats met talloze attracties. Op weinig andere plekken ter wereld vindt u zo'n spectaculaire natuur. Ga op excursie en sla daarbij de volgende bezienswaardigheden niet over: San José del Cabo, het moerasreservaat van San José del Cabo, het Nationaal Zeepark van Cabo Pulmo en de spectaculaire stranden van Playa El Médano en Playa El Arco. Of ga eens blauwe vinvissen spotten.
Bewaar unieke herinneringen aan deze schitterende locatie en zorg dat u genoeg batterijen bij u hebt voor uw camera. Er staat u een groot spektakel te wachten.
Currency exchange
Important Information, due to new goverment legislation all Riu Hotels Resorts in Mexico will be unable to receive cash payments in US dollars. All payments are now required in Mexican pesos in order to be received in the resort.The new regulation also indicates that it won´t be possible to provide currency exchange services in USD within the resort anymore. This new regulation will not affect transactions in other currencies. ATM available in the hotel to withdraw Mexican Pesos
Spring Break Policies
At least one person of 21 years or older is required in every room during March & April. During the remainder of the year, at least one person 18 years or older is required in every room. The hotel reserves the right of admission and may request clients to show passport or official ID to prove age. Guests can and will be removed from the property at their own expense in case of any disturbance or complaint from other guests or hotel staff. Parties in rooms are not allowed. Spring break groups or unruly behavior is not allowed all year round at any property.
Hoogtepunten
24u all inclusive
Gratis WiFi in de lobby en in de kamers
Pal aan het strand
Toekenning van het GOLD Award van Travelife Sustainability System
Hoofdrestaurant en themarestaurants
Roomservice 24 uur per dag
2 Zoetwaterzwembaden met jacuzzi
'Renova Spa'
Andere aanbiedingen van Hotel Riu Palace Cabo San Lucas
All Inclusive 24 hours
Hotel Riu Palace Cabo San Lucas
All Inclusive 24 hours
Jr. Suite + All Inclusive USD 140 Persoon / Nacht

Geldig van 08/18/2015 tot 10/26/2015

Inbegrepen:*

Jr. Suite + All Inclusive USD 148 Persoon / Nacht

Geldig van 10/27/2015 tot 12/23/2015

Inbegrepen:*

Jr. Suite + All Inclusive USD 151 Persoon / Nacht

Geldig van 05/01/2015 tot 06/22/2015

Inbegrepen:*

Jr. Suite + All Inclusive USD 158 Persoon / Nacht

Geldig van 04/06/2015 tot 04/30/2015

Inbegrepen:*

Jr. Suite + All Inclusive USD 160 Persoon / Nacht

Geldig van 06/23/2015 tot 08/17/2015

Jr. Suite + All Inclusive USD 209 Persoon / Nacht

Geldig van 01/21/2015 tot 04/05/2015

Inbegrepen:*
Ontdek onze bestemmingen
Aanbevelingen, foto's en kaarten te helpen kiezen