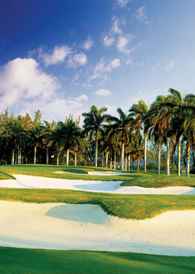 Golf course description
Great undulating greens, demanding holes, challenging drives and breathtaking vistas - these are all part of the award-winning, par 72 championship course designed by renowned course architect Robert Trent Jones, Sr. Half Moon's expert caddies enhance your game with well-practiced tips that can take strokes off your game.
Half Moon's course has been welcoming golfers of all levels for over 40 years. Named the Best Caribbean Golf Resort by Caribbean World Magazine and 2009 Golf Resort of the Year (Rest of World) by the International Association of Golf Tour Operators, the Half Moon Golf Course now boasts improved features for both the avid and casual golfer.

Renovated by renowned golf course architect Roger Rulewich in 2004/05, the course features newly-aligned, multiple tee complexes as well as repositioned fairway and greenside bunkers. Rulewich was mindful to maintain the course's integrity of respecting the natural flow of the land while modernizing the course to account for improvements made to golf equipment over the years.
Address: Half Moon PO, Rose Hall, St. James, Jamaica
Geographic coordinate:On the North Coast
Quick guide or directions: Opposite the Half Moon Hotel
Distance from RIU's nearest hotel: approx. 10 mins.
Designer name: Robert Trent Jones, Sr.
Number of holes:18 holes
Practice facilities: Driving Range
Par:72
Handicap: Not necessary
Golf lessons: Available
Golf course type: walking
Golf course length: Over 7,000 yards
Equipment rental: Yes
Office hours: 7.00 am to 7.00 pm.