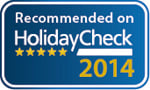 Hotel's awards
Renovated in summer 2014.

Discover the Hotel
The Hotel Riu Cancun (All Inclusive 24 hours) is situated in the heart of one of Cancun's most popular areas for tourists, in a prime location on a white sandy beach with turquoise water. 
If you're looking for a few days to pamper your body, we strongly recommend our Renova Spa with a wide range of treatments, as well as a gym and Jacuzzi. Or simply regain your strength on holiday by sunbathing at any of our three fresh water swimming pools. 
The hotel's culinary options include a buffet restaurant with a wide variety of dishes, as well as themed restaurants which will satisfy your palate with the best international cuisine.
The 24h All Inclusive system at the Hotel Riu Cancun means you'll never get bored, as it offers a long list of activities to enjoy every day with your family, friends or as a couple. We provide a tennis court and entertainment for all ages, including the RiuLand programme for the little ones and entertainment options day and night for the adults. You can watch shows, listen to live music, enjoy water sports, and dance to excellent music in the "Pacha" club at night. 
Cancun's surroundings offer stunning natural spaces and heavenly beaches. You must not miss the most popular tours of Cancun, "Chichén Itzá" (the fantastic Mayan ruins) or Isla Mujeres where you can witness the protection and reproduction of turtles. You can also visit the various museums showcasing the history of the region or climb up the scenic tower to enjoy unbeatable colourful views of the city. And this is just the beginning, as Cancun has a whole host of other activities to guarantee you unforgettable holidays. 
This all comes together to make Cancun an unbeatable destination. Enjoy the best offers of Mexico and spend some relaxing time at the hotel.
Discover Mexico with these YouTube videos
Important Information
Currency exchange: due to new goverment legislation all Riu Hotels Resorts in Mexico will be unable to receive cash payments in US dollars. All payments are now required in Mexican pesos in order to be received in the resort.The new regulation also indicates that it won´t be possible to provide currency exchange services in USD within the resort anymore. This new regulation will not affect transactions in other currencies. ATM available in the hotel to withdraw Mexican Pesos
Spring Break Policies: at least one person of 21 years or older is required in every room during March & April. During the remainder of the year, at least one person 18 years or older is required in every room. The hotel reserves the right of admission and may request clients to show passport or official ID to prove age. Guests can and will be removed from the property at their own expense in case of any disturbance or complaint from other guests or hotel staff. Parties in rooms are not allowed. Spring break groups or unruly behavior is not allowed all year round at any property.
Highlights
Completely renovated in spring / summer 2014
All Inclusive 24 hours
Awarded with the "AAA Three Diamond Award", 2014
Awarded GOLD certification for the Travelife Sustainability System
On beachfront
Free WiFi in public areas of the hotel
Buffet style and theme restaurants
Three swimming pools and infinity pool
Free gym and whirlpool bath
Other Offers of Hotel Riu Cancun
All Inclusive 24 hours
Hotel Riu Cancun
All Inclusive 24 hours
Double Room + All Inclusive From USD 127 Pers. / Night

Valid from 08/18/2015 to 10/26/2015

Included:*

Double Room + All Inclusive From USD 136 Pers. / Night

Valid from 05/01/2015 to 06/22/2015

Included:*

Double Room + All Inclusive From USD 137 Pers. / Night

Valid from 04/06/2015 to 04/30/2015

Double Room + All Inclusive From USD 137 Pers. / Night

Valid from 10/27/2015 to 12/23/2015

Included:*

Double Room + All Inclusive From USD 150 Pers. / Night

Valid from 06/23/2015 to 08/17/2015

Included:*

Double Room + All Inclusive From USD 176 Pers. / Night

Valid from 01/21/2015 to 04/05/2015

Included:*
Discover our destinations
Recommendations, photos and maps to help you choose