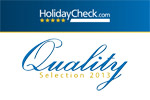 Hotel's awards
Discover the Hotel
The Hotel Riu Olot is located in Olot-Girona, surrounded by mountains, sensational valleys and panoramic views. Just 5 minutes from the national park of the volcanic region of Garrotxa and only 3 minutes from the city centre, this hotel is the ideal place for enjoying nature and calmness, not forgetting the hotel's excellent quality and service. 

The hotel offers spacious and pleasant roomswith unique views. In our restaurant, you'll sample a wide variety dishes on offer at the breakfast buffet as warm sunlight shines into the room. If you'd like to try typical dishes from the region and the best menus we strongly recommend you to discover the delicious restaurants of Olot, not to mention the wide variety of tastes awaiting you in the bakeries. 
Olot's surrounding area invites you to enjoy hill walking, cycling and horse riding. You'll also discover the best areas for nature such as the volcanic park of Garrotxa, wooded craters, isolated valleys, colourful villages, castles and medieval churches. During the winter, you'll have the opportunity to ski, as the Hotel Riu Olot is just an hour away from the famous Pyrenees, where La Molina and Vall de Núria are just some of the outstanding resorts on offer. For those with no fear of heights there are also balloon rides, which allow for splendid photo opportunities from the sky. 
Charge your camera to make sure you can look back on your wonderful holiday at the Hotel Riu Olot. 
Enjoy the best offers of Olot and spend some relaxing time at the hotel.
Discover La Garrotxa with these YouTube videos
Highlights
5 minutes from the volcanic region of Garrotxa and 3 minutes from the centre of town
1.5 hours from Barcelona
50 km from Gerona airport
Bar with terrace
Private garden with sun terrace and sun loungers
Garage
Discover our destinations
Recommendations, photos and maps to help you choose