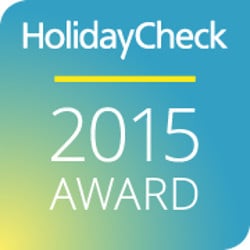 Hotel's awards
Discover the Hotel
The Hotel Riu Palace Oceana Hammamet is located in the city of Hammamet, Tunisia, and is noted  for its Arabic style construction. In a seafront location surrounded by gardens of eucalyptus and palm trees this hotel offers all the luxury you could need to guarantee unforgettable holidays. 
Hammamet is famous for several reasons, but mainly because of its long promenade which many tourists flock to each year in search of a unique experience and to escape from the hustle and bustle of the city. At the Palace you will find all the facilities you could need for a relaxing holiday, including a fresh water swimming pool, a solarium terrace, hammam, gym, indoor pool and the "Oceana" wellness centre with balneotherapy, a sauna and massages. 
Tunisian cuisine is very rich and varied. It is influenced by the different peoples who occupied the country in the past, such as the Berbers, Andalusians, Persians, Turks and Egyptians, which is why its dishes and flavours are so unique and delicious. You can sample the best recipes and dishes in the buffet restaurant and à la carte restaurants, where our chefs prepare a wide variety of menus each day to satisfy every palate. 
If you're here to have fun, you'll find many activities to choose from, such as tennis, horse riding and water sports at the beach. For golf lovers, we offer a service that includes a free transport, special promotions and the possibility to book outings on the course at reception. At night we invite you to watch shows or to enjoy a cocktail as you listen to live music or have a stroll on the beach. 
At the gateway to the Cap Bon peninsula you will find the pleasant promenade that combines quality tourism with Arabic charm. Beside beautiful beaches where you can enjoy many activities, stands the old quarter that is reminiscent of times when tourism was not so prominent in the area. Hammamet is also an excellent base for discovering the marvellous surroundings: thousand-year-old cities, picture-postcard villages and impressive remains. 
Not only does Tunisia offer sun and beaches, this marvellous destination harbours many splendid sights including traditional villages, rich culture and spectacular mountainous landscapes. If you decide to visit the inland parts and go on some excursions, we recommend places like Sidi bou Said, Cartago, Cap Bon, the Flipper water park, daily markets in the vicinity and beaches like Madhia, Monastir, Sfax, Melloula, as well as archaeological sites, museums and walls. 
Sun, beaches, luxury and high quality service, all combine so you can enjoy sensational holidays in Tunisia.
Enjoy the best offers of Tunisia and spend some relaxing time at the hotel.
Discover Tunisia with these YouTube videos
Highlights
Recommended for ADULTS, although there may be children staying at the hotel in July and August
Situated on beach
60 / 95 km from Tunis / Monastir airports, 38 km from Enfidha airport
Buffet style and theme restaurants
Swimming pool and sun terrace
"Oceana" Wellness Centre
Indoor swimming pool
Discover our destinations
Recommendations, photos and maps to help you choose