Overlooking the Meloneras Coast in Maspalomas, the Hotel Riu Gran Canaria offers All-Inclusive 24 hour a day service next to the dunes of Maspalomas, an ideal hotel which offers guests a host of amenities. This RIU hotel is among the best hotels on Gran Canaria thanks to its incredible facilities and Riu Hotels & Resorts' characteristic exclusive service.
The Hotel Riu Gran Canaria is the ideal hotel for a trip with your family or your friends. Its more than 600 rooms are perfectly equipped to satisfy the different needs of all guests. During your stay you can enjoy a vast array of amenities, such as satellite TV, air conditioning, a minibar and a balcony or terrace from which to observe the beautiful area surrounding our hotel in Gran Canaria.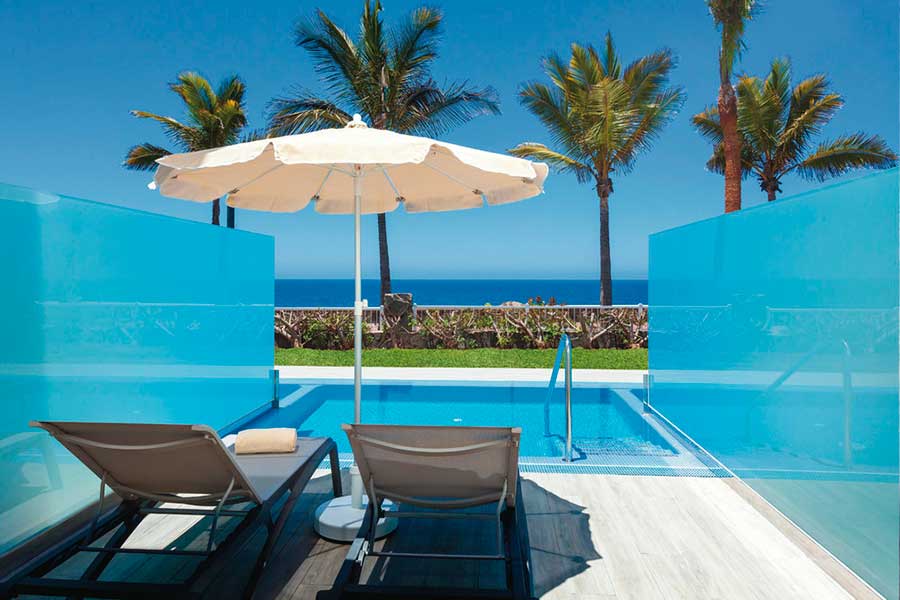 Swim-up Suites with private pool
Plus, if you stay in one of our exclusive Swim-up Suites - Adults Only, you'll experience luxury accommodations with the best RIU services. In these rooms, you'll enjoy a private pool on the terrace with lounge chairs and a sunshade, a minibar with alcoholic beverages, an ice maker and Palace amenities.
The Hotel Riu Gran Canaria's facilities are large enough to accommodate 3 adult pools, 1 of which is an infinity pool and 2 pools for children, so that the whole family can cool off and enjoy the warm climate of the Canary Islands. For athletes, we have a gym and a wide variety of sports you can enjoy close to our facilities, while those who wish to relax can visit our wellness center and experience the best treatments so you return from your vacation fully refreshed.
The culinary options at the Hotel Riu Gran Canaria stand out for their variety and blend of flavors and aromas. At the Las Dunas and El Patio restaurants you will find the best buffets with show cooking stations, offering you an authentic culinary experience. In addition, in our all-inclusive hotel in Maspalomas you will be able to savor exquisite Asian dishes at our restaurant Kaori and the best grill in the pool area, where you will also find bars to enjoy great appetizers and beverages.
Entertainment at our hotel in Gran Canaria is guaranteed, thanks to the program we have prepared for the entire family. You can enjoy a wide variety of activities, from live shows to the best nightlife at the nightclub and the RiuArt creative workshop where you can let your more artistic side shine. In addition, children will be able to enjoy various games and contests at the RiuLand kids' club and adolescents with Riu4U, an activities program designed especially for them.
On Gran Canaria you will discover an endless number of enchanting spots like the dunes of Maspalomas, Amadores Beach, the volcanic Roque Nublo landmark, the historic village of Agüimes and the Biosphere Reserve where you can get in touch with nature. Come discover one of RIU Hotels & Resorts' most sought after destinations!
For more information, you can consult our Gran Canaria travel guide and discover the best deals the Hotel Riu Gran Canaria has to offer.