NEW CLUBHOTEL RIU HELIOS PARADISE IN SUNNY BEACH, BULGARIA
The ClubHotel Riu Helios Paradise is opening again after a major refurbishment. The located on the seafront at Sunny Beach, is right on one of the liveliest beaches along Bulgaria's Black Sea coast. There are so many thing to do here it is hard to know where to begin. Beautiful beaches, exciting moments, dozens of bars, nightclubs, restaurants and casinos... come and see Sunny Beach for yourself.
SUNNY BEACH, ONE OF THE MOST LIVELY BEACHES OF THE BLACK SEA IN BULGARIA
Sunny Beach is a great city that has become one of the most popular tourist destinations in Bulgaria. In addition to a long, wide beach where you can enjoy the calm waters of the Black Sea there are multiple sports and activities, a beautiful natural environment and all the cultural activities on offer in the area as well as a lively nightlife. All this makes it the perfect place for all types of holiday. Leave your daily stress behind, come visit the fabulous Black Sea coast at ClubHotel Riu Helios Paradise.
Its services and facilities include a freshwater pool with Jacuzzi, a children's pool and an indoor pool. They all have free hammocks and towels. There is also a free gym and (paid) spa, sauna, hairdresser and beauty and massage salons.
This exclusive All Inclusive service lets you enjoy the main restaurant which offers a buffet with hot and cold meals, prepared at that moment and with fresh ingredients. Or you can book a table at one of the theme restaurants choosing from Italian, Asian and Bulgarian cuisines for dinner. At the ClubHotel Riu, families, friends and couples have entertaining programmes for both adults and children. In addition to games and sports, RiuFit activities offering exercise classes and RiuArt study enhancing participants' sense of creativity are available. And at night, you can enjoy live music and entertainment without leaving the accommodation facilities.
Germany · Berlín

Opening on September 19, 2015
USA · Miami Beach

USA · New York

Inauguration in Winter 2015/16
ENJOY ALL THE RIU CLASS ADVANTAGES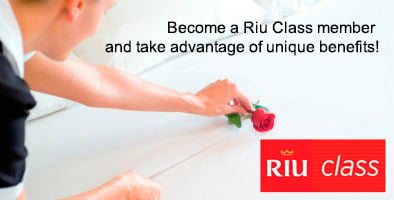 With the Riu Class program you will receive a member card that identifies you as a valued guest in our hotels. You can enjoy multiple benefits booking through our website.
Register by filling the online registration form.