HOTELS FOR WEDDINGS: I DO!
Why not get married at one of our resorts? Just choose the kind of ceremony you want and we will look after everything, so you only have to think about saying "I do."
CELEBRATE YOUR BIG MOMENT BY THE SEA; A DREAM DAY
If you have always dreamed about getting married by the sea and celebrating this day with your family and friends, Riu Hotels offers you the best professionals to organize your wedding. Enjoy your special day under the sun at the finest Caribbean destinations or surrounded by the lush vegetation of our gardens.
Our wedding packages include the possibility of requesting services such as aperitifs for the couple, spa treatments, evening meals at one of our restaurants, music, views over the sea and accommodation for all your guests at one of our luxury hotels.
To make this dream come true, we have created a website where you can easily organize each and every detail to create your wedding.
1. Choose the ceremony you want: Civil, Symbolic or Renewal of Vows.
2. Choose one of the different Wedding Packages available at each destination.
3. Send us your details and we will get back to you as soon as possible.
For more information, visit our wedding website. You can also contact us by phone on +52 998 848 7796 or by sending an email to our weddings department: weddings@riu.com

ENJOY ALL THE RIU CLASS ADVANTAGES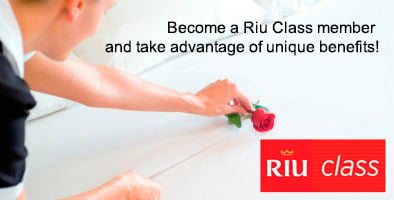 With the Riu Class program you will receive a member card that identifies you as a valued guest in our hotels. You can enjoy multiple benefits booking through our website.
Register by filling the online registration form.