A UNIQUE AND FUN ENTERTAINMENT PROGRAM
Smiles, enthusiasm and commitment are the key attributes of the RIU's entertainment team. Entertainment professionals always give the best they have to offer to guarantee a full program of activities for those enjoying our hotels.
ENTERTAINMENT FOR ALL AGES
Sports, shows, children's games and entertainment for adults... all designed and flawlessly planned to keep guests happy all day long so that they can devote their time purely to having fun and being pampered. The entertainment and well-being of our guests have become the primary objectives for those who work from first thing in the morning to ensure guests have an unforgettable stay. Our guests know how to thank us for this by spending their holidays with us year after year.
Taking part in water activities and team sports to keep fit, trying out new cultural and leisure hobbies or enjoying night time shows are the best ways to experience an unparalleled vacation. Our leisure program is therefore the perfect complement to those hours of relaxation offered by RIU Hotels.
COME AND HAVE FUN IN THESE HOTELS
ENJOY ALL THE RIU CLASS ADVANTAGES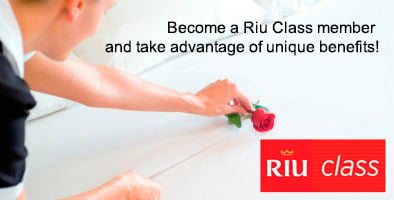 With the Riu Class program you will receive a member card that identifies you as a valued guest in our hotels. You can enjoy multiple benefits booking through our website.
Register by filling the online registration form.