Riu Palace Zanzibar reopens after refurbishment
RIU Hotels & Resorts presents the newly refurbished hotel Riu Palace Zanzibar, located in the far north of Unguja, the main island of the Zanzibar archipelago, and less than one hour from the airport and the capital, Zanzibar City. It was the first hotel that RIU acquired in this destination where, as its CEO Luis Riu explains, the company is committed to strengthening its presence: "Zanzibar is a very attractive destination to our customers, so we are making a major investment there and we are committed to expanding our presence. As well as renovating, we have increased the capacity of this hotel, which is located right next to the newly acquired La Gemma dell'Est, whose refurbishment is scheduled to start in the next few months."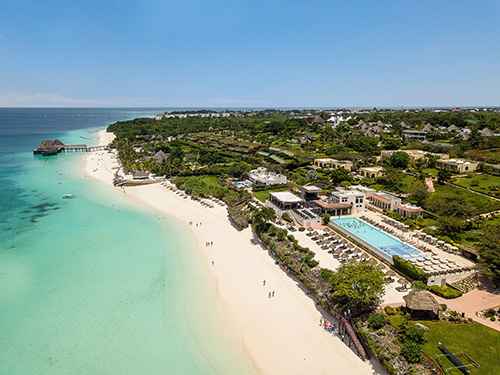 RIU bought Riu Palace Zanzibar last year and this renovation has brought it up to the brand's standards. The hotel chain committed to a complete overhaul of the hotel, including a 100-room extension. The hotel will now have 200 perfectly equipped rooms, designed with subtle nods to the destination's flora and fauna, allowing guests to feel like they are deep in the jungle, but with all the comforts of a 5-star hotel. The villas with private pools are perfect for people who want to totally unwind on their holidays.
The new Riu Palace Zanzibar includes new buildings, and their façades are designed in a way that maintains the typical language of African architecture in order to harmonise with the pre-existing buildings. Inside, the communal areas such as the lobby are decorated in earth tones and exotic colours. The hotel's outdoor space offers a spectacular garden that envelops the hotel, together with the immensity of the strikingly blue sea.
The complex is part of the exclusive Adults-Only by RIU line. Guests can enjoy RIU's fantastic all-inclusive service which, at this hotel, lets them try out four restaurants: the main restaurant Promenade; the fusion restaurant Krystal; the Beef Steak House and the romantic restaurant Open Air; as well as the grill bar Pepe's Food, located by the pool. It also offers a total of three bars, one in the pool and one by the beach, as well as Ginger coffee bar.
The hotel has access to a private area of the beach where guests can enjoy the full splendour of the extraordinary Indian Ocean. Nungwi beach offers crystalline turquoise waters with white sand, and RIU provides sun loungers and umbrellas only for guests.
About RIU: The international RIU chain was founded in Mallorca by the Riu family in 1953 as a small holiday firm and is still owned by the family's third generation. The company specialises in holiday resorts and over 70% of its establishments offer its acclaimed All Inclusive by RIU service. With the inauguration of its first city hotel in 2010, RIU is expanding its range of products with its own line of city hotels called Riu Plaza. RIU Hotels & Resorts now has 92 hotels in 19 countries which welcome over 4 million guests a year and provide jobs for a total of 28,894 employees. RIU is currently the world's 34th ranked chain, one of the Caribbean's most popular, the third largest in Spain in terms of revenue and the fourth largest in number of rooms.
For further information: Press Department // Tel: +34 971 74 30 30 // [email protected]
Palma de Mallorca, 11 November 2019