TOP 10 DESTINOS PARA CASARSE, ¡SÍ QUIERO!
Si siempre has soñado celebrar tu boda a la orilla del mar, nosotros te proponemos los siguientes destinos paradisiacos donde hacerlo. Se acabaron los salones de bodas tradicionales, hoy se lleva la originalidad y la tendencia es que el lugar de celebración sea único, que traduzca a la perfección el estilo de la pareja.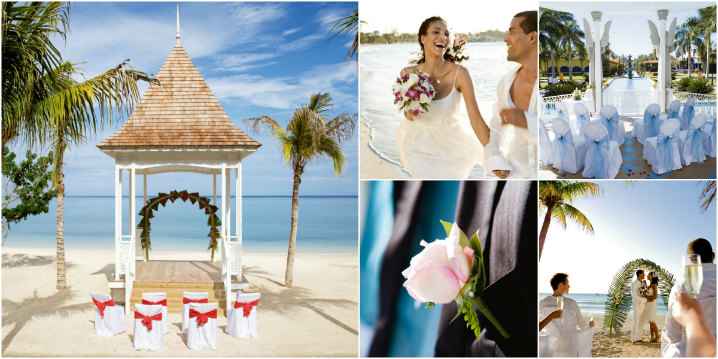 MAR, FINA ARENA BLANCA, JARDINES TROPICALES Y PUESTAS DE SOL ÚNICAS
Entre nuestros destinos más tradicionales, si bien no exentos de fantasía, encontramos playas de aguas cristalinas, fina arena blanca e infinitas vistas al horizonte. Celebrar una boda en un destino fuera de su lugar original permite a los invitados y novios de disfrutar de unas hermosas vacaciones y luna de miel rodeados de un servicio de calidad. Entre todos nuestros destinos exóticos te proponemos los mejores para casarte.
Nº1: Jamaica
Jamaica es definición de clima soleado, lugareños llenos de alegría, deliciosa gastronomía caribeña y una excitante vida nocturna. Que mejor lugar para celebrar un día especial que en Montego Bay, Negril o Ocho Rios.
Nº2: Las Bahamas
Entre las más de 700 islas de las Bahamas, Paradise Island sobresale por su exuberante belleza y su vibrante vida nocturna, dos razones de peso que hacen de esta isla un lugar especial y exótico para celebrar una boda.
Nº3: Palm Beach, Aruba
Ambos, Riu Palace Aruba y Riu Palace Antillas se encuentran en la playa de Palm Beach y ofrecen además de sus lujosas instalaciones y amplia oferta de servicios y actividades, un clima perfecto para celebraciones.
Nº4: Playa Blanca, Panamá
En Playa Blanca región de Coclé encontrarás las playas más bellas de todo Panamá además de exuberante naturaleza y un pueblo rico en cultura, tradiciones y fiestas. Tu boda en este paraíso permanecerá como un recuerdo difícil de borrar de tu memoria.
Nº5: Guanacaste, Costa Rica
En Guanacaste encontrarás las playas más bellas de todo Costa Rica además de exuberante naturaleza y un pueblo rico en cultura, tradiciones y fiestas. Tu boda en esta isla-paraíso será sin duda un sueño hecho realidad.
Nº6: Puerto Plata, República Dominicana
La playa es ideal para disfrutar de los encantos de Puerto Plata gracias a su privilegiada ubicación entre las colinas cubiertas de vegetación y el Mar Caribe.
Nº7: Punta Cana, República Dominicana
Situada en la costa oriental de la República Dominicana, Punta Cana está envuelta de exuberantes y extensos jardines. Su ambiente invita al descanso, al relax y al romanticismo.
Nº8: Saint Martin
Playas, clima y simpatía local no han pasado desapercibidos para el turismo, que ha convertido el puerto de la isla de Saint Martin en uno de los que reciben mayor cantidad de cruceros del Caribe. Que mejor lugar que el Riu Palace St Martin para celebrar una boda rodeada de naturaleza y del mejor servicio.
Nº9 y Nº10: México
Sin lugar a dudas, México es uno de nuestros destinos más populares para celebrar eventos de tanta importancia, por eso hemos reservado los últimos dos puestos de esta lista para hablarte de diversas ciudades ideales para parejas. Todos nuestros hoteles que se sitúan a la orilla del mar de Mazatlán; Cancún; Playa del Carmen; Los Cabos; y Vallarta, están pensando en recrear una boda de ensueño. Playas caribeñas con vistas inmejorables, servicio de calidad y ambiente romántico, son la razón por la que año tras año, las futuros novios eligen este maravilloso destino.
Disfruta de tu gran día en uno de los mejores destinos para casarse y nosotros nos ocuparemos de aquellos detalles que más deseas. Consulta nuestra web de bodas para más información de paquetes de boda.
No te pierdas..
Si buscas más información relacionada con bodas no te pierdas nuestra lista de
los mejores hoteles para bodas
  o los
top 10 hoteles con Spa
.
TOP DESTINOS PARA CASARSE
ENJOY ALL THE RIU CLASS ADVANTAGES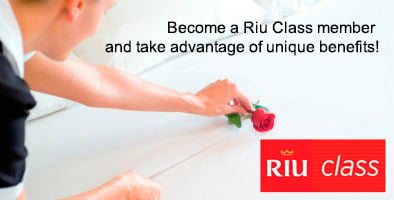 With the Riu Class program you will receive a member card that identifies you as a valued guest in our hotels. You can enjoy multiple benefits booking through our website.
Register by filling the online registration form.