HOTELES ADULTS ONLY: HOTELES PENSADOS PARA DOS
El concepto de hoteles 'solo para adultos' satisface las necesidades de nuestros clientes que buscan relajarse y disfrutar de unas vacaciones en pareja o amigos. Por eso creamos este concepto exclusivo para ofrecer a nuestros huéspedes el servicio que desean.

NUEVO CONCEPTO DE VACACIONES EN PAREJA
Adults Only significa que las instalaciones, así como todos los pequeños lujos y comodidas están pensadas para dos. Hoteles que han preparado cada detalle para que puedan disfrutar de unas vacaciones relajantes y rodeados de la tranquilidad más absoluta del destino turístico.
Estos resorts fueron diseñados para clientes que buscan un ambiente exclusivo junto con su pareja o divertirse con los amigos sin renunciar a la amplia gama de servicios: una oferta gastronómica elaborada, propuestas de ocio diseñadas para adultos, servicios especializados, tratamientos de belleza y corporal y mucho más.
NUESTROS HOTELES SOLO PARA ADULTOS
Spain · Torremolinos

Adults Only

Spain · Majorca

Adults Only

Spain · Fuerteventura

Adults Only

Spain · Gran Canaria

Adults Only
ENJOY ALL THE RIU CLASS ADVANTAGES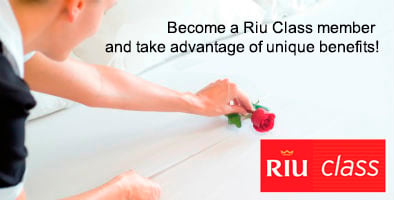 With the Riu Class program you will receive a member card that identifies you as a valued guest in our hotels. You can enjoy multiple benefits booking through our website.
Register by filling the online registration form.