TOP 10 HOTELES CON SPA: UNA EXPERIENCIA REJUVENECEDORA
Si deseas algo más que unos días soleados en la playa, podemos ofrecerte exactamente lo que estás buscando. Muchos de nuestros hoteles ofrecen tratamientos de belleza y corporales para cuidar tu cuerpo y mente. Trabajamos junto con socios expertos en programas especiales de salud en cómodas y elegantes instalaciones. Por eso hemos creado una lista de nuestros top 10 hoteles con los mejores spas y wellness en los destinos más turísticos del mundo. Elige las fechas de tus próximas vacaciones para venir a relajarte y nosotros nos ocuparemos del resto.
RESPIRA, MEDITA Y RELÁJATE, DÉJATE MIMAR
Numerosos hoteles RIU disponen de spa, centro de salud y bienestar, balneario o centro de Talasoterapia para que puedas conseguir preciados momentos de relax durante tu estancia. Todos ellos están pensados para que cuando llegues a tu destino puedas disfrutar de los mejores tratamientos a manos de auténticos profesionales en modernas y elegantes instalaciones.
Los programas van desde tratamientos clásicos de estética y belleza y masajes relajantes hasta la relajación oriental. Si nuestros huéspedes prefieren algo más o buscan pasar un día especial por ejemplo durante  su luna de miel podrán encontrar los paquetes especiales de bodas y para recién casados. Ven a conocer nuestras instalaciones y ¡déjate mimar!
Nº1: Hotel Riu Palace Aruba
El hotel cuenta además de unas vistas a la playa de
Palm Beach
con un spa de primera categoría. El servicio de lujo y la comodidad de sus instalaciones hacen simplemente de este palacio un lugar ideal para pasar unas vacaciones de ensueño.
Nº2: Hotel Riu Tikida Palmeraie
Solo los que han visitado el hotel pueden recordar la sensación de bienestar que rodea el lugar. Por eso te invitamos a que conozcas este pequeño oasis en medio de la
ciudad de Marrakech
. Su spa cuenta con diversos tratamientos corporales que te harán olvidar por completo el estrés del día a día.
Nº3: Hotel Riu Palace Imperial Marhana.
La mayoría de nuestros hoteles situados en Túnez cuentan con un centro de wellness completísimo, como es de esperar, ya que se encuentran en el país de la talasoterapia. Pero entre nuestros
hoteles de Port El Kantaoui
debemos destacar el de este hotel, ya que las vistas al mar desde su piscina interior y los chorros de agua a presión hacen de este hotel un lugar ideal para relajarse.
Nº4: Hotel Riu Hammamet Marhaba
Podríamos nombrar cada uno de nuestros
hoteles en Hammamet
como los mejores hoteles con spa, pero en nuestra lista teníamos que destacar el Hotel Riu Hammamet Marhaba. Si te alojas en el hotel no solo disfrutarás de sus instalaciones y del entorno natural de su jardín, sino de su acogedor centro de talasoterapia. El hotel ofrece a sus huéspedes una experiencia única. Cuenta con unas 17 salas de masaje, saunas, Hammams y tratamientos corporales con ingredientes locales que te dejarán totalmente relajado.
Nº5: Hotel Riu Kaya Palazzo
El moderno y sofisticado hotel cuenta con una de las decoraciones más llamativas de
Antalya
. La tranquilidad y relax que ofrece de día y el espectáculo de luces multicolores alrededor de la piscina por la noche, hacen de este resort un lugar inolvidable. Cuenta con varios tratamientos de belleza y bienestar y de unas acogedoras habitaciones.
Nº6: Hotel Riu Tikida Dunas
Si nunca has entrado en un Hammam, te proponemos que vengas a conocer uno auténtico en el Hotel Riu Tikida Beach. Marruecos es conocida, entre otras razones, por sus Hammams, baños de vapor con propiedad curativas y purificadoras. Sin duda se trata de uno de nuestros mejores centros de wellness en la
costa de Agadir
.
Nº7: Hotel Riu Tikida Palmeraie
Si en cambio viajas hasta el
centro de Marrakech
, podrás disfrutar de unas horas en el spa del hotel. El hotel ha conseguido fusionar modernidad y cultura marroquí. Un auténtico oasis en medio de la ciudad de Marrakech. Su spa ofrece a los clientes varios tratamientos como masajes, tratamientos faciales y duchas con chorros.
Nº8: Hotel Riu Palace Costa Rica
Si además de descubrir las maravillas y el entorno salvaje de
Costa Rica
, buscas un hotel donde relajarte, este hotel es sin duda tu destino. Sus cuidadas instalaciones y todo su entorno, harán que tu estancia sea inolvidable. Déjate seducir por su clima tropical y por la paradisíaca playa en la que se encuentra.
Nº9: Hotel Riu Palace Jamaica
En
Jamaica
podemos encontrar todo lo que un turista puede desear, buena música, gastronomía local e internacional y diversión las 24 horas de día. Pero después de un día completo, no hay nada más agradable que entrar en el spa del palace. Masajes relajantes, baños de burbujas, sauna y diferentes tipos de tratamientos. Como dicen los locales: ''No te preocupes, sé feliz''.
Nº10: Hotel Riu Palace Peninsula
Recientemente construido, el hotel se encuentra frente a una playa de aguas turquesas y ofrece a sus clientes un servicio de alta calidad. Dispone de un centro completo de salud, con varios tratamientos faciales y corporales. Además el resort ha querido llevar el concepto de tranquilidad a un nuevo nivel, por eso, encontrarás las Villas
Adults Only
, habitaciones exclusivamente para adultos que buscan una estancia relajante y alejada del bullicio turístico de
Cancún
.
HOTELES CON SPA Y WELLNESS
Germany · Berlín

Coming soon
ENJOY ALL THE RIU CLASS ADVANTAGES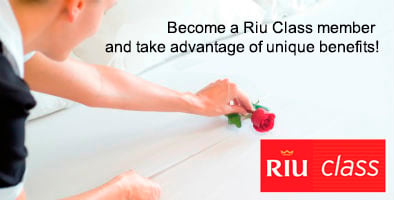 With the Riu Class program you will receive a member card that identifies you as a valued guest in our hotels. You can enjoy multiple benefits booking through our website.
Register by filling the online registration form.