TOP 10 SPA HOTELS: A REJUVENATING EXPERIENCE
If you are looking for more than just some sunny days at the beach, we can offer you exactly what you are looking for. Many of our hotels offer beauty and body treatments to care for your body and mind. We work together with experts on special health programs that are run in comfortable and elegant facilities. So we have created a list of our top 10 hotels with the best spas and wellness centers at the world's most popular destinations. Choose the dates of your next vacation, come and relax, and we will take care of the rest.
BREATHE, MEDITATE AND RELAX; LET YOURSELF BE LOOKED AFTER
Many RIU hotels have spas, health and wellness centers or thalassotherapy facilities to give you some precious moments of relaxation during your stay. All of them are designed so that when you reach your destination you can enjoy the best treatments at the hands of true professionals in modern and elegant facilities.
Programs range from classic beauty treatments and relaxing massages to oriental relaxation. If our guests prefer something more, or want to spend a special day, for example during their honeymoon, there are special packages for weddings and newlyweds. Come and see our facilities and let yourself be looked after!
1: Hotel Riu Palace Aruba
As well as views of
Palm Beach
, this hotel also a top-quality spa. The luxury service and comfort of its facilities make this palace an ideal place to spend a dream vacation.
2: Hotel Riu Tikida Palmeraie
Only those who have visited the hotel can imagine the sensation of well-being that surrounds the place. So we invite you to experience for yourself this little oasis in the middle of the
city of Marrakech
. Its spa can give various body treatments that will make you forget about all the strains of daily living.
3: Hotel Riu Palace Imperial Marhana.
Most of our hotels in Tunisia have very complete wellness centers, as you might expect in a country closely linked to thalassotherapy. Of our
Port El Kantaoui
hotels this one stands out, since the sea views from its indoor pool and water jets make this hotel an ideal spot to relax.
4: Hotel Riu Hammamet Marhaba
We could name each one of our
Hammamet
hotels as top spa hotels, but there is one that stands out above the rest: the Hotel Riu Hammamet Marhaba. A stay at the hotel not only allows you to enjoy the facilities and the natural riches of its garden, but also its welcoming thalassotherapy center. The hotel offers guests a unique experience: it has 17 massage rooms as well as saunas, hamams and body treatments with local ingredients that will leave you in a state of full relaxation.
5: Hotel Riu Kaya Palazzo
This modern and sophisticated hotel has one of the most striking interior decors in
Antalya
. The peace and relaxation offered by day and the display of colored light by the pool at night make this an unforgettable place. It offers a range of beauty and wellness treatments and very comfortable rooms.
6: Hotel Riu Tikida Beach
If you have never visited a hamam, we suggest you try an authentic one at the Hotel Riu Tikida Beach. Morocco is well known, among other things, for its hamams, which are steam baths with curative and purifying properties. This is certainly one of our best wellness centers on the
Agadir
coast.
7: Hotel Riu Tikida Palmeraie
If, on the other hand, you travel to the center of
Marrakech
, you will be able to enjoy some time at the hotel spa. This is a hotel that has managed to combine elements of traditional Moroccan culture with a contemporary look. It is a true oasis in the center of Marrakech city. Its spa offers guests various treatments, such as massages, facial treatments and water jets.
8: Hotel Riu Palace Costa Rica
If, as well as discovering the marvels of Costa Rica's wild environment, you are looking for a place to relax, this hotel should be your destination. Its excellent facilities and spectacular surroundings will make your stay unforgettable. Revel in the tropical climate and heavenly beach where you find yourself.

 
9: Hotel Riu Palace Jamaica
In
Jamaica
you can find everything a tourist is looking for: good music, local and international cuisine and fun, 24 hours a day. Furthermore, after a full day, what could be better than this palace hotel's spa? Relaxing massages, whirlpool baths, sauna and a range of treatments. As the locals say: 'Don't worry, be happy'.
10: Hotel Riu Palace Peninsula
This recently built hotel is located by a beach lapped by turquoise waters, and it offers guests a very high quality service. It has a full wellness center with a range of facial and body treatments. Furthermore, this resort has taken tranquility to a new level, and boasts
Adults Only
Villas, rooms exclusively for adults looking for a relaxed stay, away from the bustle of
Cancun
.
BOOK YOUR HOTEL NOW
Germany · Berlín

Recently opened
ENJOY ALL THE RIU CLASS ADVANTAGES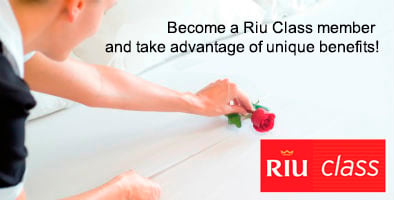 With the Riu Class program you will receive a member card that identifies you as a valued guest in our hotels. You can enjoy multiple benefits booking through our website.
Register by filling the online registration form.