HOTELES PARA REUNIONES, EVENTOS Y CONFERENCIAS
RIU no es solo el lugar donde disfrutar de unas magníficas vacaciones, es también el emplazamiento perfecto para reuniones y eventos. Por ello, muchos de nuestros hoteles y resorts ofrecen modernas salas de conferencias totalmente equipadas. El confortable entorno de nuestros hoteles proporciona un ambiente ideal en el que celebrar cualquier evento que organizes. ¿Por qué reunir a tus huéspedes en una ciudad gris cuando puedes hacerlo en un destino soleado como Gran Canaria, Bulgaria, México o Jamaica entre otros muchos destinos turísticos?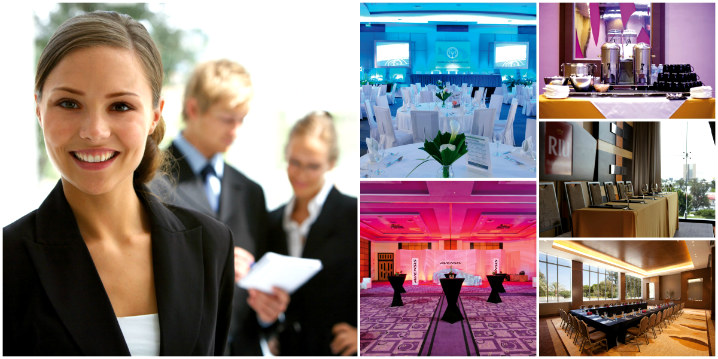 UNA NUEVA DIMENSIÓN PARA TUS REUNIONES
Riu Hotels cuenta con amplios espacios adaptables, algunos incluso diáfanos y con luz natural, salones perfectos para organizar reuniones, eventos, conferencias y convenciones. Algunos de estos salones tienen capacidad para más de 500 personas y están totalmente equipados tecnológicamente. En los últimos años hemos acogido con gran éxito a varias empresas nacionales e internacionales que nos han elegido para sus convenciones, presentaciones de productos y vehículos, congresos, cursos de formación, ruedas de prensa, rodajes, reuniones de empresa, catas y degustaciones y viajes de incentivos. Por esta razón nuestros profesionales saben la importancia de cuidar de todas tus necesidades en este tipo de eventos.
Si quieres solicitar información sobre cómo reservar salas de reuniones en nuestros hoteles o hoteles para bodas puedes acceder a nuestra web de grupos, donde encontrarás toda la información y ofertas de cada uno de los resorts que ofrecen este servicio. Dale una nueva cara a tus negocios ¡Tus grupos y reuniones jamás volverán a ser lo mismo con RIU Hotels & Resorts!
Germany · Berlín

Coming soon
ENJOY ALL THE RIU CLASS ADVANTAGES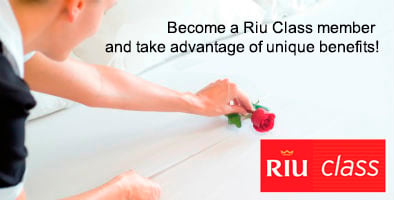 With the Riu Class program you will receive a member card that identifies you as a valued guest in our hotels. You can enjoy multiple benefits booking through our website.
Register by filling the online registration form.