This is how RIU celebrates World Environment Day
date_range 15 June, 2023
question_answer
Leave your thoughts
Today we want to dedicate a special space to one of the major commitments of our Corporate Social Responsibility: the environment. As you already know, World Environment Day is celebrated every June 5th. This is an important date for many people throughout the world, who are happy to see how our society is advancing, little by little and hand in hand, towards a better future and greater awareness of environmental protection.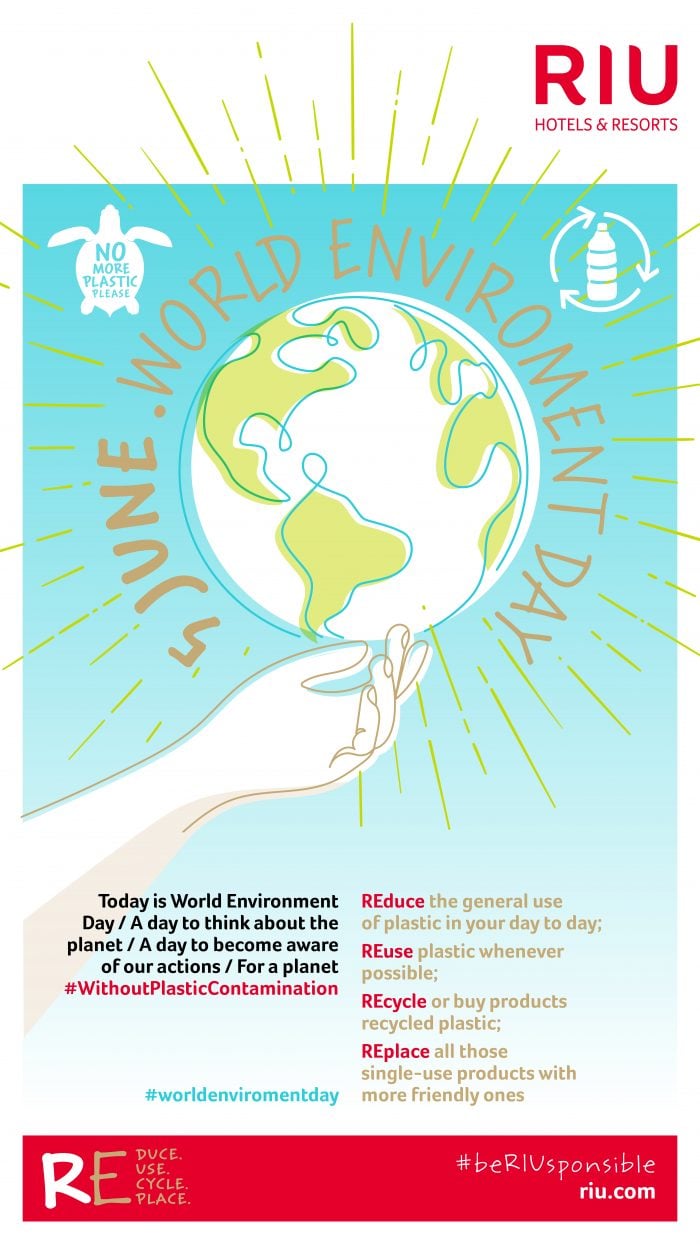 Why do we celebrate World Environment Day?
The aim is to promote global awareness of the actions we can take to care for and improve the environment. For this year, the United Nations has chosen the slogan "Beat Plastic Pollution", focusing on reducing and mitigating plastic pollution through this campaign.
At RIU Hotels & Resorts we could not do any less, and we have supported this theme through several fun initiatives carried out in our hotels to mark this day which is so important for all of us. Would you like to find out about them? We will tell you everything!
What can we do to look after the environment?
Beach cleaning and plastic collection
Taking care of natural sites in a responsible and respectful manner is one of the cornerstones of environmental awareness work. That is why a number of RIU hotels have organised beach clean-ups in their areas.
In Mexico, the entertainment teams and several guests at the Riu Playacar,Riu Dunamar and Riu Palace Mexico joined forces to collect rubbish and clean up the beaches to raise awareness of environmental protection. Other destinations in the Americas also joined in with this initiative. The Riu Guanacaste , in Costa Rica, created t-shirts to celebrate this day and awarded a prize to the three guests who collected the most waste during the beach clean-up. At the Riu Palace Aruba our hotel colleagues carried out similar initiatives.
In Asia, the Riu Sri Lanka, and in Africa, the Riu Palace Zanzibar, also helped remove the waste from their beautiful natural landscapes.
And city destinations took part in the important work of picking up plastics, too. For example, the Riu Plaza Guadalajara invited people to bring any recyclable bottles they had at home. They used this waste to make T-shirts, each one created from 22 bottles, encouraging the habit of separating rubbish at home. In total, 34 kilos of PET (polyethylene terephthalate) containers were collected and recycled.
Other hotels like the Riu Palace Baja California , the Riu Reggae and the Riu Palace Pacifico organised a campaign to collect plastic bottles.
Craft workshops
Living in an eco-friendly society is very much dependent on the awareness of future generations.
In several hotels, throughout the week, workshops were given by our colleagues from RiuLand where, using games and competitions, the youngest members of the family were taught about the impact generated by plastic pollution and encouraged to reuse it. In addition, recycled materials were used in these workshops to create replicas of our mascot, the adorable Calú turtle, as well as other animals.
Children were able to enjoy activities like these in RIU hotels, including the Riu Beach Park, Riu Tikida Garden in Marrakesh, Riu Palace Maldives , Riu Playacar, Riu Dunamar, Riu Palace Mexico, Riu Palace Aruba and Riu Vistamar in the Canary Islands.
Environmental Kahoot
Do you already know which game is one of the most popular among guests at our hotels? If you were thinking "Kahoot", then your answer is correct!
Our Animation team prepared a version focusing on plastic waste and other environment-related actions.
In the game you learn which type of waste is the most plentiful in the oceans, how many years it takes for a plastic bag to degrade, and how many of our hotels have been awarded the prestigious Travelife Sustainability Certification.
Of course, to find out the answers you will have to be brave enough to play with us, we promise not to tell you the answers.
Guests at the Riu Playacar, Riu Palace Mexico, Riu Palace Aruba and Riu Reggae have already had a go!  Thanks to this fun game they have learned how important it is to care for the environment.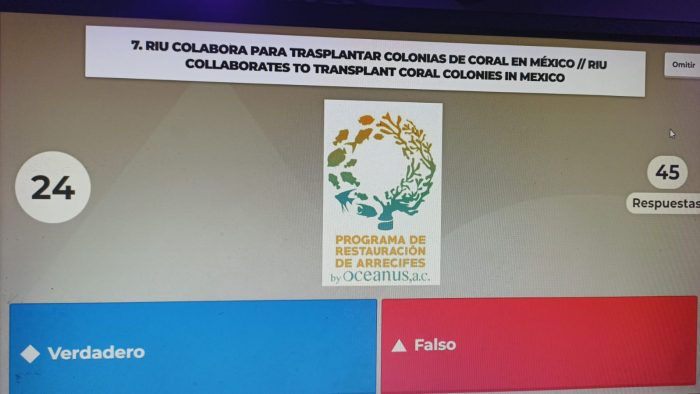 HALT show
The environment also features on stage at the hotels, and one of the highlights is HALT show, an acronym for the Spanish "Homenaje A La Tierra" (Homage To The Earth). During the show several questions are asked: What are we doing to Mother Earth and our Planet? Is there hope for a better world?
Sophisticated staging and polished choreography make you reflect on our society, leaving a positive message and hope for a better future.
The guests staying at the Riu Palace Boavista, Riu Vistamar, and in the areas of Costa Mujeres, Cancún and Mazatlán were able to enjoy this different and entertaining show.
Through these initiatives, RIU once again underlines its commitment to protecting biodiversity, another vital aspect of its Corporate Social Responsibility and the key to the "RIU Method". If you missed it this year, don't worry! There are always great initiatives underway to which you are, of course, invited. And if not, see you next year!
[metasleader id=28780]