All I want for Christmas is RIU!
date_range 24 December, 2019
question_answer
Leave your thoughts
The Christmas season always has a catchy Christmas ditty playing in the background to ring in this wonderful season. It is the time of year to "return home for Christmas" and emotions are running high in this highly anticipated festive season.
At RIU we want to bear witness to family reunions, the smiles on the faces of the youngest among us and delicious Christmas meals. All our hotels have been decorated for Christmas so that from the minute you walk through the entrance you will be captivated by the Christmas spirit and will decide to spend Christmas with us.
RIU's staff are ready to welcome you!
Our employees have now dressed up in their finest Christmas attire to welcome you with a big smile. They are looking forward to spending this time of year with you! And what have the staff done to celebrate? Lots of hotels have been holding Christmas dinners for their employees, they have decorated the dining rooms and given out Christmas clothing. In Punta Cana, employees from our six hotels have enjoyed a joint party at the Riu Republica to celebrate this time of year together and to drink in the Christmas spirit before your arrival.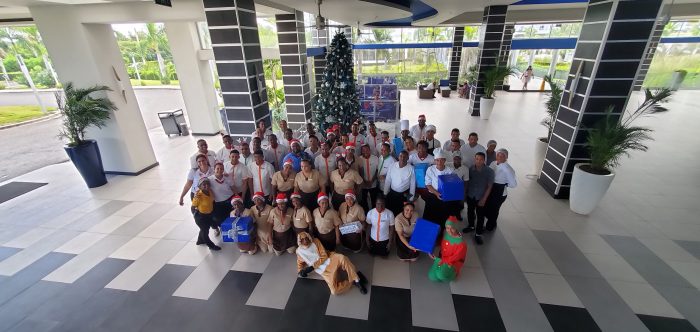 Hotels such as Riu Dunamar, Riu Tequila, Riu Paradise Island, Riu Jalisco, Riu Palace Maspalomas, Riu Caribe, Riu Naiboa, Riu Palace Cabo San Lucas, Riu Plaza Guadalajara, Riu Vallarta and so many more! They have also treated their employees to meals, dinners and lunches so they can celebrate Christmas together.
The Canarian Christmas tree at the Riu Don Miguel Hotel
Apart from the celebrations, it is so important to have great decorations at Christmas to accompany the party and to spread the abundant joy in the air at this time of year. This is why each hotel adds its own personal touch and decorates its rooms in its own special way. The Riu Don Miguel hotel uses recycled decorations every year. For example, this year it has erected a wishes tree made from recycled paper from the hotel paper shredder. They have also used recycled glass and pallets for other decorative elements in the hotel.
And they have even introduced another new initiative! The Christmas tree baubles in the lobby have been made using the traditional Canarian artisan thread work process in honour of the region.
In order to draw this post to a close we wanted to offer you this photo gallery of the RIU hotels' decorations.
Thank you for forming part of the RIU family and for accompanying us in this year filled with major achievements. We wish you a very Merry Christmas and want to remind you that our hotels are ready to welcome you and ensure you feel completely at home!