Luis Riu: "We're bidding farewell to a great 2022 that will help us take on a 2023 full of uncertainty"
Luis Riu: "We're bidding farewell to a great 2022 that will help us take on a 2023 full of uncertainty"
date_range 17 January, 2023
question_answer
7 Comments
We had a very good year. In 2022, we were able to finally put the COVID crisis behind us and operate normally at nearly all of our destinations. The year didn't get off to an easy start, but the great summer season and good performance of destinations in the Americas helped us leave the restrictions and health measures behind and finally focus on managing a very healthy demand, leading to high occupancy rates and an improved average rate thanks to not having to resort to discounts. All these great numbers will help us take on a troubling 2023 in which increased costs will really take their toll.
6 million guests attended: how RIU Hotels ended 2022
Much has been said this year about the exponential increase in costs, but the truth is that prices were contained for the first half of the year and began to impact us mostly after the summer. Additionally, 2022 budgets were drawn up in the middle of the pandemic, so they were driven by cost containment. There was also demand, which was so strong that it allowed us to not resort to discounts to fill occupancy. This mix of factors helped us compensate for the impact of the costs and close the year with excellent numbers.
In fact, earnings increased up to 2.905 million euros, 111% more than in 2021 and 30% vs. 2019. We're closing the year with 96 hotels, 49,273 rooms in 20 countries and a staff of 34,215 employees serving 6 million customers.
Uncertainty for tourism in 2023 due to instability and higher prices
But 2023 will be quite different. While the excitement of the end of the pandemic incentivised travel from all countries, we believe it will weaken this year in the eurozone. The news of crisis, recession, inflation and war will have a negative impact and, therefore, we expect a year of great conundrums, especially where European travellers are concerned, with last-minute bookings and a likely return to discounts. On a positive note, in the major markets in the Americas, we expect more stability, with a 2023 quite similar to 2022.
We're also bringing the costs contained in 2020, 2021 and 2022 into the new year. Necessary investments, purchases and all kinds of expenses will arise in 2023 once the crisis is overcome. Increased costs will indeed be reaching us as of 1 January. The price of all kinds of goods is on the rise, from meat, dairy and oil to energy. The price of money has also skyrocketed as interest rates have tripled in the last few months. Prices went up mostly in 2022 and are now slowing down, but while price increases occur quickly, reductions, when they do happen, are always much slower to come about.
I am generally an optimist. But we are truly concerned about this year end and the start of 2023. Nonetheless, 2022 did exceed even the most optimistic expectations. No one knows what will happen in 2023. What we do know is that the hotel industry will never be able to pass on all cost increases, so a good deal will come from its margins.
New hotels in New York, Senegal and Mexico: RIU's balance sheet for 2022
2022 was also a year of major projects and innovations:
1.We started in February with the opening of Riu Plaza Manhattan Times Square. Our second hotel in New York opened late, as we know that the permit process is quite complex in the city. But it's always worth the wait because we have received nearly 125,000 guests since opening at the beginning of the year.
2.In April, we introduced our first hotel in Senegal. Riu Baobab was a big challenge because it is in a newly developed tourism area, and the construction project itself was difficult, as well as starting up operations. Challenging endeavours are also the ones that bring the most satisfaction. The local team has been offering excellent service and has been able to position the destination among our traditional clientele in Europe as well as among the local market.
3.RIU's 25th anniversary in Mexico this year also brought new projects to celebrate this significant milestone for our main international destination. In October, we opened Riu Latino, the third in Costa Mujeres, and Riu Palace Kukulkan, a new hotel in Cancún that I'm especially excited about. The new features are inspiring, and at this hotel, we're testing the Elite Club, a new premium service that, if it performs as we expect it to, will be brought to more Riu Palace hotels. We are currently considering the possibility of introducing it at Riu Palace Pacifico in Nayarit, taking advantage of its renovation, and at Riu Palace Macao in Punta Cana to be renovated in 2023.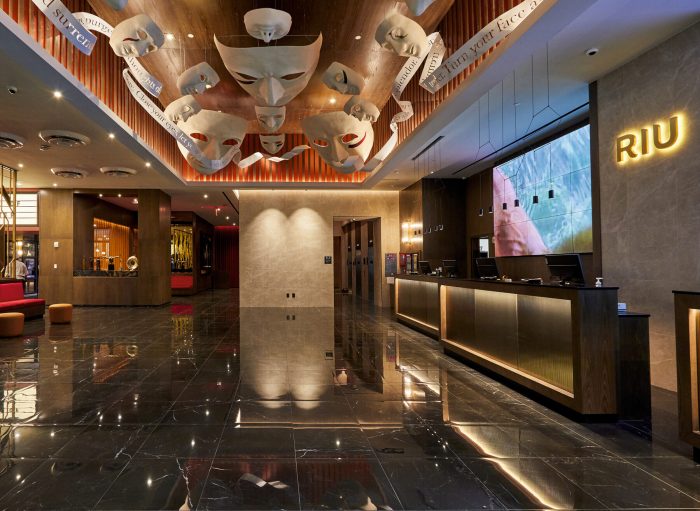 Riu Hotels inaugurates four renovated international hotels in 2022
This year we've also completed major renovation projects, such as the one at Riu Madeira and Riu Karamboa, in Cape Verde, as well as at Riu Santa Fe, a project in Los Cabos that rounded out this anniversary year in Mexico. That was also the case for Riu Jambo, our second hotel in Zanzibar. Though it was not strictly a renovation, as we chose to demolish the Gemma de l'Est and build a new hotel in the destination to complement its sister resort Riu Palace Zanzibar.
RIU's forecast for 2023: large projects in London, Mauritius, North America and Jamaica
I always say that in order to keep RIU flourishing, we need to keep all the machinery running and keep all our teams motivated. This includes continuing with accommodation renovations and opening new hotels while always staying focused on improvement and innovation. That's why, despite the difficulties, in 2023, we will also carry out major projects.
1. RIU conquers London: upcoming opening of the Riu Plaza London Victoria
We're starting the year off by opening Riu Plaza London Victoria, a project leading to RIU's entry into one of the biggest cities in the world. Each Riu Plaza project helps position our brand in key locations that cause us to grow as a company both in terms of prestige and know-how. We have great expectations for this new hotel, which, given its excellent location and modern design, we expect to be a remarkable success in the city.
2. Ambitious renovations at RIU hotels in Gran Canaria, Cancun, Punta Cana and Mauritius
For 2023, major renovations are slated for the Riu Gran Canaria, as well as for Riu Caribe in Cancun and the above-mentioned Riu Palace Macao in Punta Cana. We are also working in Mauritius, where we will operate as in Zanzibar. The Riu Creole and Riu Le Morne hotels have been demolished to build two new hotels from scratch, with all the characteristics, services and quality we'd like to offer our customers in this destination, expected to open in 2024.
3. RIU's new hotel projects for 2024: Chicago, Toronto and Jamaica
We will also be working hard this year to open hotels in Chicago and Toronto in 2024: two new skyscrapers built on incredible plots in premium locations in such competitive destinations. Meanwhile, on the beach, construction is already underway on the Riu Palace Aquarelle in Falmouth, a new destination for RIU in Jamaica.
We're saying good riddance to COVID and celebrating a record-breaking year as we head into a 2023 full of uncertainty. Despite being a sector sensitive to myriad factors, including weather, the economy and health crises, the tourism industry has proven time and again that it is strong, and able to weather the worst storm. We will continue doing what we do best: working hard to continue providing our guests with the very best service. Of course, this will be possible thanks to our amazing team of professionals. Bring on 2023!
Fdo. Luis Riu