Riu Palace Santa Maria: the ideal hotel for your holidays in Cape Verde
date_range 13 May, 2021
question_answer
Leave your thoughts
A few weeks ago we announced some incredible news: RIU was relaunching its activity in Cape Verde. This has been made possible thanks to the opening of the new Riu Palace Santa Maria hotel with which RIU has created a three-hotel complex in conjunction with Riu Funana and Riu Cabo Verde. This is a very special opening that sees RIU returning to business as usual in this important destination for the chain.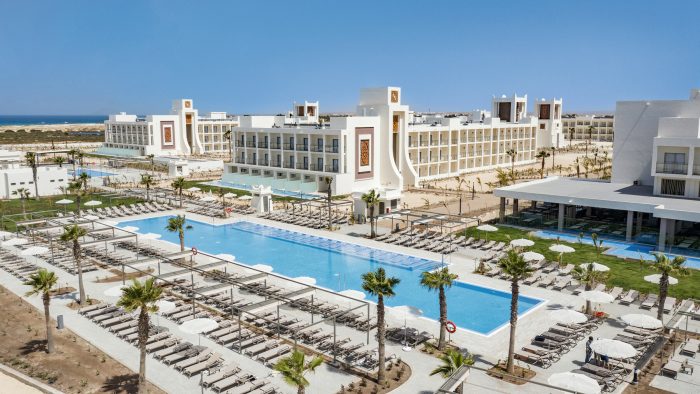 It has been very exciting for everyone involved to be able to breathe new life into this destination. What's more, we have done it in the best possible way by presenting this new hotel, whose design and features will blow you away.
We have so much to tell you about the Riu Palace Santa Maria that we thought we should do it in a special post where we will check out the hotel and all its interesting features. Will you come along and take a look?
A magazine-worthy lobby
At RIU we are impressed with the result of this spectacular hotel. The Riu Palace Santa Maria stands out among all the new RIU hotels due to the level of influence that the destination has had on the decoration, and this in itself makes it unique.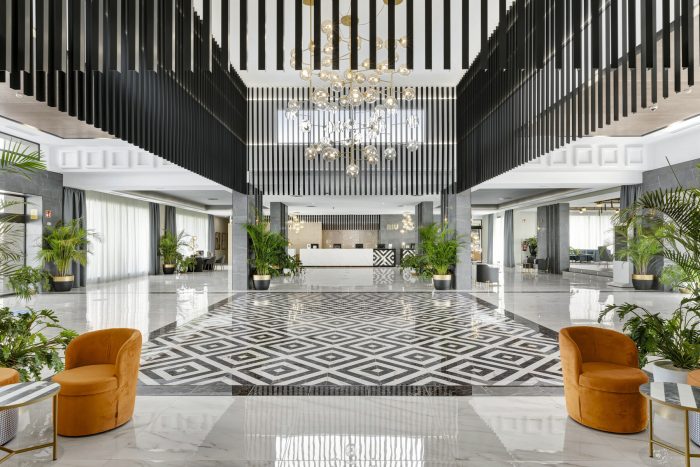 When you arrive at the hotel, you will find a majestic lobby choc-full of details. More than anything else, this space stands out for the natural light that floods in through the large windows arranged throughout the space. There is also a beautiful skylight in the centre that serves as a link between the different spaces in the lobby – you won't be able to take your eyes off it!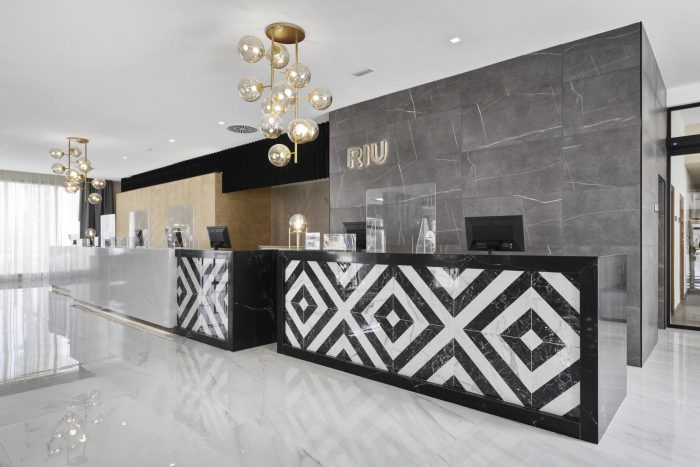 A tour of the hotel with Cape Verde's best guides
Following the ethnic style that characterises RIU hotels in Cape Verde, all the blocks where the rooms are located have an entrance portico presided over by a huge mask, 12 metres high, and each is different so that you can identify your building very easily.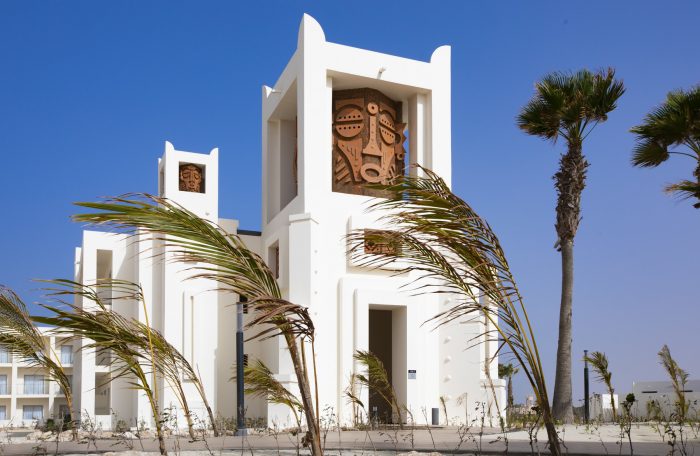 These entrance towers are located along the central axis that runs the entire length of the hotel, starting at reception, from where this path leads off, making you feel like a true Cape Verdean. Definitely an original idea to help you find your way around this incredible hotel, which we have fallen in love with.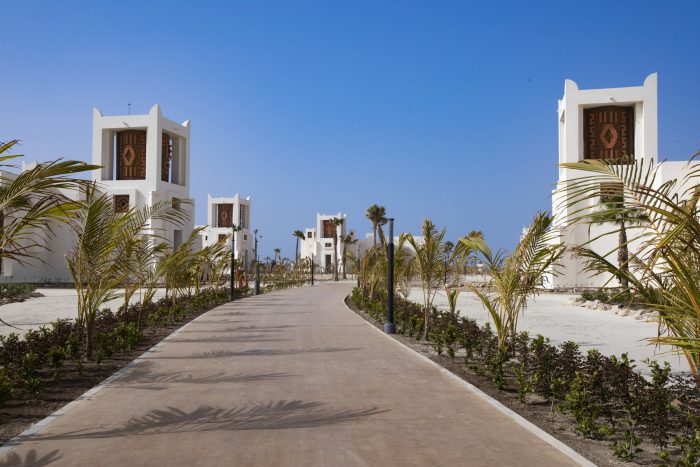 Rooms with an ethnic touch
The Riu Palace Santa Maria hotel has a total of 1,001 wonderful rooms. They are another reflection of how Cape Verdean culture has influenced the décor of this stunning hotel. All offer a warm, modern and welcoming space. This has been achieved thanks to the harmony deriving from the colour range and materials used. Here you will see that nature takes centre stage, and there are various ethnic style elements that introduce you to the destination in a matter of seconds.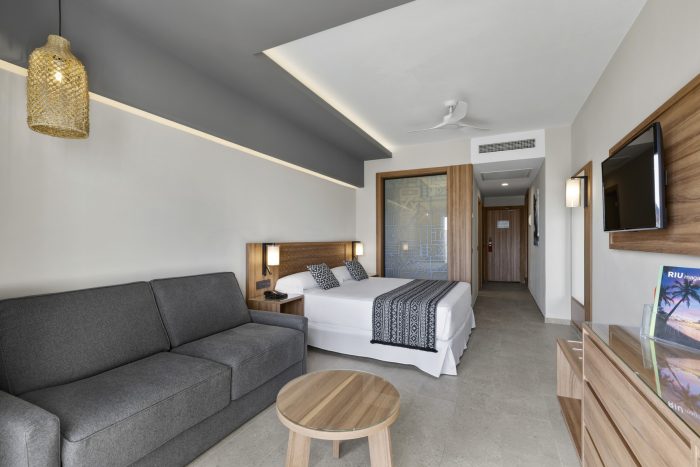 Fun for the whole family
And best of all? The hotel is beautiful on the outside, but it's also beautiful on the inside, with plenty of activities for the whole family. For example, its opening has coincided with the introduction of a Splash Water World, which is available to all guests at the resort and can be enjoyed by children and adults alike.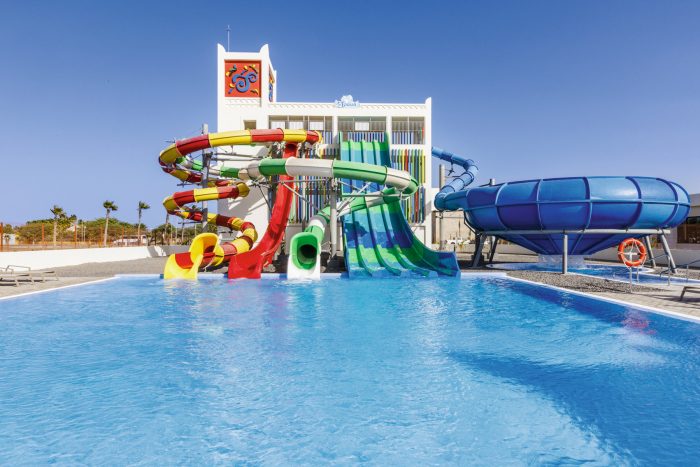 In the outdoor area, you will find eight swimming pools, six of which are located right next to the beach. The other two are in the area shared by the three hotels, one of which is in the Splash Water World while the other is in the RiuLand club, with toys and water jets for the little ones. As well as this, the hoteloffers a wide range of daytime and evening sport and entertainment options.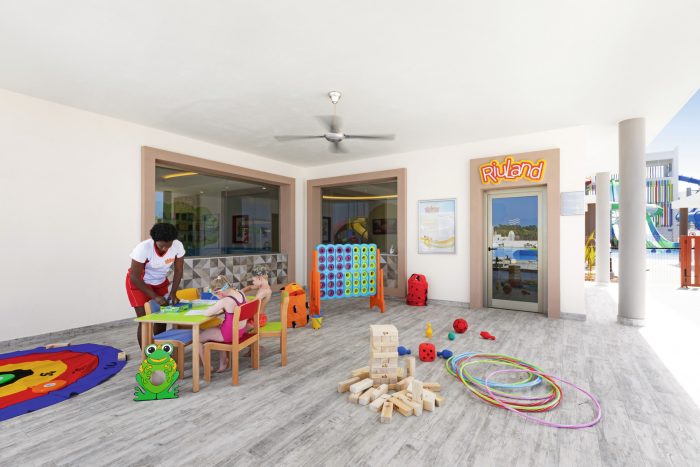 Cape Verdean cuisine with RIU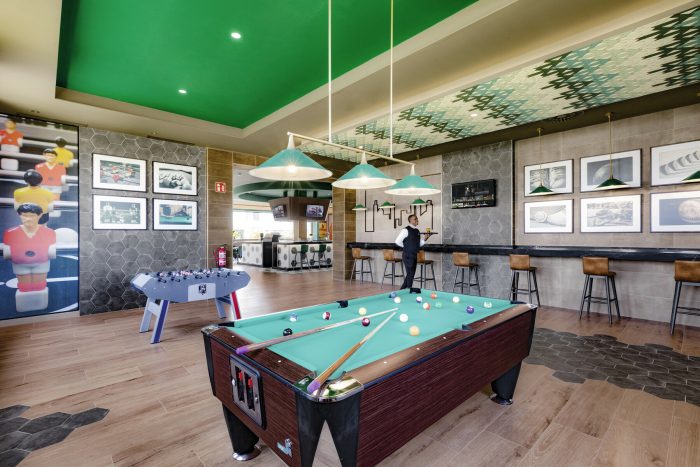 Spread between the main building and the area next to Splash, the hotel boasts a total of five restaurants: the main buffet restaurant, as well as Japanese, Fusion, Italian and steakhouse cuisine. There are also seven bars where you can grab a snack or have a refreshing drink while you take a break from the hotel's activities. You can make the most of all this thanks to RIU's exclusive All Inclusive 24h service. Dinner is served!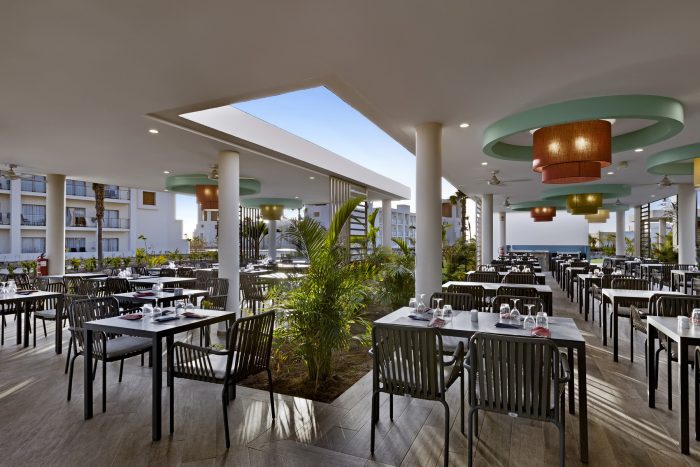 Riu Palace Santa Maria: a very special legacy
We cannot end this post without making a special mention of our dear colleague Francisco Hernanz. He left us last year because of COVID-19, but he will remain with us forever, especially through the projects he oversaw as chief architect for the Europe, Africa and Asia area. In this hotel, his hand is very much present in the design of the central axis that links the services and room buildings and, above all, in the impressive totems that preside over and identify each of the buildings. Here we leave you with a few sketches, a treasure trove in which we can see some of his work and creativity.
We hope we have impressed you with the spectacular results of this wonderful hotel. Start planning your adventure with RIU in Cape Verde!