The RIU Entertainment team challenges you to Kahoot
date_range 7 October, 2021
question_answer
Leave your thoughts
If you've ever stayed at a RIU hotel, you probably already know how to play Kahoot and, if not, today I'll tell you all about it! Through the Kahoot App, or simply by logging on to Kahoot.it, you can take part in RIU's fun Question and Answer Quiz.
What does the RIU Kahoot involve?
If you arrive at a hotel and it's the first time you're playing, don't worry, a member of our entertainment team will always be on hand to guide you through the activity and give you all the tips you need to participate. To play you can either download the app or go to Kahoot.it on your mobile phone. Then you will have to enter the PIN provided by the RIU entertainment staff and start playing! You will be able to see the names of all the players on the screen of the hotel theatre. This way you can identify yourselves and see how you rank. May the best player win!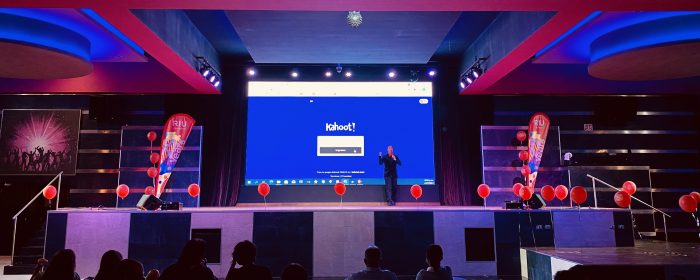 During the game you will have to answer a series of questions but, as well as getting them right, you have to be the fastest! And no, you can't study beforehand because the quiz topic is a surprise! There are questions for all tastes, music and movies, sports and nature, geography and nature, almost always focused on the destinations where RIU is active around the world. Special dates, such as Halloween, Christmas or Valentine's Day, also have their own Kahoot. In addition, you may be asked to guess questions about RIU in which you will have to prove your expertise on our hotels, including the hotel you are staying at!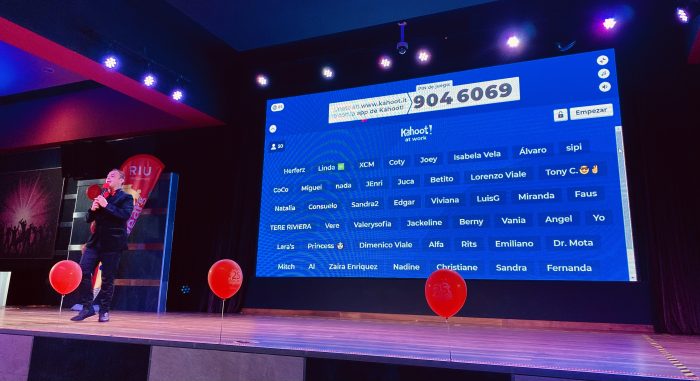 RIU is currently in the process of incorporating Kahoot into the hotel's app, so that you don't have to download it. The best thing about this inclusion is that you will also be able to play on your own and whenever you want! In other words, there will be an active Kahoot that you can play from your mobile phone while you are in the hotel pool!
Kahoot and training at RIU
RIU also uses this tool for internal training in the different departments. This helps the RIU employees expand their knowledge in a dynamic and fun way.
Before we sign off from this post, we would like to invite you to take part in the Kahoot that we have prepared for you. Will you join us from home? Click on the following link and take part in this fun game that will stay active for a week: https://kahoot.it/challenge/04970397
From RIU we wish you good luck!