The RIU entertainment team has been revamped!
date_range 10 November, 2020
question_answer
Leave your thoughts
At RIU we are clear that your well-being is the most important thing when you visit us, now more than ever. Besides, we are happiest when we see you smile. For us, these two things go hand in hand. So today, let us tell you how our Entertainment Team has been changed so that we can make you smile and in a way which is safe for everyone. Do you want to know how we run entertainment in our hotels now?
A new concept in entertainment
If you are one of our guests who is drawn to RIU for its entertainment or because you want to see your favourite entertainer again, we'll be here waiting for you.  The daytime programme is the liveliest part with most activities still taking place and some which have been adapted. As in the case of Karaoke, in our evening programme, which has taken on a special role with a unique twist. What is most important is that you can continue enjoying RIU entertainment as you have always done.
Technology: the new partner of the RIU Entertainment Team
In order to introduce new measures and adapt our activities to the new normal, our entertainers have approached our activities from a new angle. Technology is one of the greatest partners of the entertainers during these times. Thanks to this, our training sessions and meetings, we have been able to implement new measures quickly and efficiently across all our teams in record time, giving a new focus to our activities.
Along with training sessions and meetings, the Entertainment Team has used technology to give you even more fun during your stay. Now, if you visit our recently-opened hotel Riu Buenavista you can win at fun question and answer challenges from your device with the app Kahoot. At the moment it only works in this one hotel but we are planning to roll it out in all our locations.
Our youngest guests will continue having fun at RIU
The youngest members of your households will continue enjoying their favourite space: the RiuLand Kids' Club. This space now hosts your kids at a set time and they will receive their own personalized pack to carry out the day's activities.  The contents of the pack will vary depending on the activity but will include all they need to take part in the handicrafts.
Our adventurous youngsters will continue making friends in a place made just for them, because children's smiles are an essential element of family holidays.
The swimming pool, the top spot in RIU hotels
The pool areas have become, even more than before, where you can have the most fun in our hotels. Along with cooling off and keeping fit, many of the activities in our sports programme RiuFit have transferred to the pool such as, for example: Aquagym, AquaFit, AquaFun, so that you can still take part in your favourite activities while keeping cool and having lots of fun. That's why , if you visit RIU you won't stop saying 'Jump in!'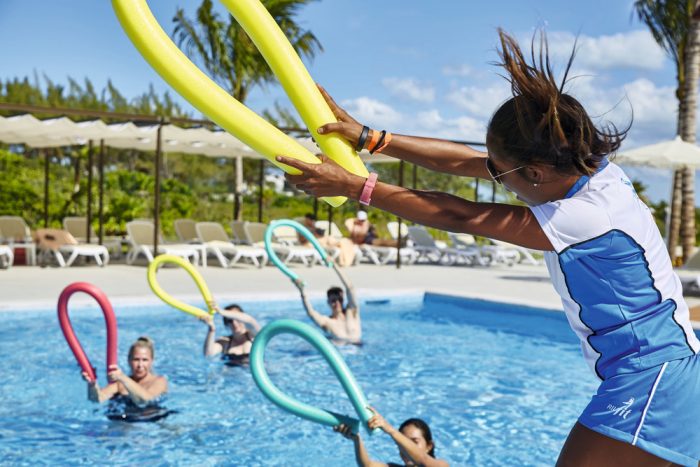 12 new games in the RiuFun programme
Finally, we want to tell you the great news about the RiuFun areas in some of our hotels. As you know, at RIU we are always looking at ways to improve and that is why our Entertainment Teams have improved the classic games such as ring toss and mini golf and given them a modern twist as well as creating new games such as table golf, plinko or table billiards, in total 12  "RiuFun Games" sure to be enjoyed by all the family. All this so that you can continue enjoying the classic games loved by all ages which will always be popular.
These are just some examples, as RIU hotels have a wide and varied range of activities. Also, evening entertainment in our hotels is still taking place but now in a more visual way. Our Entertainment Teams have had to reduce audience participation but we can assure you that your enjoyment is guaranteed thanks to the creativity and enthusiasm of our entertainers, but now from a spectator's seat.
Without doubt, our entertainers have had months of hard work but they are waiting to welcome you with a big smile. Also, we have expanded our public relations teams and the human element is even more apparent than before in spite of physical distancing and now our entertainers are closer to you than ever. Stop just thinking about it and come and enjoy yourselves with us. We'll be waiting for you!