The Riu Montego Bay – before and after
date_range 10 December, 2020
question_answer
Leave your thoughts
We present to you the new and unrecognisable Riu Montego Bay! This hotel has reopened and has done so in style, presenting a spectacular and totally new image! The only thing about this beautiful building that remains the same is the name and that, along with the cosmetic changes there are various new features which will leave you stunned. In this post we present to you the before and after of a hotel as never seen before. You simply cannot miss out on this!
Holidays exclusively for adults in Jamaica!
As we said, this hotel is located in Jamaica, in the town of Montego Bay, and is full of new features and the main one? Well now the Riu Montego Bay is exclusively for Adults Only. This means that it is an ideal hotel for you to visit with your partner or with friends to spend an adults-only holiday in a dream destination.
But in addition to this the hotel has a Splash Water World on site. Although it is the second Riu hotel in this country, it has the first RIU water park exclusively for adults in Jamaica. You are going to love it!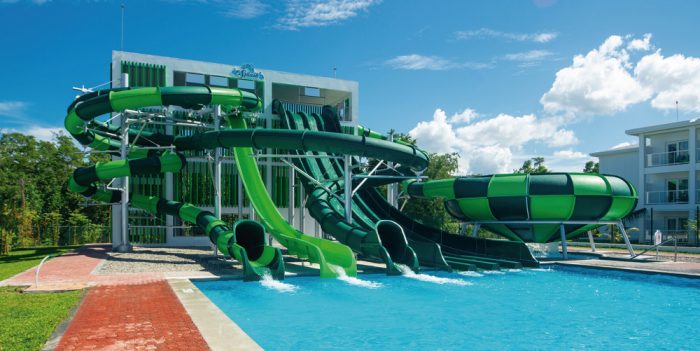 But that's not all – you can also enjoy the "Riu Get Together Party" which is now coming to Jamaica. These parties will be held in the theatre square at Hotel Riu Montego Bay and guests from the Riu Reggae and Riu Palace Jamaica which are also for adults only are invited too. All this, once the COVID-19 pandemic restrictions are lifted.
The public spaces at the Riu Montego Bay have been renovated
Now that you have the main news, we want to give you the details of how each and every corner of the hotel looks now. The current look of this hotel stands out due to the use of materials such as wood, stone and rope sourced from the local area and the choice of colours such as terracotta and bronze.
1) Lobby
As soon as you step foot into this wonderful place you will be greeted by a lobby decorated in the purest Jamaican style with a touch of elegance. We are sure that you will experience a feeling of tranquility as soon as you step into this beautiful hotel putting your mind into a holiday mood straight away.
2) Bedrooms
You have at your disposal 826 elegant and new refurbished rooms which now sport a completely different style, the decor of which reflects the local style and are decorated Tienes a tu disposición 826 elegantes y nuevas habilitaciones que ahora lucen un estilo completamente diferente con una decoración repleta de detalles propios del destino. All the hotel rooms are prepared and designed to help you relax and unwind with your partner or friends.
3) Bars and restaurants
The main buffet is now decorated with natural fibres, earthy colours and olive green which offer a fresher and more natural environment. In addition to this, the remodelled terrace offers a much more modern outside space. And best of all? Thanks to the opening of four large skylights the restaurant has lots of natural light.
Además de renovar su restaurante principal, el hotel cuenta con dos nuevos restaurantes: "Kulinarium"y "Steakhouse". El primero presume de una decoración sofisticada en la que se incluyen elementos vegetales y una estética chic que va de la mano con los platos ofrecidos en su carta. En el segundo se prioriza el uso de madera y el acero corten junto al ya característico rojo fuego.
En la zona de bares se mantiene el "Sports Bar" que seguirá ofreciéndote alimentos y bebidas 24 horas aunque con una nueva estética más deportiva y actual tras la reforma. Además, el hotel ahora cuenta con una nueva estación de carnes al estilo jerk en la playa ¡te va a encantar!
4) Zona exterior
Lo más destacado de su zona exterior es que podrás disfrutar de cinco piscinas que han sido diseñadas para ofrecerte distintos ambientes.
No queremos terminar este post sin recordarte que puedes disfrutar del exclusivo servicio Todo Incluido 24h de RIU que hará que no te falte de nada durante tus vacaciones y que no te tengas que preocupar de nada más que de disfrutar. ¿Te ha gustado el gran cambio del Riu Montego Bay? Estamos deseando recibirte y que nos ayudes a estrenar este precioso hotel.