The Riu Plaza España: a hotel with star quality
The Riu Plaza España: a hotel with star quality
date_range 1 July, 2021
question_answer
Leave your thoughts
The applause, the comings and goings of people, full rooms and the hustle and bustle of the Riu Plaza España hotel<3> are back! Little by little, events in the MICE sector are picking up again, and the hotel is bearing witness to this. Who would have suggested two years ago, when we first opened, that the hotel would develop chameleon-like properties, allowing it to adapt to any circumstances? This impressive hotel, which presides over Madrid's Plaza España, has become a landmark for both tourists and the capital's inhabitants.
Do you remember the inauguration party? It was a magical day, where for a few hours we travelled back in time and enjoyed the 1950s. The event was the talk of Madrid for weeks and did not escape anyone's attention.  Finally the iconic building was brought back to life, thanks to its transformation into a stunning 4-star hotel. The party was attended by several big names from the political, social and tourism sectors. Among these were the president of the Madrid Community, Isabel Díaz Ayuso, and the capital's mayor, José Luis Martínez Almeida. Alongside these guests were our CEOs Carmen and Luis Riu, who were the perfect hosts for the evening. The meeting was held in the hotel's crowning glory, on the top floor, which has won everyone's heart: the 360º terrace.
RIU touches the heavens in Madrid
When the hotel was inaugurated we knew that this terrace was going to be a hit, but we didn't realise just how successful it would be. At that time we said that we had touched the heavens in Madrid without realising that we had broken through the clouds. Now, this terrace features in the main guides to the capital, and it is a must-see on everyone's list of things to do in Madrid. Social networks have been abuzz with photos of curious onlookers taking pictures of themselves on its famous glass walkway, which everyone crosses in awe.
What is clear, is that both the terrace and the hotel have brought us a lot of joy. Be that because of its location or simply because it is the first Riu Plaza we have opened in Spain.
Big events at the Riu Plaza España
Shortly after opening the doors, we organised a reception for members of the MICE sector and people from the world of event organisation, which was our way of presenting the Riu Plaza España. More than 400 people attended and were able to enjoy the sunset against a backdrop of music from one of the private boxes on the 360º terrace. We were also lucky enough to be joined by Carlos Cosias, who created a unique atmosphere with his spectacular voice. The icing on the cake was the cocktail that was served during the event and which all the attendees had the opportunity to enjoy. And they must have loved it, because, from that point on, we haven't stopped hosting events!
| | |
| --- | --- |
| | |
Hosteltur also selected us as the venue for its famous FITUR 2019 awards ceremony. More than 600 people from the tourism industry gathered at this great event. In addition, that same week, RIU presented its own awards to the best travel agents in Latin America. After the presentation, they celebrated their successes on our beloved terrace. Nobody wants to miss its spectacular views!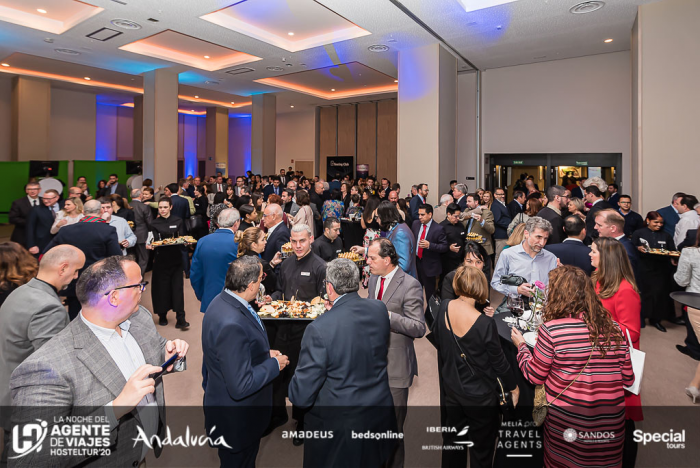 We can't discuss big events without mentioning the largest activity to date. It was held in the hotel's Sala Magna and was attended by around 2,000 people. It took place at Christmas 2019, and was a huge party thrown by a well-known brand of cosmetics and hair products.
A chameleon-like hotel capable of reinventing itself
The hotel is unique because of its ability to adapt. On Monday it becomes the studio for a radio interview and welcomes business people, on Tuesday it transforms into the set for a TV series, and on Friday it is the ideal place to spend a weekend with the family.
Madrid's red carpet
It is no secret that everyone wants to get to know the famous hotel that is the talk of the town. So much so that since its opening, actors, influencers, writers, musicians and prominent figures from the world of art and culture have visited. These special visits have turned the Riu Plaza España into a red carpet venue that continues to receive an endless list of current celebrities who don't want to miss out. Many of these stars have visited us during filming, or simply because they have chosen the hotel for a photo shoot, fascinated by its décor. There is an endless list of films, media outlets and series that have chosen the Riu Plaza España as their set; as well as celebrities who have stayed there. A picture is worth a thousand words, so make sure you check out this gallery!
But this hotel is just as appealing on the inside as it is on the outside. So much so that the production company Netflix chose its façade to advertise the premiere of its series "Sky Rojo". It has also been used as a film set for some of the scenes in its famous hit series Elite. 
We can't forget when Turkish soap star Can Yaman paid us a visit. It's something we'll always remember due to the impact it had on us, as it absolutely overwhelmed the hotel for a time. We were caught totally off guard by the hundreds of fans who crowded around the entrance. We were just as surprised as the passers-by who looked on in amazement at the commotion. Incomparable!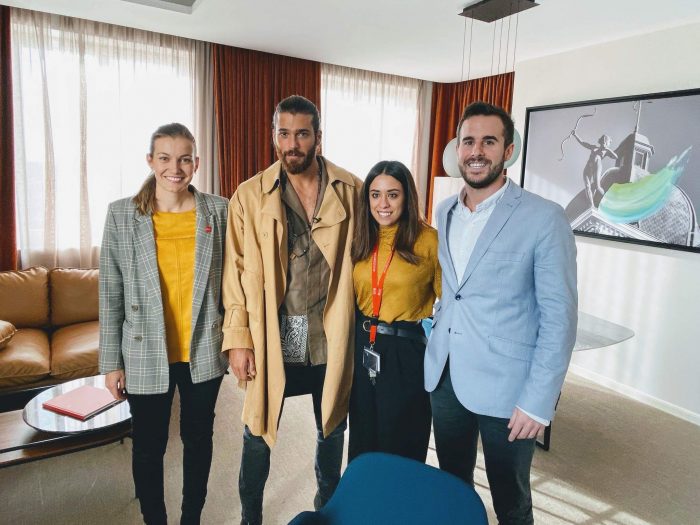 Music, Riu Plaza España's key note
If there's one thing we love at RIU, it's music. It is an essential element that defines the atmosphere. An absolute must in a hotel focused on events! Riu Plaza España has several agreements with music producers, and this has meant we have been able to listen to singers including José Luis Perales and Hombres G.
In addition, the hit singer, C-Tangana, recorded and presented his album at the hotel, a real honour!
It's not because it's ours, it's just that this hotel has it all! You can also enjoy the music of well-known DJ's at the hotel, like Dj Nano, David Penn and KDP, who are in charge of enlivening many of our evenings.If you want to touch the heavens in Madrid, come and listen to them at the Riu Plaza España.
Nothing stops us
One of the things this city hotel is most proud of is that in the middle of the pandemic it was able to host an awards ceremony, attended by 300 people. Of course, all the necessary healthcare measures were in place to guarantee the safety of all the attendees. The night was a roaring success!
Thanks to its location, its excellent cuisine and its more than 5,000 square metres dedicated to events, this hotel has become the top option when it comes to choosing an event venue. In the almost three years since the hotel has been up and running, it has received event requests from sectors as diverse as the pharmaceutical industry, banks, fashion, music and conferences.
It is a hotel for stars and with star quality. The hotel of music and spectacular views. But it is also the hotel of big events. And everybody is singing the praises of this marvellous building. We are extremely proud of this wonder that takes so many people's breath away, including ours! Our only hope is to continue offering the best panoramic view of Madrid for many more years to come. It just remains for us to thank everyone who has wanted to be part of the short but intense history of this very special hotel for RIU.