Aquatic fun for the kids at RIU hotels
date_range 14 August, 2018
question_answer
4 Comments
You have to take a lot into account when organising a family holiday at the hottest times of the year. Among these is to ensure that adults and children alike are going have a great time. Don't worry! Many of our hotels are set up to provide the ideal solution to this by offering incredible aquatic areas for the kids while also catering to everything adults are looking for out of their holiday. Would you like to know more about some of them?
The new RiuLand of the extended Riu Santa Fe
The RiuLand kiddies club in the new area of our Los Cabos property is fully equipped to ensure that children have everything they could possible want. The children's pool has multiple water slides to provide endless fun for youngsters. They'll have a fantastic time!
Multiple activity options in the children's area at the Riu Chiclana
Following its refurbishment, the Riu Chiclana has become an idyllic complex for youngsters. The RiuLand children's area is partly in an exterior park and partly under cover, delighting boys and girls alike with its water sides, mazes and ball pit. The baby pool and children's pool, complete with games and a pirate ship, will now be complemented with a new 'Splash Park' zone for fun activities in the water.
Guaranteed fun at the Riu Dunamar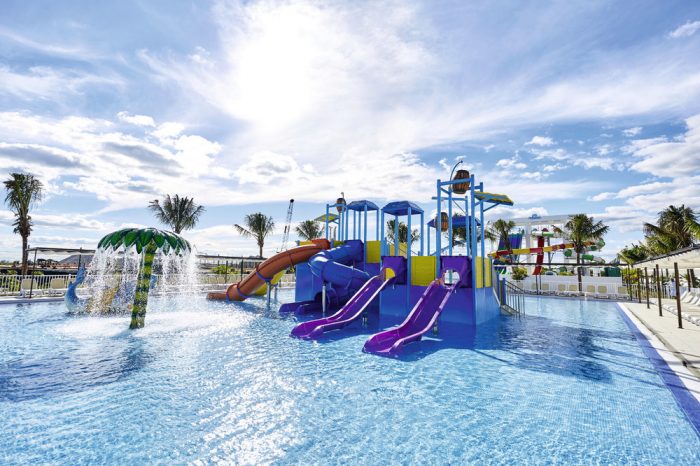 The youngest members of the family will be enthralled with the variety of water slides and the huge water-spouting palm tree at the Riu Dunamar. Here in warm and welcoming Mexico, boys and girls will find an area dedicated exclusively for them to enjoy to the full!
A spaceship exclusively for children at the Riu Gran Canaria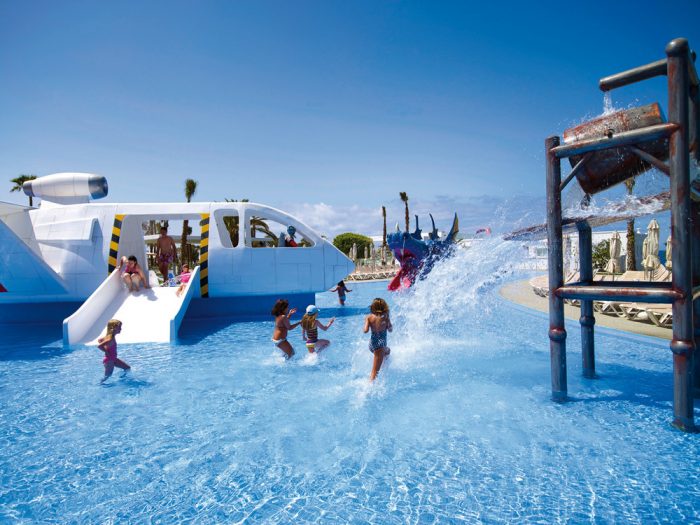 Don't be alarmed! This wings of this particular spaceship are water slides that you can 'fly' down to cool off in the water. In the same children's area you will also find a huge dragon's head that you can slide down once you have climbed up via its neck. Flying in a spaceship or on a dragon's back. Which would you prefer?
These are just a few of our many properties that provide aquatic fun for youngsters. Why not come and visit us with the kids for a unique experience? We look forward to welcoming you!