For several years RIU Hotels & Resorts have collaborated with different associations that fight against cancer
For several years RIU Hotels & Resorts have collaborated with different associations that fight against cancer
date_range 26 February, 2019
question_answer
Leave your thoughts
February is the month in which the fight against cancer is most visible, because of two key dates:
World Cancer Day on 4 February and International Childhood Cancer Day on 15 February. For many years, RIU Hotels & Resorts has been collaborating with several associations that work to help and facilitate the recovery of patients, especially children, and their families, who are fighting against this illness.
The work carried out by Aitana Foundation, Pequeño Valiente Association and the Canary Islands Association for Breast Cancer and Gynaecology is truly admirable and worth sharing. That is why we want to tell you more about how they contribute to improving the quality of life for patients during their treatment and the support this provides for their families.
Aitana Foundation, Cancún (Mexico)

This organisation was set up in 2011, when a little girl called Aitana left us after her fight against this illness. In her memory, her family started a campaign to collect toys and give them out at Christmas, to children who were being treated for different kinds of cancer. The initiative was a big success and a doctor at Mérida hospital suggested to Yusi Dzib Echevarría, Aitana's mother and now president of the foundation, that she open a place in Cancún to help other affected children.
Little by little, and with a lot of hard work, Yusi brought together more and more support, until eventually she was able to offer financial help, guidance and psychological support to patients between 11 and 17 years of age, in order to foster their social and family integration until they complete their treatments with the best results possible.
Mexico, where the Aitana Foundation is based, is one of the destinations where RIU Hotels & Resorts has its strongest presence. As soon as we heard about this association, we wanted to collaborate by offering financial support to children and their families who need to travel to other cities, such as Mérida and Chetumal, for medical appointments and treatment. This contribution has covered the costs of first-class coach travel, flights, medication and other expenses that help improve their well-being.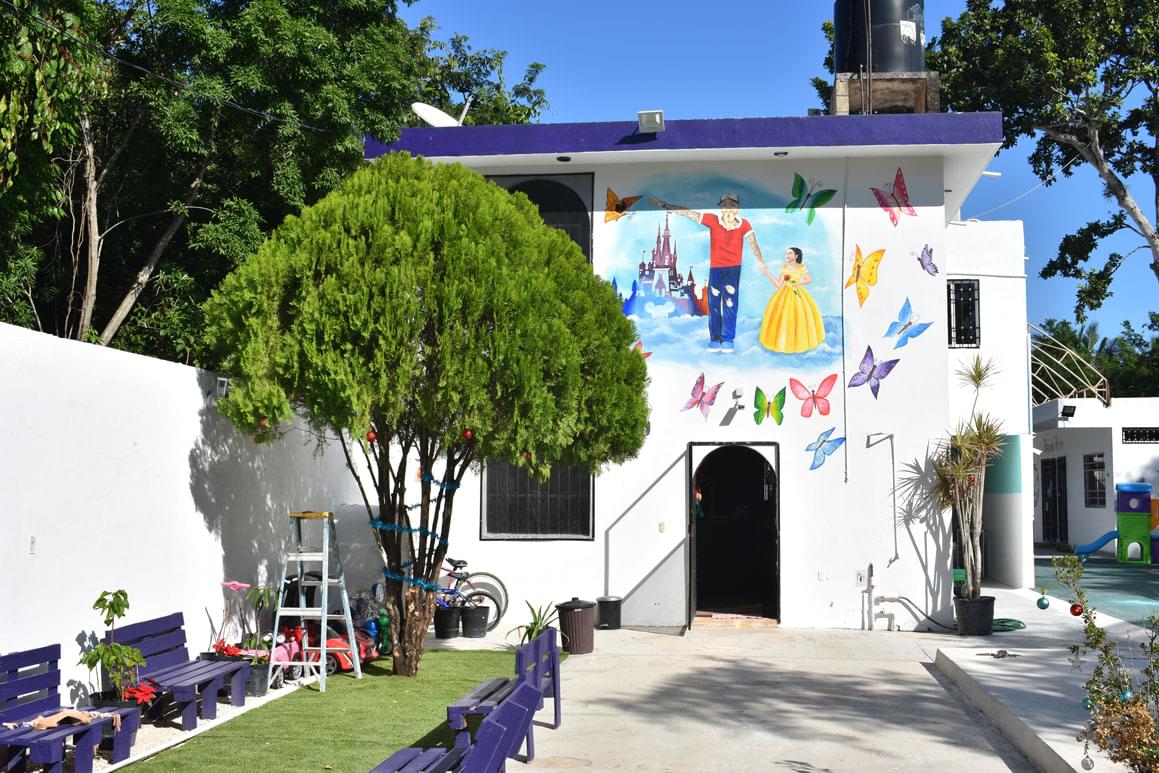 But the fight goes on, and in 2018 another battle was won. Last October saw the opening of the Chemotherapy Day Unit at Dr. Jesús Kumate General Hospital, Cancún, with two specialist paediatricians and four nurses.  RIU Hotels & Resorts has committed to covering all the costs of necessary medicines for this area of oncology and the medical supplies needed to carry out chemotherapy treatments for a cost of 187,000 Mexican pesos per month (8,523 euros, 9,800 US dollars), for an initial period of two years.
"Participating in a project of this scale, in partnership with the foundation, is a great example of what civil society can achieve when we work together."
Alma Tesillos, Manager of Corporate Social Responsibility in America for RIU Hotels & Resorts.
Pequeño Valiente Association for Children with Cancer, Canary Islands (Spain)
Formed by the parents of children with cancer, this not-for-profit organisation has been been joining forces since 2007 to carry out a range of projects and activities to offer the support needed to ensure the best possible conditions during the treatment of the children's illness.
The president, and father of two children who had cancer, José Juan Jerez Castro is also an employee of one of our hotels in Gran Canaria, so we know first-hand how hard they work to offer social assistance and personal support, to facilitate the education of sick children, improve health care, organise family activities and more.
Recently, they launched the 'Risopérate' project that lets children undergoing onco-haematology treatment travel to the Canary Islands Mother and Child Surgery Centre in an electric car, accompanied by volunteers who help relieve the stress and tension that surgery may produce.
Since 2014, RIU Hotels & Resorts has contributed to Pequeño Valiente by taking care of the maintenance costs of two temporary apartments, in Las Palmas and Tenerife, to accommodate the families of children with cancer who travel there from other islands and municipalities to receive medical treatment. In addition, since 2018, the association has had an apartment in Madrid, furnished by RIU.
"At RIU we intend to renew this agreement year after year to benefit the families from the Canary Islands who face this problem"
Catalina Alemany, Director of the Department of Corporate Social Responsibility at RIU Hotels & Resorts.
Canary Islands Breast Cancer and Gynaecology Association (ACCM), Las Palmas de Gran Canaria (Spain)
ACCM was launched in 2002, out of empathy for women affected by breast cancer who need support and guidance from other patients who have been through the same illness. They have a team of professionals who advise the women on every aspect of their medical treatment and appointments with specialists. They also have numerous volunteers who dedicate their time and words of support throughout this time of battle to the patients and families who need it.
Their main mission is to improve the quality of life of patients, to promote early detection and to support cancer research.
Since 2008, RIU Hotels & Resorts has collaborated with ACCM by supporting many different activities and initiatives, such as charity races and medical workshops about cancer.
We are very happy to be able to collaborate with these associations, as there is no rest in the fight against cancer and every little contribution adds up to help. Prevention and treatment are key, and for that reason we want to remind you to develop a set of healthy habits that can help prevent the various types of cancer.