Haven't you heard yet? RIU is opening its second hotel in Zanzibar!
date_range 30 June, 2022
question_answer
Leave your thoughts
The RIU chain is making waves with the launch of its second hotel in Zanzibar: the Riu Jambo. This new 461-room establishment is located at the foot of the idyllic Nungwi beach, right next to the Riu Palace Zanzibar hotel. Together they offer a complete range of services in the destination so that you can enjoy your holidays to the max. Would you like to find out more about this new hotel? We will tell you everything!
Lobby
When you arrive you will be welcomed by a lobby that prides itself on sustainability. The space is entirely open-plan, with natural light and ventilation. The great thing is that this also means you can discover various areas of the hotel and the spectacular scenery as soon as you get there!  In addition to its impressive height, the lobby is characterised by a large central skylight that takes centre stage.
Outside, in the main building, where the reception and most of the rooms are located, the hotel boasts spectacular façades with murals inspired by African culture and masks crowning several of its towers. There are also a total of five swimming pools, one of which is for children.
Bedrooms
93 of the rooms feature a staggered location on the ground floor, facing the sea, offering wonderful views of the surrounding area. All the rooms are fully equipped to ensure you have a perfect stay in a thoroughly inviting space. One of the things you will love is the decor. We have opted for earthy tones, and there is particular emphasis on wood. In addition, on the walls you will see paintings showing scenes of Tanzania, the perfect combination!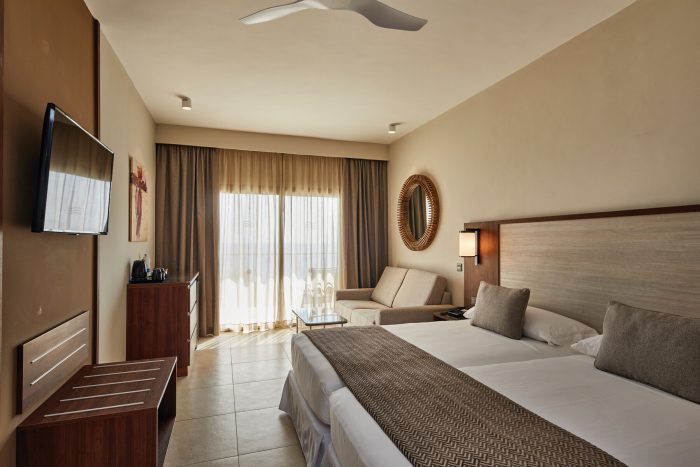 Restaurants
And now comes the main innovation! The hotel boasts a unique area, a stilt house! Do you know what this is? It is an original wooden construction overlooking the sea, which you can access via a walkway. Here you will find two of the hotel's three themed restaurants: the Italian "il Panzotto" and the fusion "Kulinarium", as well as the "Bahari" bar. In this space you can enjoy exquisite dinners or savour a cocktail with a panoramic view over the beautiful waters of Zanzibar. Can you imagine?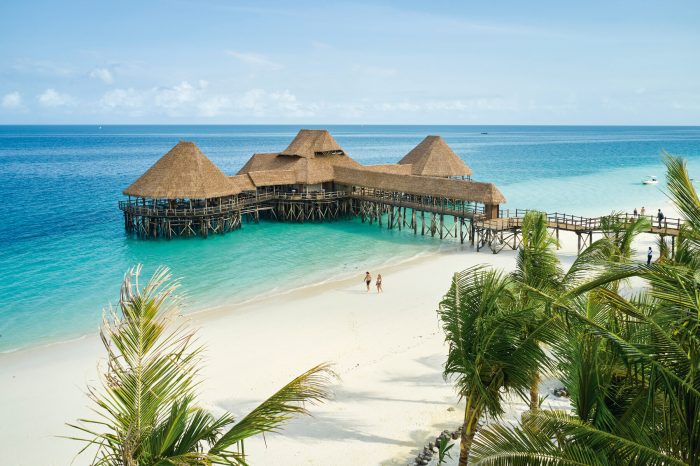 And that's not all! The hotel also has an Asian restaurant "Yunnan" and the main restaurant "Maisha", boasting a terrace and international cuisine. The hotel also features the "Bongo Flava" lounge bar with a terrace, the "Hakuna Matata" pool and swim-up bar, and "Rafiki" a snack bar on the beach.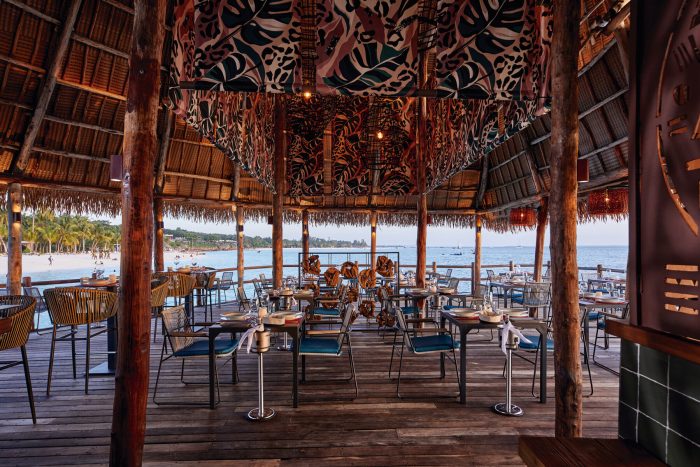 Best of all, you can enjoy the food and all the hotel's facilities thanks to the 24h All Inclusive service.
If you like the sound of this hotel that we have opened in the wonderful land of Zanzibar, all you have to do is book your stay and come to paradise with RIU. We're waiting for you!