Hotel Riu Palace Palmeras reopens its doors in full regalia
date_range 23 August, 2019
question_answer
2 Comments
Hotel Riu Palmeras is a very special hotel for the RIU chain, being the first to appear in Gran Canaria. Now, after a complete remodelling, it reopens its doors with a totally renovated image and an upgrading of its category to Riu Palace Palmeras. This is another example of how important every hotel is for us. Even though we've opened new hotels in Maldivas and Madrid this year, we never forget the first hotels that left a mark on the chain.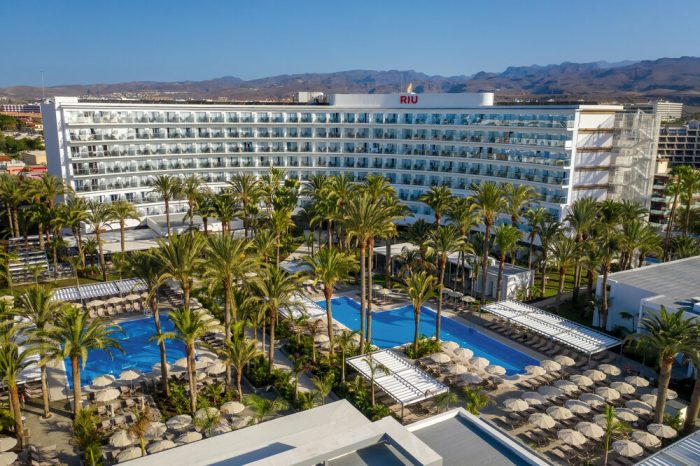 We know you've been waiting for months to know and see the results of the remodelling of this classic hotel that has served as a holiday retreat for families, friends and couples for years. Now it's ready to continue being your home, though in an enhanced version so that you can enjoy yourself like you deserve during your vacation.
Before and after the remodelling
One of the most noteworthy changes in the hotel is the fact that the old bungalows have been substituted by one single-storey building with 40 bedrooms, located by the garden and connected to the main seven-floor building. As a result, the hotel retains its essence and continues to offer rooms at ground level. Both buildings combine a total of 274 rooms available for you to stay in.
How are the rooms?
One of the areas where the remodelling paid particular attention is the rooms. We wanted to bring the sea into your room so that you feel immersed in your beach destination. For this reason, the decor combines blue hues for the textiles and walls. This ensures that during your rest and relaxation time, you'll feel surrounded by the peacefulness of the sea. In addition, the wood hues add a touch of warmth.Needless to say, each room is tastefully decorated with an air of sophistication.
All the rooms include a terrace or balcony, shower, double sink, hair dry and air conditioning, among many other amenities.
What are the common areas in the hotel?
All of the rooms in Hotel Riu Palace Palmeras are exquisitely decorated, and even the smallest details have not been neglected. This is clear as soon as you step into the lobby, with its elegant look thanks to the curated lighting and the pale hues chosen for its decoration.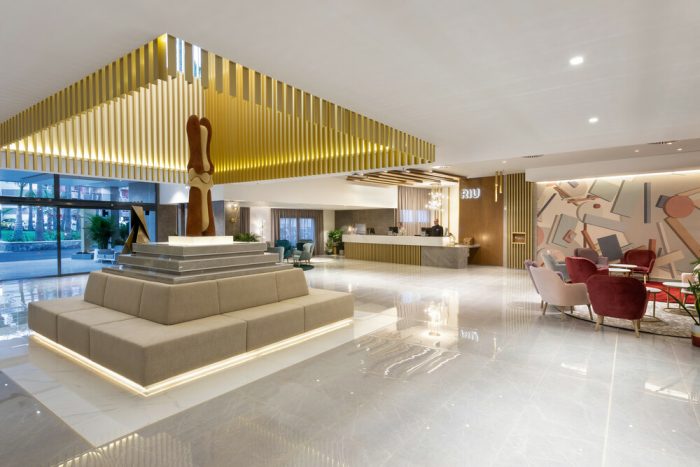 If you travel with your family, you won't have to worry about anything. The hotel has something for everyone, including a playground and 3 pools, one just for children. The pools are heated in the winter and have an area with complimentary reclining chairs.
How to have fun at Hotel Riu Palace Palmeras?
The hotel is 350 metres from Playa del Inglés in Gran Canaria, so you can enjoy the sea whenever you want or head out and discover the island.When you want to take a break from being a tourist and simply enjoy the hotel, there are daily entertainment for children from ages 4 to 12 six times week and live music or shows at night. The hotel also has a gym and the option of playing the sports you'll find around property.
Finally, we'd like to call your attention to the food at Riu Palace Palmeras, which features the chain's renowned 24-hour All Inclusive service. If one day you're interested in trying more exclusive and different dishes, you can make a reservation at the fusion restaurant"Krystal".You'll also experience a variety of flavours in the main restaurant with a terrace, where you can enjoy buffet breakfasts with staffed stations, snacks, lunch and themed buffet dinners twice a week. In addition to these two, you can also enjoy the lobby bar, bar salon and pool bar, all three with a terrace, as well as an apertif at "Pepe's Food".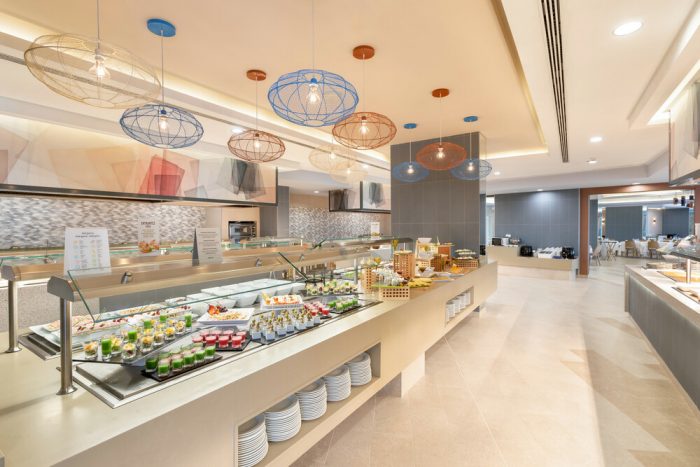 Do you like the new Riu Palace Palmeras?The essence of the chain and hotel has not changed. The only difference is a far more elegant and exclusive appearance. We hope you continue coming to visit us at this establishment that is so fundamental to RIU's history.Please join us in writing a new chapter in the life of this emblematic hotel.