Learn about the important role of RIU's Mayoras in Mexico
date_range 28 July, 2022
question_answer
Leave your thoughts
In the kitchens of RIU hotels in Mexico there is an essential figure: the Mayora. Who are these people? They are in charge of cooking the food for the staff dining rooms. But they are also the people who know all the secrets of the exquisite sauces and traditional Mexican dishes that would be nothing without them. When you try a dish full of that Mexican flavour from the buffet, you can be sure that a Mayora had a hand in it.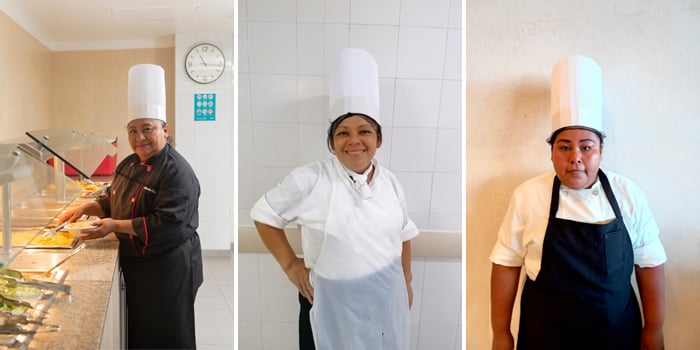 These are experienced cooks who end up as culinary mothers, training many of those who begin their work in RIU's kitchens. They are special because, in addition to their skill in the kitchen, they are responsible for carrying on the tradition and ensuring that culinary knowledge is not lost. Nobody knows the traditional recipes as well as they do, and nobody is better at passing on the essence of traditional dishes from generation to generation. Their role is fundamental both for hotel employees, who enjoy the delicacies they cook, and for Mexican culture, which keeps its traditional flavours thanks to them.
Today we introduce you to Carmita Uzcanga, Mayora of Riu Palace Mexico; María Inés Uch, Mayora of Riu Playacar, and Sandra Luz Gatica Galeana, Mayora of Riu Palace Baja California.
Carmita Uzcanga Hernández
Riu Palace Mexico
Carmita has been with RIU for 17 years, spending all that time at the Riu Palace Mexico, which she considers her home. "This is our home because we spend most of the day here."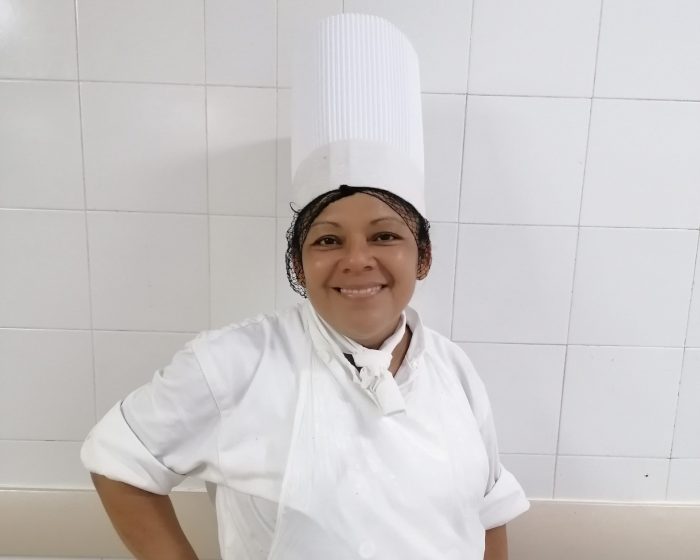 "I like coming to work, I am happy in the dining room"
She gets to work early and each morning she goes through her routine of checking that everything is in order in the kitchen, from clean pans and pots to making sure there is no lack of food in the dining room. In addition, she always leaves time to start preparing the next day's production. Carmita's signature dishes are mole, barbacoa, pozole, and ribs in green sauce or pipián. What are the employees' favourites? "People really like mole and pozole, which has meat in it."
For her, the best thing about her job is " cooking and feeding people. When I have time I make something extra like rice pudding, I like people to eat well and leave happy." Carmita undoubtedly knows the importance of taking care of the stomachs of the workers she serves in her dining room, who are lucky enough to sample her delicious dishes every day.
María Inés Uch Cuxim
Riu Playacar
Maria Inés started as an assistant in the kitchens of the Riu Palace Mexico hotel, where she learned the trade. Later she was promoted to cook and now she is an expert Mayora at the Riu Playacar hotel. Like Carmita, she has been delighting us with her talent for 17 years.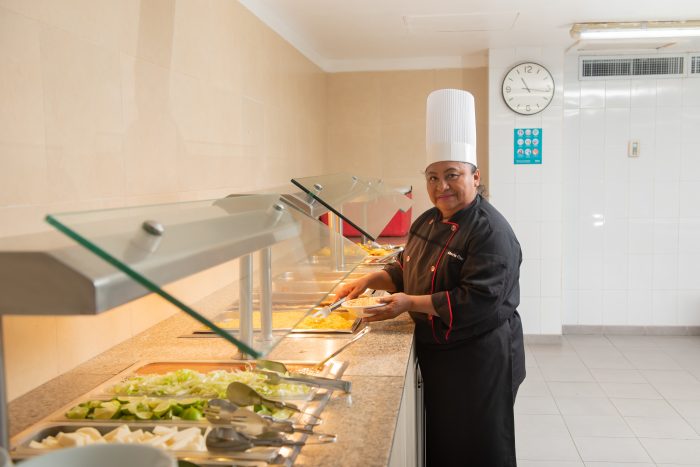 "I like to hear the staff say that they like my food, it encourages me to carry on and keep preparing the dishes they want"
Maria Inés puts all her heart into the dishes she prepares for the employees. The most successful are barbacoa, seafood broth, mole and pozole. She acknowledges that for her "RIU has been a school, and not just any hotel does that for you. In other places they give you your material and tell you what you have to do but they don't explain how. Here I have always had the support of my colleagues." She transmits all the love she receives into her dishes and this is the most important thing for us. She also recalls with nostalgia how "I had just started working at the hotel, the executive chef and sous chef at that time were my teachers, they taught me many things about the kitchen that I did not know." She is a great example of self-improvement and that with hard work and perseverance you can achieve whatever you set your mind to.
Sandra Luz Gatica Galeana
Riu Palace Baja California
When she was very young, she learned to cook the homemade dishes that her mother prepared to sell in the Acapulco market. When she was just 15 she got her first job as a cook, and she could always count on the support of her mother who helped her if there were any unforeseen events. Following in the family tradition, Sandra Luz has passed on her passion for cooking to her eldest son, who is now a hotel chef.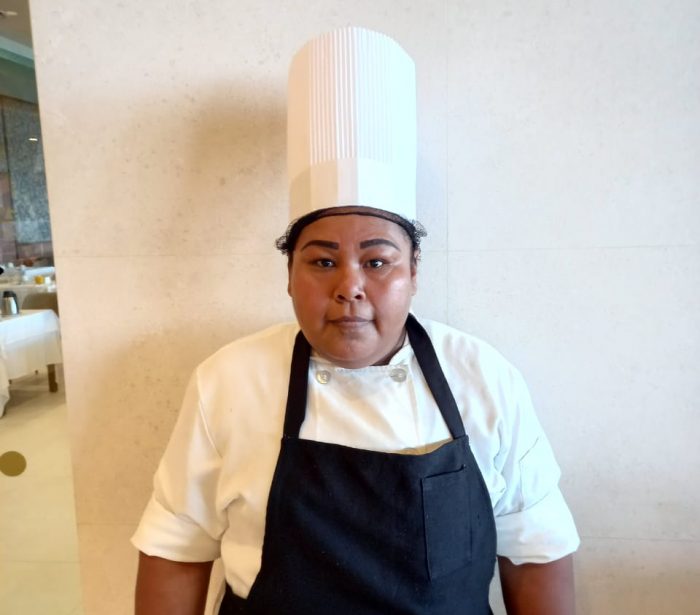 " I am passionate about my work, I love being on the hot line, always busy, with the pressure of having to prepare several dishes in a short amount of time"
For Sandra Luz, who has been with RIU since 2020, the best thing of all is "being with my colleagues, I am very happy with my work environment. I am a cook because I am passionate about my job." The employees of the Riu Palace Baja California hotel are lucky enough to enjoy the exquisite dishes, steeped in tradition, that Sandra Luz prepares for them. Among her most successful dishes are the red pozole she prepares every Thursday and her chicken mole. In addition to her skills in the kitchen, her good humour and constant smile are contagious.
Three great women who are at the heart of the Mexican kitchens and who have a very important mission: to preserve the flavour and tradition of Mexican dishes. Thanks to them, every day the hotel workers enjoy tasty dishes prepared with professionalism and care. Long live the Mayoras!