Celebrate your wedding in paradise with RIU
Celebrate your wedding in paradise with RIU
date_range 26 May, 2022
question_answer
Leave your thoughts
Almost every serious couple gets to that point in their relationship where they decide to tie the knot. The big question comes next: how do we do it? Some want grand ceremonies while others prefer more intimate weddings. There is no doubt that this is a date that will mark the beginning of a life together, which is why it's so important to plan it well. Your wedding day is a truly special occasion and at RIU we have the ideal place for you to say "I do" to your better half: ¡The Maldives!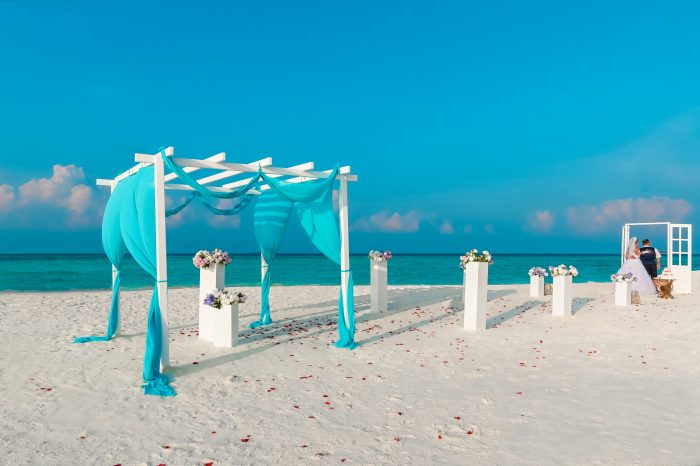 And best of all, you don't have to worry about anything because RIU will take care of every detail. All you have to do is come, enjoy your special day and say yes! Would you like to know how it works? Here is everything you need to know!
What steps do I have to follow to get married in Maldives with RIU?
Choose a date
The first thing you need to do is to set a date for your special day and get in touch with us. If we have availability, perfect! If not, don't worry, we will surely find the perfect date. It's important that when you first get in touch with us you let us know your priorities such as at what time of the day you want the event to take place or if you wish to have a private dinner afterwards.
Pick every detail
Upon your arrival at the hotel, you will be welcomed by our commercial department with whom you will be able to finalize the details of your wedding. It's important to choose carefully the music that will accompany you on your way to the altar, the cake you will eat, the hairdresser's schedule and, especially, the bride's bouquet.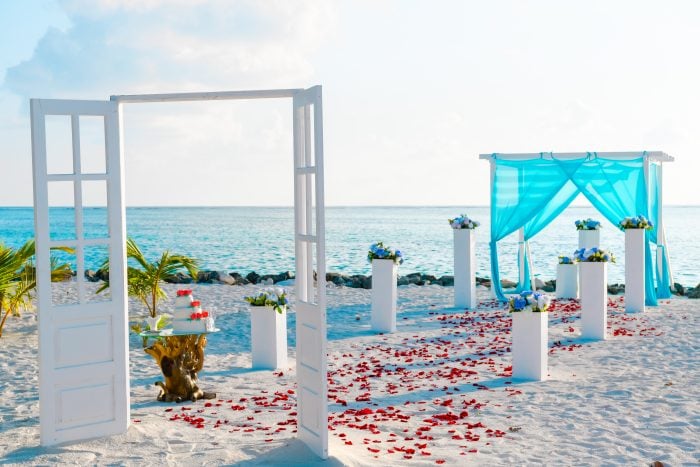 In addition, we will tell you all you need to know about the welcome cocktail, the photos that will immortalize the evening, the decoration of the altar, which will be the main stage of the event, and, of course, all the details of the symbolic ceremony.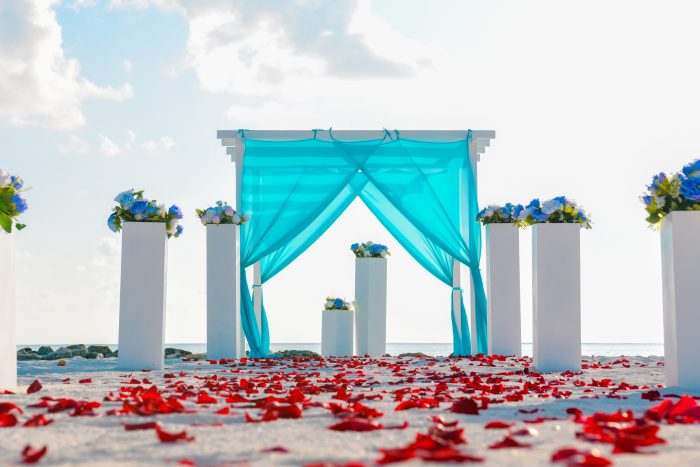 As we mentioned before, you won't have to worry about anything because you will be in contact with your wedding planner at all times. The wedding planner will take care of any questions or needs that may arise during the whole process.
The big day
Once we have all the details all you have to do is enjoy your big day! A RIU staff member will pick up the bride to take her to the spa/beauty salon where she can get ready to say "I do". Afterwards, we will take the first photographs, both at the ceremony site and at a few locations of the resort.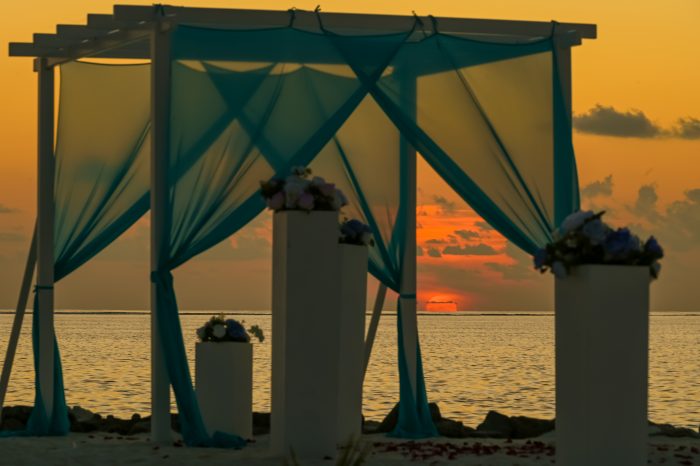 Ideally, the ceremony should start at sunset, at 5:30 pm. After this symbolic act, you will make a toast with which you will be definitively united in marriage.
But that's not all! If you also want it to be a surprise, you can propose to your partner at our hotel. How? By filling one of the pools in the overwater rooms with rose petals with the message "Will you marry me"? Everything else will be ready!
You can always extend your stay for a few more days and enjoy your honeymoon with us. Can you think of a better plan? You can choose any of the two RIU hotels in the Maldives: the Riu Atoll Hotel and the Riu Palace Maldivas Hotel. In both hotels, you will enjoy the exclusive 24h all-inclusive services with an exquisite gastronomic offer and a full program of activities.
As you can see, you can organize your dream wedding in three simple steps in the middle of paradise and enjoy a truly special day.  Undoubtedly, an original way to start a life together with the person you have chosen as your life partner. You know that at RIU we love to share important moments with you, and this is certainly one of them. We will be delighted to make your dream come true.