RIU gives you gift ideas for Valentine's Day!
RIU gives you gift ideas for Valentine's Day!
date_range 11 February, 2021
question_answer
Leave your thoughts
The day marked by red, roses and chocolates is just around the corner and this Sunday, 14th February, is Valentine's Day! Shop windows and social media are filled with gift ideas and beautiful messages for lovers on this day. Friends and couples share words of love and celebrate this day in a special way. This year, more than ever, we need to celebrate dates like this that remind us of what really matters.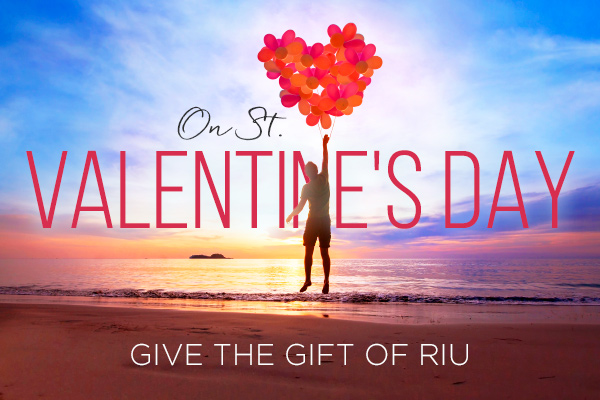 Still haven't thought about what to give as a gift? Don't worry because at RIU we have a great idea that will leave the recipient open-mouthed: a trip! Here at RIU, we encourage you to keep dreaming about travelling the world. Besides, giving the gift of companionship and holidays is by far the best option!That's why we're giving you some ideas on what to give for Valentine's Day.
What to give for Valentine's Day with RIU?
1) A stay in a Riu Palace Hotel
A break from your routine is very important for everyone, and what better way to do this than in a hotel where every detail is taken care of? This is what the Riu Palace line of hotels has to offer, where you will enjoy a luxurious stay. And best of all? All the hotels in this range are located right on the beach. If you decide to choose this option, more than just a trip, you will be giving the gift of special moments that you will remember forever, like that walk along the beach while you watch the sunset or that romantic dinner by the sea. Have you already started picturing it?
2) Adults Only
If you want to add that little something extra to your stay, you can opt for the Adults Only option. This is a line of holiday hotels designed for those who are looking for extra peace and quiet, whether as a couple or with friends. These hotels offer a wide range of entertainment options, an extensive gastronomic selection and facilities and comforts that lack for nothing.
3) A romantic getaway in a Riu Plaza Hotel
Sometimes, the best holidays are those where you travel to a new place for no other reason than to enjoy the pleasure of getting to know it. If you are into discovering new destinations and getting lost in a city with a map in hand, then the best gift is to visit one of our Riu Plaza hotels, located in the heart of amazing cities and designed especially for you.
4) Visit your dream wedding destination
Are you thinking of getting married or proposing to your partner? Whatever your goal, we have a proposal for you! Why not use the celebration as an excuse to give your partner a getaway to plan your wedding at a RIU hotel and get to know the destination where you will celebrate your special day? You still haven't made the leap? Well, don't think twice! Take your partner to a dream destination and ask for their hand in marriage while enjoying unique views.
And if you finally decide to get married at home, you can always choose us for your honeymoon!
We look forward to hearing about your choice and welcoming you to our hotels very soon! Together we can keep the dream alive!