LUXURY HOTELS ON THE BEACH: RIU PALACE
Riu Palace are the most sophisticated of all the RIU hotels, designed to make our guests feel like royalty. With each located on the beachfront, excellent service and wide smiles invite guests to take advantage of their modern facilities.
HOTEL RIU PALACE: THE LUXURY WITHIN YOUR REACH
Fresh, quality ingredients prepared at the time, or exquisite modern presentation theme restaurants: the cuisine of our hotels is a great experience that customers always want to repeat.
Bathed in sunlight next to crystalline waters, Riu Palace Hotels are designed with your relaxation in mind. But that's not all, the range of sports, entertainment and shows on offer ensures each day is packed full of fun and excitement.
Rooms are meticulously designed and offer everything you need to make you feel at home and maximize your leisure time.
A luxury stay in the best destinations worldwide. Riu Palace Hotels are ready to cater to any desire: a glass of champagne, some delicious canapés, a bubble bath, 24-hour wi-fi throughout... all this is easily within your reach due to our excellent balance between quality and price.
ENJOY ALL THE RIU CLASS ADVANTAGES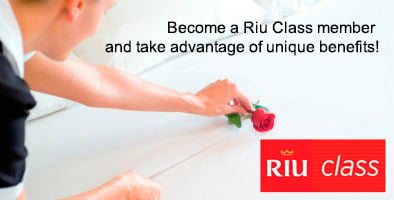 With the Riu Class program you will receive a member card that identifies you as a valued guest in our hotels. You can enjoy multiple benefits booking through our website.
Register by filling the online registration form.