RIU reveals some interesting facts about St. Patrick's Day
RIU reveals some interesting facts about St. Patrick's Day
date_range 11 March, 2021
question_answer
Leave your thoughts
The streets of Ireland will soon be dressed in green to mark the celebration of St. Patrick's Day. This tradition is undoubtedly known about and celebrated around the world, because, although it is typical of Ireland, so many Irish pubs in different corners of the globe join in with this traditional celebration, spreading the spirit of Ireland all over the planet.
Although this is a very well-known and popular date, St. Patrick's Day actually harbors many intriguing facts and at RIU we are going to tell you all about them!
It used to be a strictly religious festival
As you probably already know, on March 17th we celebrate St. Patrick, the patron saint of Ireland. Although this day is now popular for its parties and social gatherings, its origins have nothing to do with beer. In fact, up until 1970 all the pubs were closed on this day, meaning no one could drink beer. But why did it start out as a religious festival? This is because the day commemorates the death of St. Patrick after a life devoted to religion.
St. Patrick was not Irish and he was not even called Patrick.
Another of the curious facts is that St. Patrick's real name was Maewyn Succat. And indeed, he was not Irish as he was born in Scotland. However, the feast is specific to Ireland because it was there that he first began his religious work, which lasted almost 30 years, and where he became best known.
The importance of the shamrock for St. Patrick
During this holiday it is typical to see the classic Irish symbol: the shamrock or three-leaved clover. Did you know that St. Patrick used it to explain the existence of the Holy Trinity? He used each leaf to represent a different figure: Father, Son, and Holy Spirit. That is why the shamrock has a special significance on this day. If you want to copy this tradition, the best thing to do is to wear a shamrock somewhere on your clothes, like a pin or badge.
The green that was not green
We all associate the color green with this holiday, but the original color was light blue, as the religious order of St. Patrick wore this color. The use of green became widespread later on, at the end of the 18th century, and it was related to the shamrock that we have already mentioned. If you go to a St. Patrick's Day party and you see someone who is not wearing green, pinch them! Don't worry, they won't say anything, it's traditional!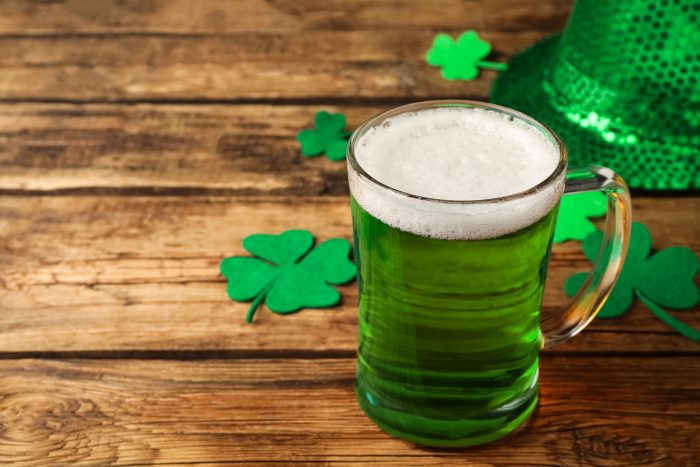 Where is St. Patrick's Day celebrated?
Although the tradition began in Ireland, the truth is that many destinations have embraced this great festival, and on this day it is common to see the color green on display in many parts of the world, including the United States, Canada, Scotland, Australia and even China! However, these days we can see this tradition being celebrated in the majority of countries around the world, in some corner of their cities you will always be able to find a pub that catches your attention because of something green on display, the sign that St. Patrick's Day is being celebrated there. Although there are many of us who join in with this festivity, for the Irish who are away from home, it is their way of feeling close to their roots and we are happy to join them!
It is odd that such a well-known festival should conceal so many curious details that are often overlooked. But now that this feast day is approaching, we want you to enjoy it like a real Irishman, and for that you have to become an expert on St. Patrick's Day.
Whether you celebrate it at home, in a pub or strolling through the streets of your city, remember to wear green to avoid any unnecessary pinching. Wherever you are, you know that at RIU we will welcome you with open arms if you choose our hotel to celebrate this holiday in, at any of the destinations where we are located. Let's enjoy St. Patrick's Day together!