Riu Palace Mexico and their ravioli with passion
Riu Palace Mexico and their ravioli with passion
date_range 26 July, 2019
question_answer
Leave your thoughts
Do you have one of those trusty recipe books you keep to note down your favourite recipes? At RIU we are going to give you another recipe to add to this family book that can be passed down from one generation to the next, helping you to form part of your family's culinary legacy. The delicacy chosen on this occasion is "Ravioli with passion" the star dish at the Riu Palace Mexico hotel. Do you want to find out what is hidden behind this name? Why not pick up a pen and paper and read on.
Firstly you will need to take a trip to the supermarket to buy the following ingredients:
20 pieces of round wonton pasta
2 eggs
500g of portobello mushrooms
4 green apples
250g of foie gras
400g of butter
400g of passion fruit pulp
How is this delicacy prepared?
The first step is to fry the portobello mushrooms in olive oil (20%) and vegetable oil (80%) at 60ºC for ten minutes. Afterwards, remove the excess oil and cut the mushrooms into small cubes together with the pealed apple. Take out a flat bottomed wok and make fois gras terrine pearls.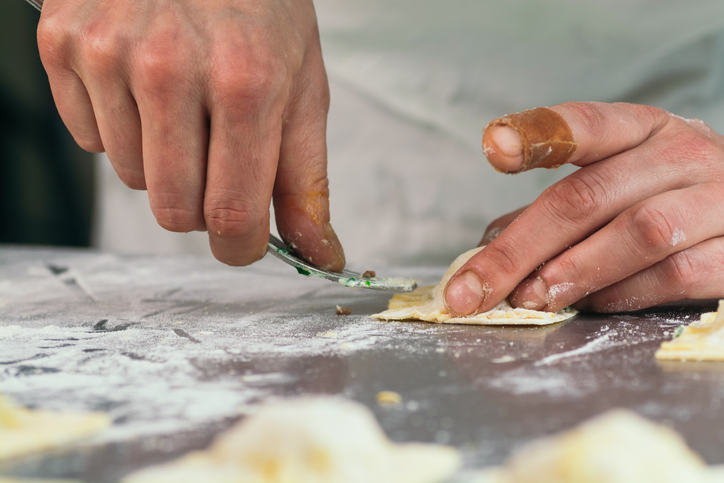 Once we have prepared this, fill the wonton pasta with the foie pearl we have just made, along with the apple and the portobello mushrooms, brush the edges with egg and seal them with the help of a round cutter. Once we have filled the pasta we will cook it in boiling water for 3 minutes.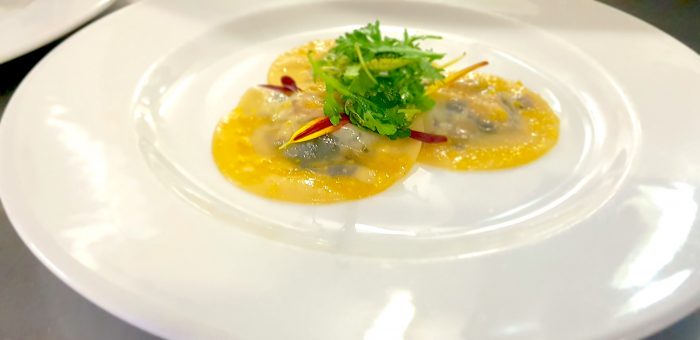 Now take a frying pan, add olive oil and fry a sliced shallot, add butter and the pulp from the crushed passion fruit. Once we have prepared the mixture, add the ravioli, lightly fry the mixture and serve.
Where does this dish come from and who created it?
We want you to be able to impress your guests, which is why you can tell them its story once you have served them this dish. This is a recipe from the Executive Chef at the Riu Palace Mexicohotel, Rodolfo García Rangel, who was very interested in Asian and Latin food. Furthermore, he is passionate about creating surprising and unexpected food combinations, such as tropical fruits with traditional ingredients such as foie gras.
This speciality is the perfect mix of all these aspects of cooking and has led to an elegant, exquisite, and above all extremely tasty dish created by one of our best chefs.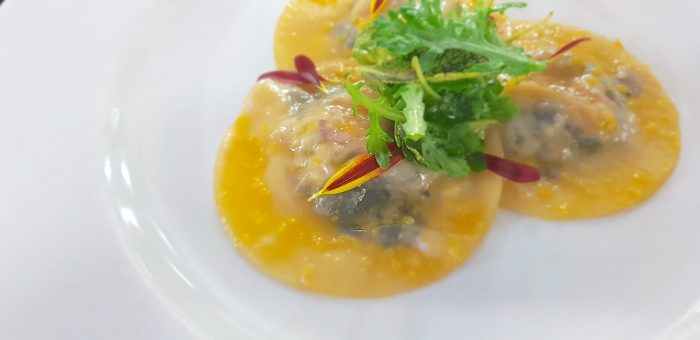 Now that we know the work, we need to learn about its creator. Rodolfo García Rangel is a chef from the chain who was born in Mexico. Since he was a young boy he was always fascinated by cooking thanks to his grandmother's recipes which continue to inspire him. 18 years ago he finished his studies in cooking and went on to work for the last 7 years in RIU, 5 of which he spent at the Riu Palace Costa Rica, 1 year at the Riu Playacar and now at the Riu Palace Mexico where he is the head chef.
We hope you like our recipe. You can no longer say that you don't know how to surprise your guests, since they are going to love this dish and you can expect to receive a big round of applause at the end of it. Go ahead and become a chef for a day!