Luis Riu: "Purchasing the San Francisco Hotel marks the fulfilment of a dream that began over 40 years ago"
Luis Riu: "Purchasing the San Francisco Hotel marks the fulfilment of a dream that began over 40 years ago"
date_range 17 February, 2020
question_answer
4 Comments
Much has happened since I visited San Francisco for the first time. 41 years have passed, to be specific, since that first trip I made with two friends in 1979 and my latest trip to the city. And the truth is I never tire of seeing it. San Francisco stayed etched in my memory. I was impressed by its steep streets, by taking the tram, visiting Alcatraz… I felt like I was stepping onto a film set and becoming one of the actors for a few days. For this reason and so many more, today I wanted to tell you that San Francisco was always one of the cities where we were planning on taking our Riu Plaza hotel chain.
San Francisco is one of the few cities in the world that is a business capital, a world leader in technology and also a world-famous and much-loved tourist destination. That is why it more than meets all the requirements we need for the expansion of our Riu Plaza line of hotels. However, as a result of all of this it also has a very competitive real estate market and finding the right opportunity was no easy task. Living standards are very high in this city, as my colleagues working there have often told me, and the price of land is comparable to that of Manhattan.
Luis Riu & Riu Plaza Fisherman's Wharf, love at first sight
Five years ago, what is now the Riu Plaza Fisherman's Wharf was in fact on sale. At that time I went to visit it and thought that because of its size (531 rooms), its location (one street away from the famous Pier 39) and the building's characteristics (it takes up an entire block and has large communal areas and meeting rooms) it was perfect for a RIU Hotel in San Francisco. But it was then purchased by someone else.
We kept a close eye on the area over the years and we even visited the Pier 2620 Hotel which was also for sale, but we did not end up finding our ideal building. Every visit to the city further cemented my decision. As I strolled around Fisherman's Wharf I could really envisage our typical guests doing the very same thing! It was clear to me that they would all have returned to our hotel at the end of their walk, if we had been in a position to offer it to them.
The situation remained the same until six months ago. In fact, I was actually on holiday when our Expansion director Reto Stoeckenius contacted me to let me know that the hotel was once again up for sale. This must have been on 18 or 19 July and by the 29 July I had boarded a plane to San Francisco, because I was determined not to let the opportunity escape me this time.
290 Million USD: One of the most important operations in the history of RIU
I know that we always point out how quickly RIU's decisions are made, but the one to buy this hotel in San Francisco was truly taken in record time. On this occasion I had practically made up my mind while en route. I perfectly recalled the building's characteristics from that first visit and on this second trip I found out that it had even improved as a result of the hotel's refurbishment, carried out by the previous property owner.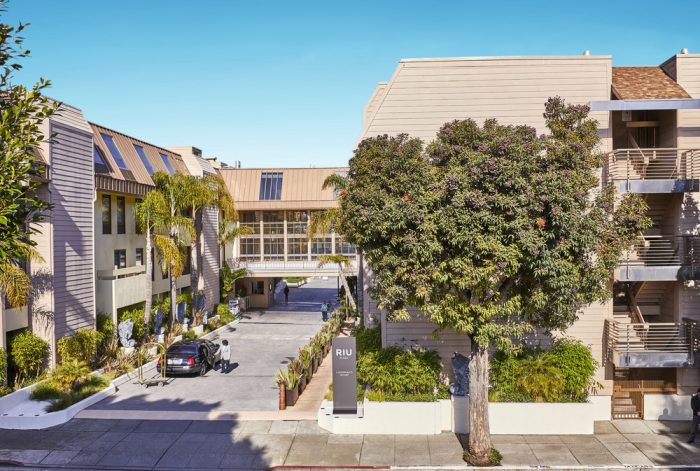 We began the Due Diligence process almost immediately and on 12 November the hotel became the Riu Plaza Fisherman's Wharf. Anyone who knows anything about these kinds of large-scale operations will know that this was done in truly record-breaking time. We acquired the building for 290 million dollars, which, nearing the end of the year, became one of the biggest transactions in RIU's history.
Riu Plaza Fisherman's Wharf: A perfect location and fantastic rooms
We are very excited about this hotel's prospects. However, there is certainly a lot more work to be done. Taking a recent example, when it came to the Riu Plaza España, we started discussing everything two years before its opening.  It opened in summer with its rooms almost fully booked until the end of the year. In this case we began both marketing and operations in a very short space of time. But everything is moving in the right direction. In terms of sales: we need only explain to our guests that we have a hotel in the perfect location for discovering the most well-known parts of the city on foot, as well as the fact that it has been recently renovated and that the rooms are fantastic and extremely spacious.
In terms of the operational side of things, we have two distinct advantages:
The RIU team, which moved to San Francisco for training and the roll-out, have vast experience and are more than up to the task.
The change has been greatly welcomed by the staff. Once the uncertainty and pre-opening jitters passed, they now value their close proximity to the property and being able to form part of a team with direct access to senior management. I believe that this is helping them feel part of the project and to know that each one of them is playing an important role.
An international hotel that will please tourists and business travellers alike
When all our hard work bears its fruits, we hope to have guests from Latin America, above all from Mexico and Argentina, Asians from Japan and Korea; as well as Europeans with the majority being German and British. We hope there will be a balanced mix between:
People visiting the city for tourism, either for a city break or as part of the classic Los Angeles – San Francisco – Las Vegas route.
Business travellers visiting the city to attend its many international conventions or even coming to the hotel to hold their own events.
Will there be a new Riu Plaza in the United States soon?
Every project has its difficulties and its joys. I know that getting this hotel off the ground is taking a huge amount of work, above all by the Commercial and Operations team. I want to take this opportunity to thank them for their dedication. It is a great pleasure for me to see the arrival of a RIU hotel in San Francisco, a city in the United States that impressed me so much on my first visit in 1979.
I am also very interested in Chicago and the unique atmosphere of New Orleans. Perhaps one of these two cities could be our next Riu Plaza destination. In the meantime, we will continue enjoying this recent success.
Fdo. Luis Riu