RIU's sixth hotel in Morocco has finally arrived!
date_range 18 October, 2019
question_answer
Leave your thoughts
We are heading towards the home stretch of 2019, a year full of great joy thanks to important openings and renovations which have taken place since the start of the year. Now it's Morocco's turn, with the opening of our new 5-star Riu Palace Tikida Taghazout hotel. This is the sixth hotel the chain has opened in this destination and the first in Taghazout, a small fishing village 15 kilometres north of Agadir.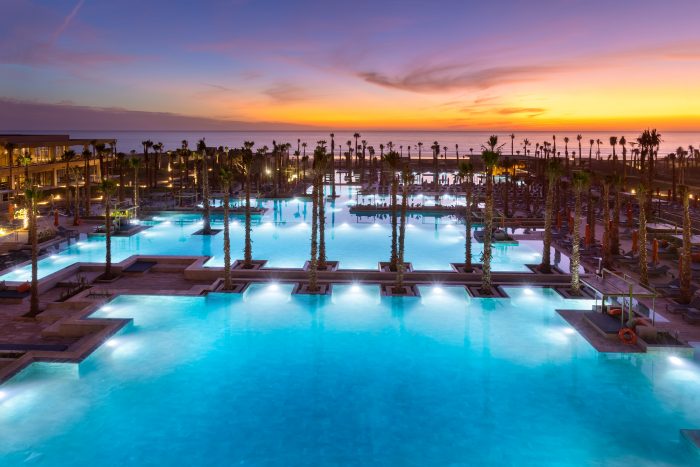 The recently opened hotel boasts our renowned All Inclusive 24h RIU service along with all the typical features of the Riu Palace line of hotels. Thanks to all of this our guests will get to enjoy an authentic RIU experience during their holidays.
These are the new Riu Palace Tikida Taghazout rooms
The hotel is ideally located right by the sea. It has a total of 504 rooms which have everything our guests could possibly need in order to fully enjoy their well-deserved break. Five of these rooms directly connect to the main pools, one of the reasons why they are swim-up suites as well as being extremely luxurious!
The rooms have a very warm and inviting decor. Wooden furnishing is the main feature of these rooms, in the headboards and furniture which perfectly contrast with the beige tones of the walls. Undoubtedly the ideal decor to help you feel at home from the moment you arrive.
Luxurious communal areas!
As we wouldn't want it any other way, the hotel features a stunning lobby which will be waiting to welcome you on your arrival. The decoration is truly fitting for the location and will help you to experience the essence of Morocco as soon as you walk through the entrance. You will also notice that marble features strongly in the decor of the dark-coloured walls. Absolute luxury!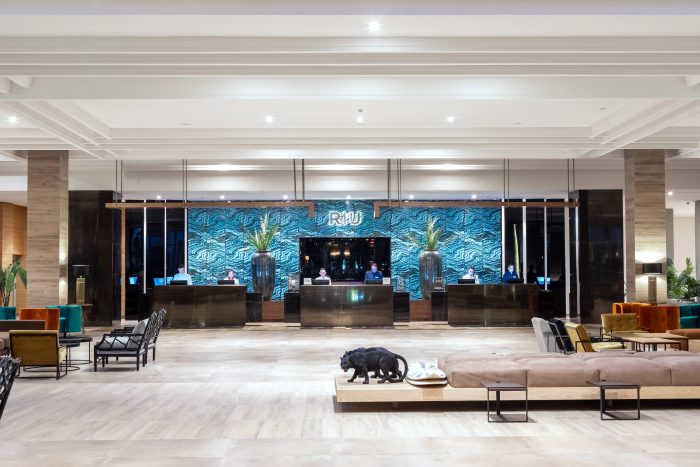 The hotel also boasts nearly 45 thousand square metres of garden where you will come across five enormous and elegant pools with a cascading design. There are also two infinity pools which will make you think you are swimming in the ocean itself. The hotel also has an indoor pool and another pool for young children.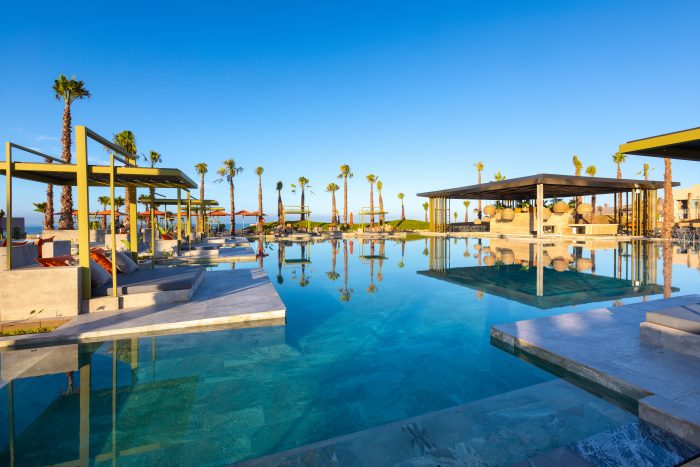 You will be able to enjoy a wide range of cuisine at the new RIU hotel
And as always, the hotel's cuisine will not fail to delight you, as we have something for every taste. The hotel has its main restaurant "Le Tara" which prepares international dishes and three other themed restaurants: the fusion food restaurant "Krystal", the Moroccan "Le Musk" restaurant and the "Bâbor" Steakhouse. You'll want for nothing!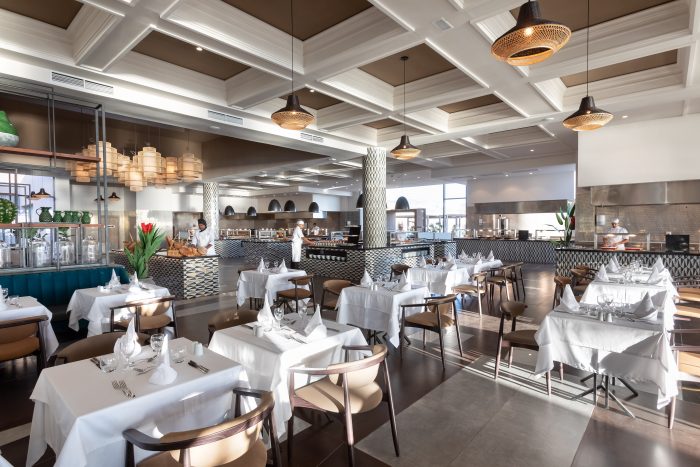 A holiday for the whole family
If you are travelling with your family, worry not, because you will have guaranteed entertainment during your stay! The new hotel features everything you need in order to enjoy your holidays together with your nearest and dearest. The youngest members of your party can enjoy RiuLand Kids' Club, while there will be entertainment during the day for adults and live music and shows in the evenings. Everything is designed to ensure you fully enjoy yourself in this destination.
Do you like our new hotel? We are really pleased with our new Riu Palace Tikida Taghazout hotel and are certain that it has everything you could ever need in order to have an unforgettable stay in Morocco. If you haven't yet visited this location, now you have the perfect excuse! Come and stay at this fantastic hotel!