The opening of our hotels in the Maldives is getting ever closer!
date_range 5 April, 2019
question_answer
40 Comments
We can barely contain our excitement! Months ago we announced the opening of the hotels Riu Atoll and Riu Palace Maldivas that we have built in the Maldives and now, in no time at all, they will be open for business! We are delighted with the result! Would you like to see how these two spectacular properties have turned out? We are so enthusiastic about them that we just can't wait any longer to introduce you to the idyllic new destination we are offering for an amazing holiday.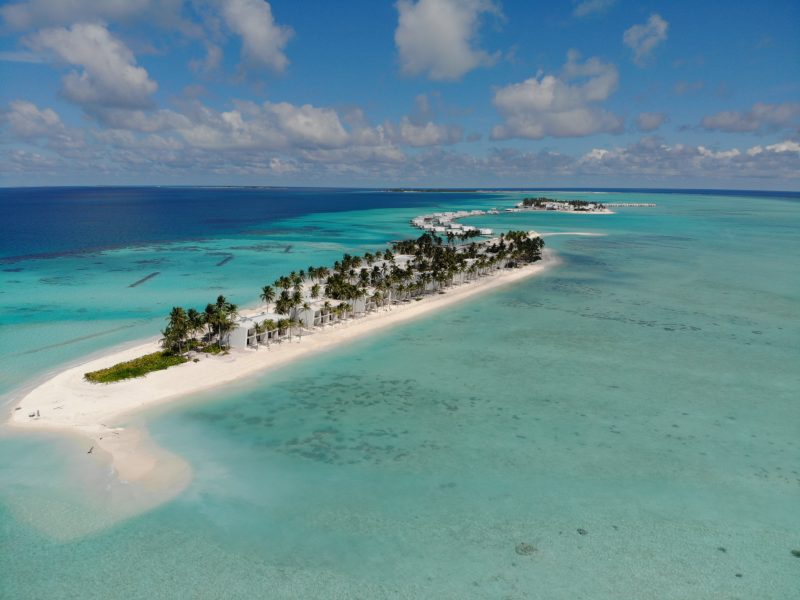 We really could not be happier with this new adventure as it is the first time we have come to this heavenly spot called the Maldives. And what better way to do so than with two hotels? They both share a reception and are connected by a walkway over the waters that connect the private islands of Maafushi and Kedhigandu.
An unprecedented panoramic view over the Maldives
The best thing? The aerial view of the double hotel complex set against the crystal clear waters. This panoramic view shows clearly the paradise of relaxation that we have created just for your and your loved ones. We know you appreciate that you form an important part of all our projects which is why we want to give you a brief preview of how the complex is coming together, a place where the constant factor throughout your holiday will be peace and tranquillity. How can you possibly miss out on this wonder of the world?
What are our Maldives hotels going to be like?
They are not yet completely finished, but the progress and results to date are coming along nicely and we have lots to tell you to help plan your exclusive holiday in this incomparable setting. Did you know that you can already make a reservation? To help you decide we will show you both of the hotels available in the hope you will be among the first to book.
1.      Riu Atoll
This is a 4-star complex comprising 264 fully equipped bedrooms that provide every comfort. There is a total of 36 suites positioned right over the crystal clear waters of the Maldives with direct access to the sea.
2.      Riu Palace Maldivas
This 5-star hotel will have 176 bedrooms including Junior Suites, located in various villas, and 72 exclusive Overwater Suites, positioned right on the water, 24 of which have a private pool. Total luxury!
What to do in the Maldives with RIU?
We have thought everything through to enable you to make the most of your time in the Maldives, as there are plenty of possibilities suitable for young and old alike. Among the facilities there is the Club RiuLand for the little ones while adults can take advantage of the gymnasium, the RiuFit programme, kayaking, snorkelling, and many other activities to ensure that you take full advantage of this marvel of nature.
Also, among the entertainment possibilities we haven't overlooked the evenings, which will feature live music, DJs and beach parties.
Both complexes benefit from 24-hour all-inclusive service and a wide range of culinary possibilities that you are sure to enjoy as you luxuriate in your tropical surroundings. Guests staying at the hotel Riu Palace Maldivas are able to eat in the restaurants located in the hotel Riu Atoll.
How do you like what we are preparing for you? All that is missing now is for you to come along and enjoy it with us. You will be able to switch off from the real world in a paradise that could easily be the setting for a film.  As we mentioned, the grand opening will be this year on 17 May. We are looking forward to seeing you bathed by the sun of the Maldives!