We're already up to two million on Facebook!
date_range 9 April, 2019
question_answer
25 Comments
Everyone at RIU is very happy to have reached the figure of two million followers on Facebook after ten years of activity, throughout which time we have never stopped growing! This is really great news as it is a reward for our commitment to establishing direct contact with each and every one of you; which is why we wanted to share it. It is yet another example of how we have come to form the perfect tandem because, without you, this would never have been possible. Thank you two million times over!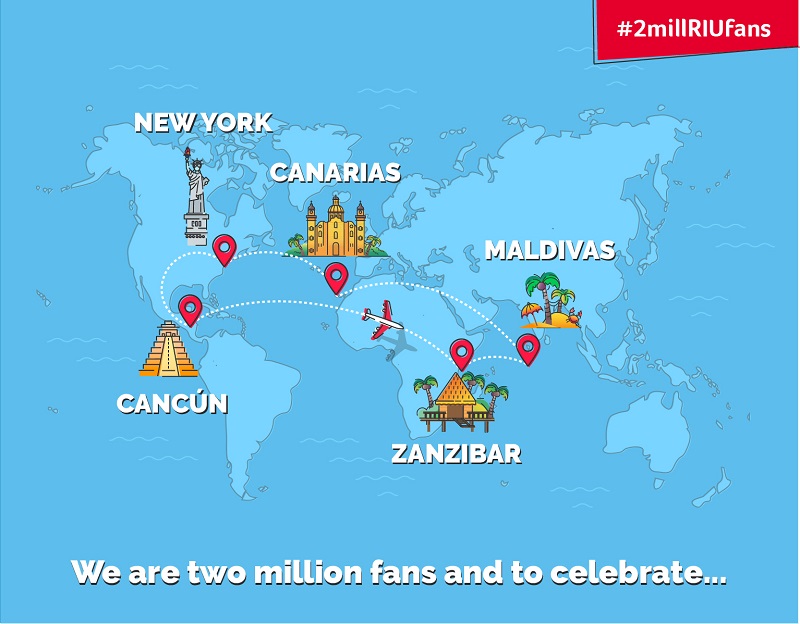 What have we done to celebrate? As a reward for all of our followers who are always there for us and who have helped us to get where we are today, we have launched a competition. We want the winner to take a 'round the world' trip with RIU accompanied by a person of their choice for which we are giving away 5 five-day stays, each of them in one of the hotels we operate across four continents. Would you like a trip around the world with us? Don't hesitate, just enter.
On our behalf, it just remains to thank you for being there and helping us to continue growing, as without your feedback we would never have come this far. Your opinion is what matters most to us! Remember that we are also on: Twitter, Instagram, YouTube and Pinterest.