The Riu Palace Riviera Maya is RIU's final reopening of 2019!
date_range 13 December, 2019
question_answer
10 Comments
2019 is drawing to a close and with it the end of the renovations and reopenings of RIU hotels this year. This year has been a very special one for us, since the chain has edged ever closer to its goal of renewing its entire hotel portfolio. We have not let up for a minute and the Riu Palace Riviera Maya hotel in Playa del Carmen has just reopened its doors following a complete refurbishment which marks the end of this fantastic year.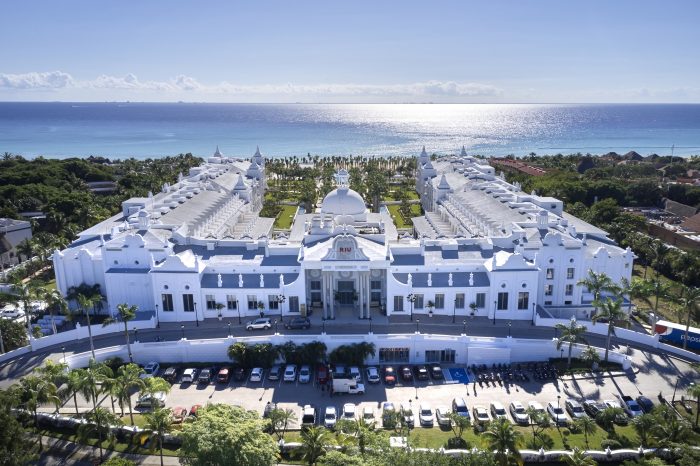 A complete renovation
This emblematic 5-star hotel by the beach has reopened following a thorough overhaul of all its facilities and now features redesigned outdoor areas, common areas and bedrooms. We have not left out a single detail! The bedrooms now boast the new RIU decor we are including in all our latest renovation and construction works. However, this is the same hotel that first opened its doors back in 2006 and retains all its majestic glory.
New cuisine
This reopening has brought with it a much wider range of services! In addition to enjoying RIU's All-Inclusive 24-hour service you will also be able to order room service What a luxury! However, there's more! The hotel now boasts a new Italian restaurant called 'Il Portico'. All the former cuisine is still available, of course, but with a change of aesthetics: the main restaurant 'Don Rafael', the Japanese restaurant 'Yashima', the Mexican 'Agave' restaurant, the pool eatery 'Chilis', and the fusion food restaurant 'Krystal'. To finish up, we simply must tell you about Pepe's Food, where you will enjoy the Grill at the pool area.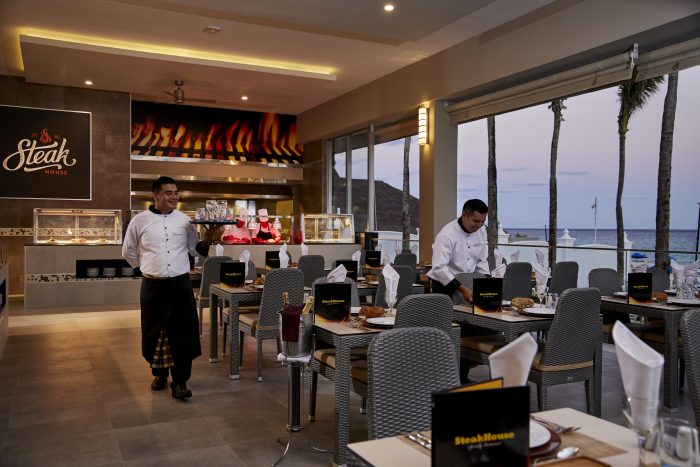 This shakeup has also reached other parts of the hotel such as Lounge 24, the lobby bar, the pool bars and the theatre, which now boast a far more sophisticated look that is truly fitting of the Palace line of hotels. There is also a new addition: the new 'Capuchino' café and ice cream parlour.
Your rest and relaxation is so important to RIU
When anyone goes on holiday one of the main things they are looking for is relaxation and a break from their routine. This is why every one of RIU's hotel renovations focuses heavily on bedroom design. The Riu Palace Riviera Maya hotel now has 460 luxury rooms available for our guests.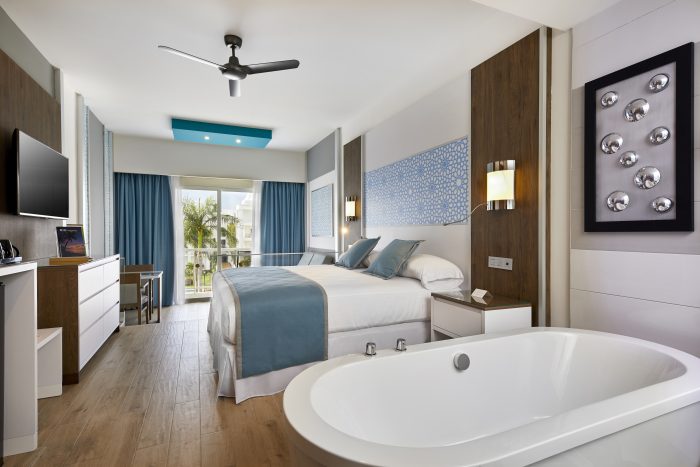 The rooms feature beautiful ceramic tiled flooring with beautifully contrasting walls painted in light tones. There are also a number of delightful decorative elements in blue tones which bring to mind the paradise-like waters of this destination.
Improved entertainment
As well as taking a well deserved break and trying out a wide range of foods, we also make sure to offer you the best possible entertainment. The hotel now has three large swimming pools and one of them even has its own swim-up bar! Adults will enjoy daytime and evening entertainment put on by the entertainment staff and will be able to try out the new RiuFit space! They will also be able to attend the Riu Party, which is held once a week at the Riu Tequila hotel.
But what about the youngest members of our group? The newly renovated hotel has a special place for children: the RiuLand Kids' Club. They are certain to make new friends while playing in these completely updated and enlarged facilities where they can splash about in the children's pool and use the slides and enjoy water games.
This latest reopening is very special to RIU since it brings to an end a fantastic year of refurbishments. If you are still undecided about where to spend your next holiday, why not choose the elegant Riu Palace Riviera Maya hotel situated in an unbeatable setting. We look forward to seeing you there!