TOP 12 must-sees in Fuerteventura
date_range 21 March, 2022
question_answer
Leave your thoughts
Today we show you the top 12 must-sees of Fuerteventura through the eyes of our dear Mónika Araujo, creator of the well-known blog Viajando con Mami (Travelling with Mummy) and author of today's post. It's been ten years since she started this adventure in which, through her posts, she introduces her readers to the different places she visits, giving them ideas, tips and keys to the trips she makes accompanied by her daughter and husband, who works as a photographer. She specialises in family tourism and, if you want to know more about her work, you can visit her Instagram @viajandoconmami where she also shares her experiences through beautiful videos and images, you'll love it! Now you know who our guest author is, don't miss the 12 must-see places recommended by Mónika from Fuerteventura:
If I had to describe Fuerteventura, I would definitely say that it is a beautiful island, truly mind-blowing and full of amazing contrasts. Fuerteventura is a great island, one of those that leave their mark, from the north to the south, it is beauty in its purest form and worthy of admiration.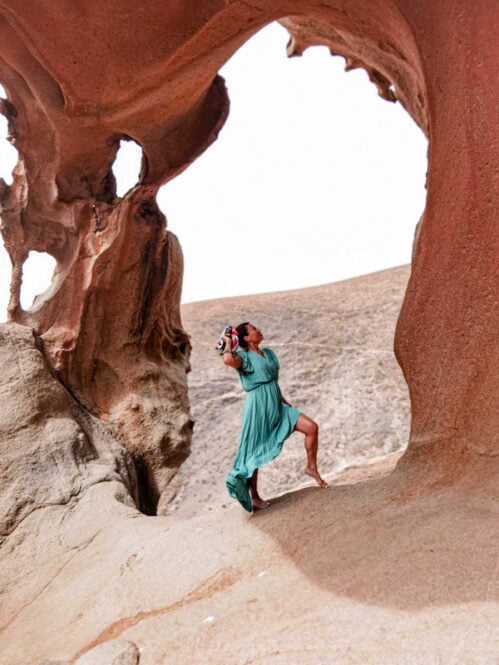 Its diverse beaches, landscapes and even small villages are clear examples. To discover these stunning treasures and these enormous contrasts, how about taking a look at these TOP 12 must-see places in Fuerteventura?
TOP 12 must-sees in Fuerteventura
Beaches of white, black or golden sand, some with pebbles, others sandy, with or without waves, white villages as if you were in Ibiza or, in some cases, even in Greece.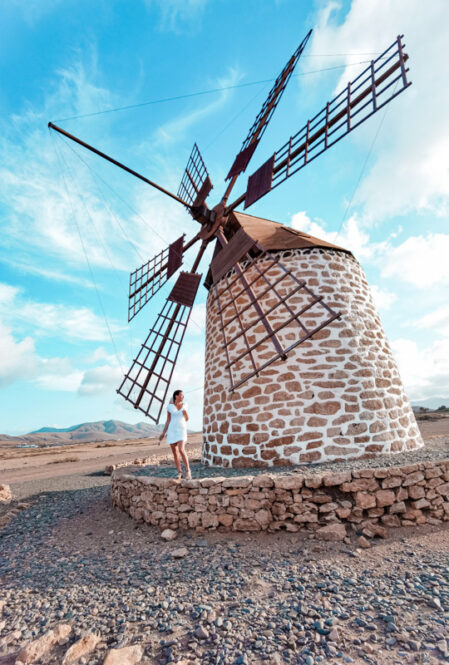 Imposing windmills, iconic and friendly goats and, of course, landscapes that feature in major films, desert landscapes with huge dunes or large rocks, oases like something from the Sahara desert and food worthy of the gods themselves. So, if you want to discover these contrasts and enjoy them for yourself, here are 12 TOP must-sees on the island of Fuerteventura that you definitely shouldn't miss.
Las Peñitas Ravine and Arch
When I told you that Fuerteventura is a huge film set, I wasn't joking. Did you know that the film The Eternals was filmed here? The mind-blowing Peñitas Ravine is the star of some of the most beautiful scenes, and it's no wonder. This spectacular scenery will take your breath away.
The Peñitas Ravine
The Peñitas Ravine is one of the most interesting natural landscapes on Fuerteventura and for me, one of the most impressive and beautiful places on the whole island.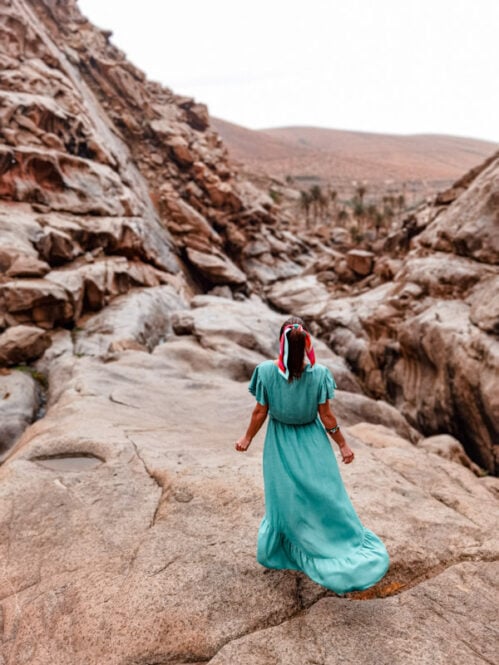 I recommend starting the Ravine trail from the south. If you do it this way, near the beginning and very close to the car park, you will find a group of large palm trees that will immediately catch your attention because they look like a real oasis among the rocky desert landscape. The trail starts on the left-hand slope and you will see that the path is designed for a comfortable walk. Halfway down the route, you will find the beautiful Virgen de la Peña hermitage. If you go carefully, this trail is suitable for all ages, so don't hesitate to follow it with your children.
The Peñitas Arch
While it is true that the Ravine path is comfortable and easy to access, the Peñitas Arch on Fuerteventura is not so simple. Climbing to the top is not straightforward, as you have to negotiate a steep climb with large boulders and no easy path.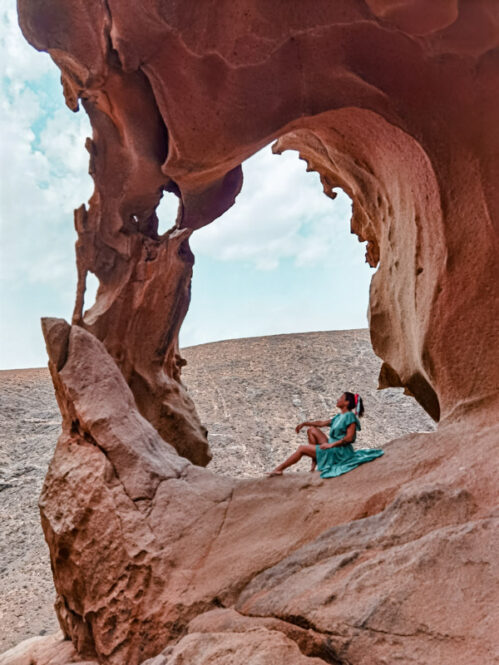 Go up the rocky mountain cautiously and without rushing because, even if it takes a little while, the treat that awaits you at the end is well worth the effort. Have you seen the Peñitas Arch that I illustrate in the photographs? Well, it's insanely beautiful, a place that I would describe as breathtaking.
Sotavento Beach
Fuerteventura has some of the best beaches in Spain. For me, the most spectacular and incredible beach on the island is called Playa de Sotavento.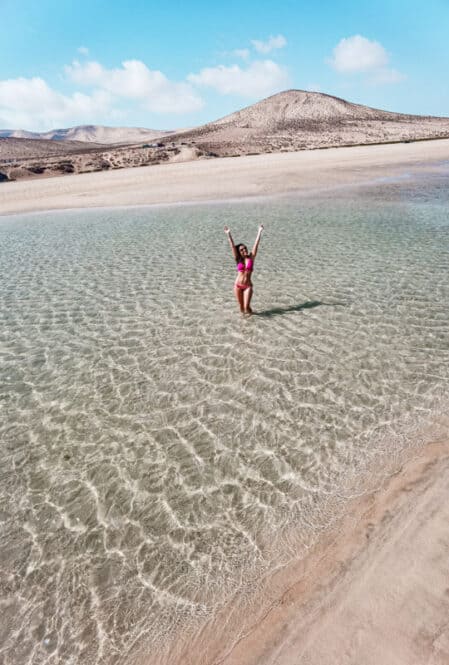 Although in a large part this is because of its recognised world championships in windsurfing and kiteboarding, I love it for a different reason. Can you imagine finding a beach on the island that looks like something from the Caribbean? It is a huge beach with crystal clear waters and white sand, located south of Costa Calma. The most typical spot, coveted by travellers, is the Barra de Arena, or sand bar, which is located between 100 and 300 metres from the shore, is more than 3 km long, and creates a beautiful shallow natural lagoon. A delight for all the senses.
Sunset at La Pared
La Pared is a place dominated by a beautiful beach and impressive cliffs, from where you can enjoy a truly dreamlike sunset.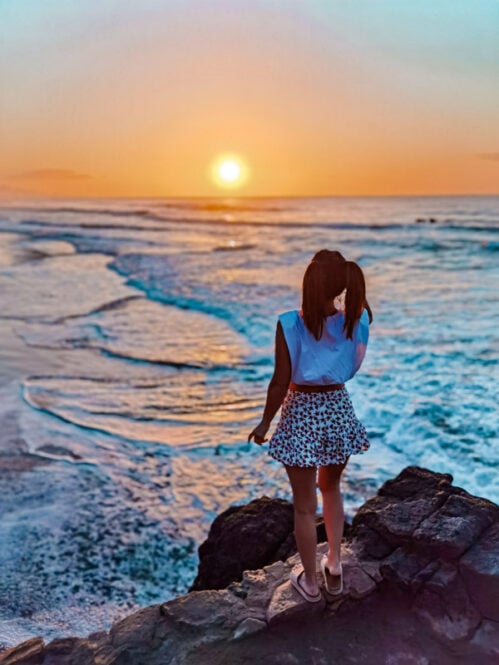 La Lajita
La Lajita is a small coastal village in the municipality of Pájara. Here you will find a small black sand beach, but this time it is not the beach that attracts my attention most, but rather the beautiful structures of the old houses surrounded by numerous little fishing boats.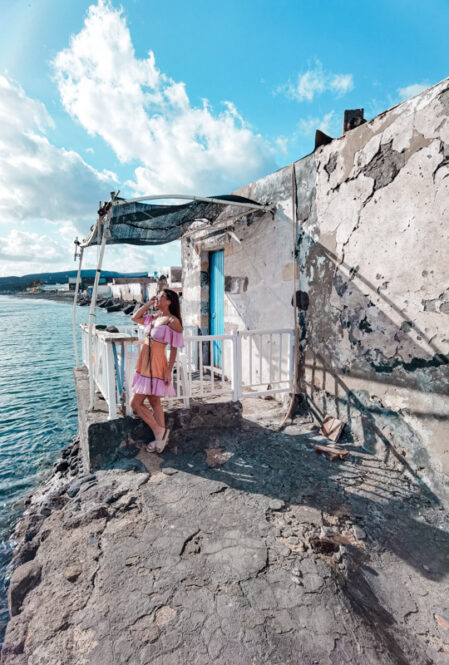 Boat trip with
You can't leave Fuerteventura without enjoying a nice boat trip. This time we are talking about one of  most special excursions. Are you ready to go whale and dolphin spotting, then jump on board, because on this trip you're almost guaranteed to see them.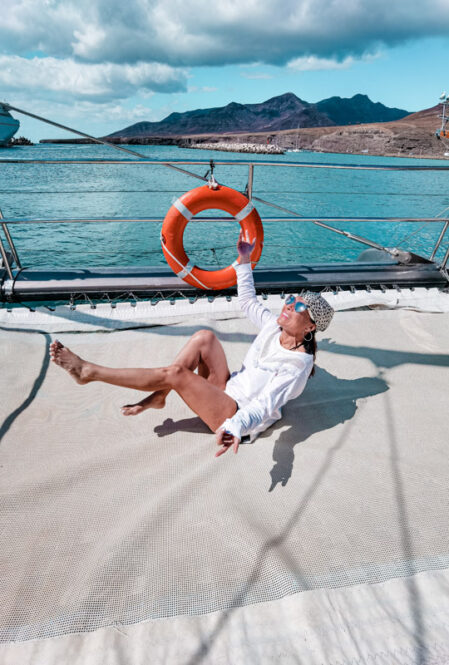 4X4 in Cofete Natural Park
Having an adventure in Fuerteventura is possible thanks to the enormous variety of excursions that you can take all over the island. On this occasion we did one of the best.
The 4X4 tour through the Cofete Natural Park was a great success. A wonderful experience that lasted 4 hours and which was a lot of fun, also giving us the opportunity to discover the great beauty of this stunning Natural Park. This excursion is highly recommended, it is suitable for everyone and is one of the must-do's on the island if you want to "Enjoy the beauty".
Cofete Beach
One of the great discoveries on our 4X4 excursion through the Natural Park of Cofete was its amazing beach.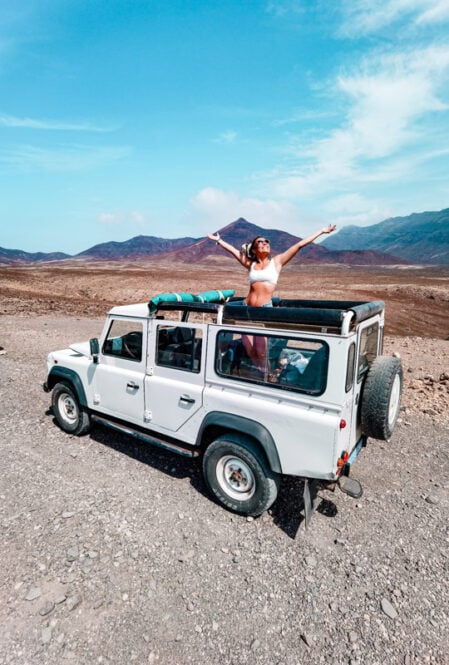 The most famous wild beach in the Canary Islands, Cofete Beach is located within the Cofete Natural Park, and although it is not suitable for bathing, a stroll along it is a real showstopper. If you want to enjoy an unspoilt beach brimming with nature in its purest state, this is undoubtedly the beach for you.
Betancuria
Betancuria, is the capital of the island and it is a pretty village full of white houses, with a church that crowns the square. In addition, in Betancuria you will find lovely restaurants like "La Sombra", whose tasty goat burgers I can't recommend highly enough.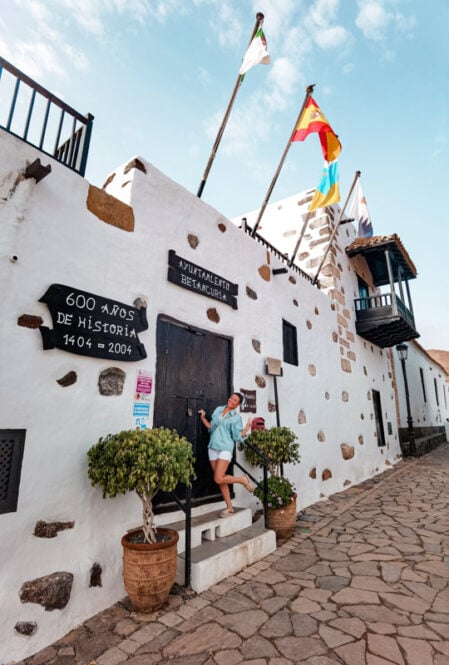 Corralejo Dunes
Regarded as a symbol of Fuerteventura, they are located on the north coast of the island. There you will find approximately 2,500 hectares of beautiful desert that stretch onto a coastline lined with beautiful beaches.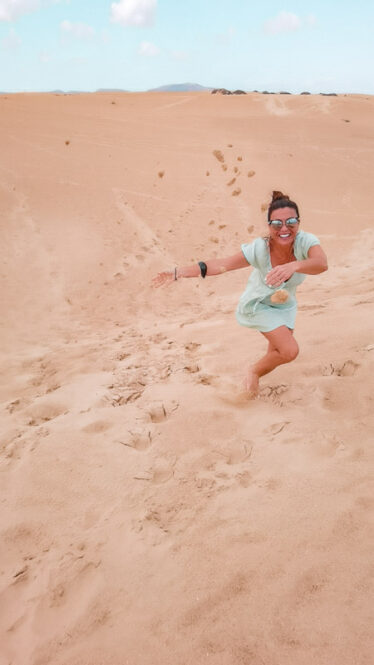 The dunes as well as the beaches are also known for being quite windy, but even so, this place is a natural wonder whose natural beauty makes it unmissable.
Las Playitas
The name, "the little beaches", already indicates that this place has several sandy coves, but the most outstanding and amazing part of the area for me is, without a doubt, its beautiful village. Head for the harbour and you will suddenly feel like you have travelled to another world.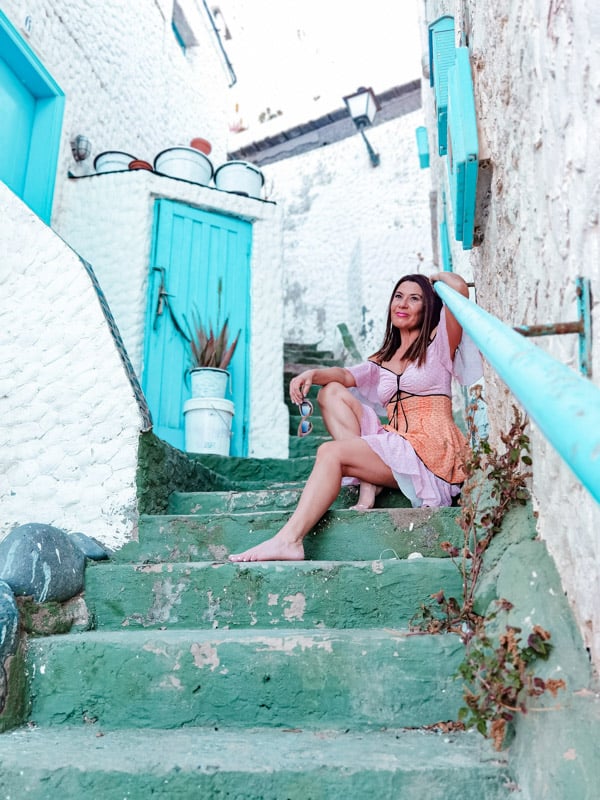 Little houses with narrow passages, blue doors, flower pots and corners that look like so Grecian they will surely win your heart.
Cotillo
Some of the best beaches on the island are to be found in Cotillo. You will also discover a beautiful fishing village and, of course, a wide variety of restaurants where you can sample fresh fish. If you wish, a trip to Cotillo can be an exceptionally tasty experience.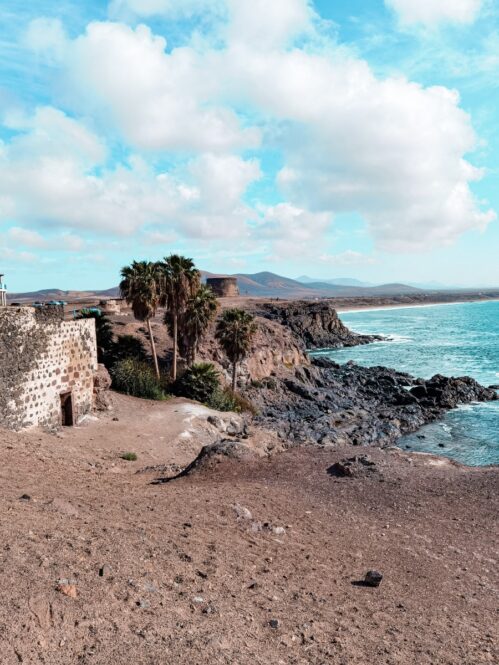 Sunset at Los Molinos Beach
Another must-see sunset in Fuerteventura is undoubtedly the one you can enjoy from Los Molinos beach.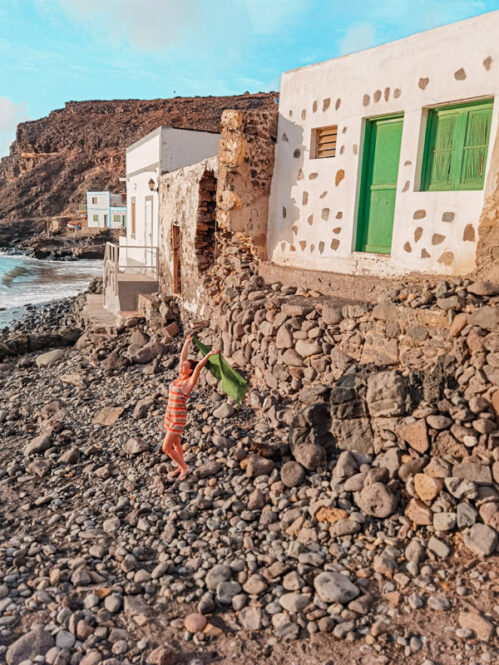 A pebble beach surrounded by fishermen's cottages that will surprise you with its resemblance to many of the fishing villages around the Aegean Sea and the famous bohemian magic that can be found in Ibiza.
As you can see, Fuerteventura is so much more than just beach, it is tradition, contrast, beauty and spectacular nature, it is the next destination you should visit, at least once in your life.