Dare to meet Atrevido!
date_range 13 April, 2022
question_answer
Leave your thoughts
You still don't know who Atrevido is? Atrevido (meaning "bold" or "daring") is the name of the now-famous white bull located on the 360º terrace of the Riu Plaza España Hotel. It has been several months since his arrival and we have finally given him a name! If you don't know him yet, we encourage you to come and have an appetiser on our terrace and find this sculpture that presides over one of the corners of the most coveted terrace in Madrid.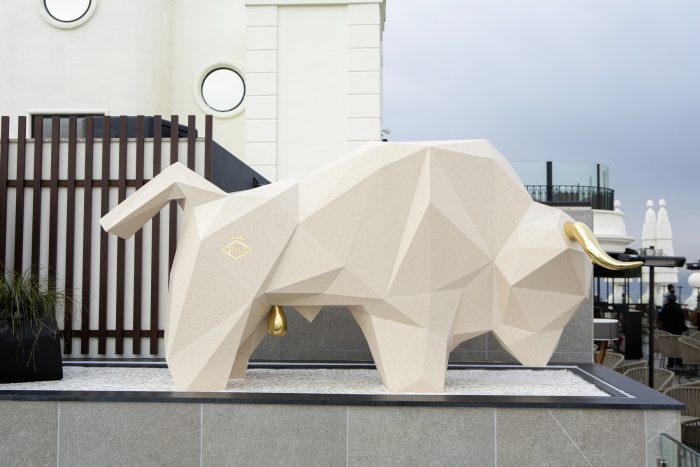 How did we choose a name?  
Why Atrevido? The story of his name begins in a special social media campaign. Our followers were charged with naming the sculpture through a contest and the winner was… Atrevido!
We couldn't be happier with this name as it symbolises the overall experience you will live on the terrace. And why is that? If you haven't been there yet, you should know that, as well as having an appetiser on the terrace of Hotel Riu Plaza España, you can also visit the two areas where only the most daring dare to set foot: the glass walkway and the suspended balcony that offer unique views of Plaza España. And what better guardian for this space than Atrevido?
Take a picture with Atrevido!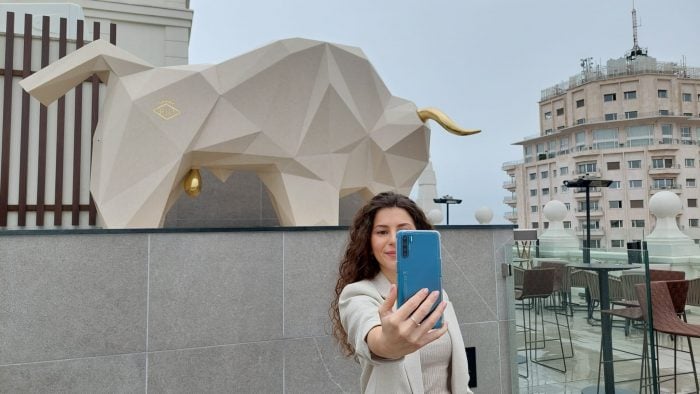 Now you know! In addition to the photo on the glass walkway, you can't leave the terrace without taking a photo with our beloved Atrevido, he will be happy to pose for you. Everyone passing by takes a snapshot – now it's your turn! Some people rub his testicles following the tradition of the famous Wall Street Bull. Legend has it that by doing so, good fortune will come to you. Who knows? Maybe our beloved Atrevido will bring us more joy than we thought.