Meet the directors of Riu Plaza!
date_range 2 October, 2020
question_answer
2 Comments
As you know, we are currently celebrating the 10th anniversary of Riu Plaza. We have already told you about the history of these city hotels and our upcoming projects. Today we want to dedicate a special post to the team, so we are going to introduce you to the directors of the Riu Plaza hotels, as they are the ones who make it possible for these establishments to operate perfectly every day. Don´t miss out!
Riu Plaza Panama – Javier González
Javier Gonzalez started at RIU in 2010, a few days before the opening of the Riu Plaza Panama, the first of the Riu Plaza hotels, which forms the cornerstone of this great project. So, like he says, it's his RIU anniversary, too, so congratulations Javier!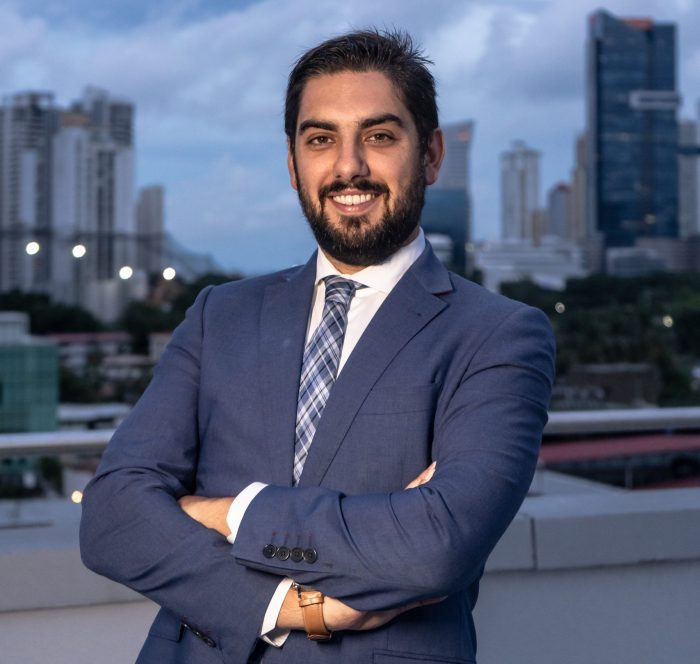 Before becoming the director of this hotel he spent five years working as the Assistant Director of Operations and Deputy Director at the Riu Palace Pacifico, in Puerto Vallarta. After that, he worked at the Riu Plaza Guadalajara hotel and then arrived at the Riu Plaza Panama as the Director, the position he currently holds.
For Javier "working in Riu Plaza is deeply demanding yet rewarding at the same time" and "at a professional level it has been both a challenge and a source of pride." He also wants to highlight the work of his team, which he says is "an excellent group of professionals who are always at the service of the many and varied clients who visit the Riu Plaza Panama." For Javier, the most important thing is that "a client who visits a city hotel is completely satisfied and comes back with a guarantee of quality." We are sure that in his hands it is guaranteed.
Riu Plaza Guadalajara – Olivier Cramail
Olivier Cramail started at RIU in 2010 as the Food and Drink Manager at the Riu Plaza Panama, so he has been part of this exciting project since its inception. Moreover, he himself claims to have entered with great expectations of "participating in the positioning of a new brand in a very competitive market." Olivier is a great example of effort and determination. Now, after seven years in Panama, he is starting his next stage in the Riu Plaza Guadalajara as Director, a position he has held for the past two years. Olivier explained to us that when he arrived at his new posting he was astonished, because for him "it was impressive to see how, in just one year, the company was able to learn from and understand its initial mistakes", this being "the result of a great company with fantastic professionals". Olivier talks with great pride about the massive evolution that the chain has undergone in these ten years of Riu Plaza. He is very proud to work for RIU and, of course, we are proud of him, too.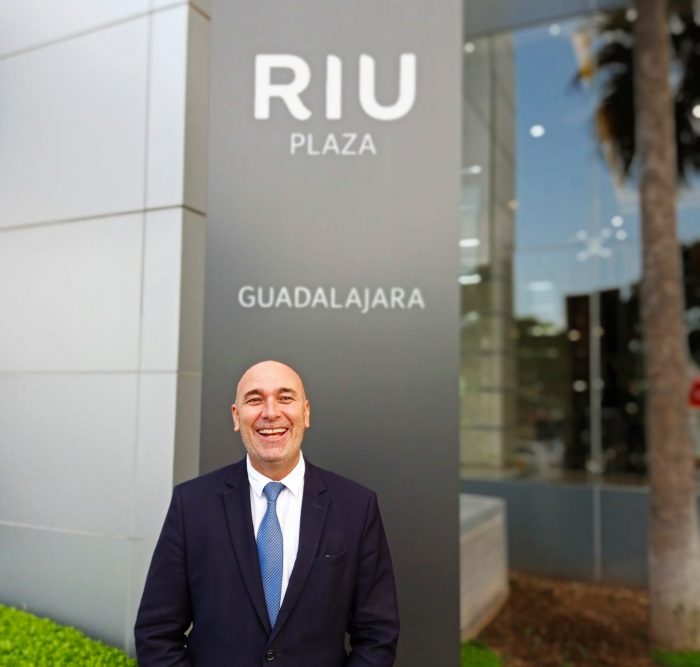 Riu Plaza Miami Beach – Bernardo Naval
Bernardo Naval began his journey at RIU in 2012, as the merchandise reception supervisor. He was so successful that within two months he had packed his bags to do the same job in the Bahamas and Jamaica. One could say that Bernardo has traveled the world with RIU as he was also in Cuba, and then held the position of Assistant to the Caribbean Operations Director for three years. In the latter, he explains that he "had the opportunity to see how hotels work in their day-to-day operations, the interdepartmental relations, and to benefit from the experience of one of the company's Top 5 by years of service, Alejandro Sánchez del Arco, Director of Operations." Subsequently, and after having been promoted to Deputy General Director at the Riu Palace Jamaica, in 2016 he joined the Riu Plaza Miami Beach as Director.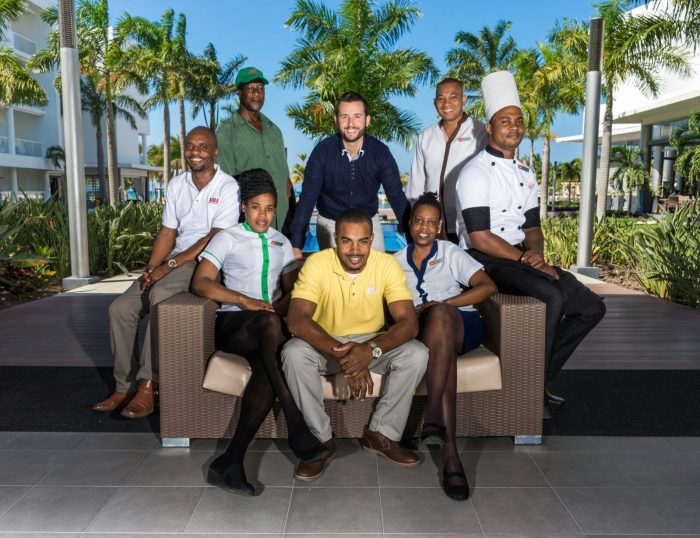 After having gained experience in resort hotels, he stresses that the main difference between the two is the type of clients and the exclusive location "that offers multiple attractions for all types of clients who come for whatever reason." He also says that "we must be very flexible because the clients are very diverse and have a variety of different needs", and that "one day we may host a white wedding and the next day we could be holding an event for senior executives from one of the most important financial firms in the country."
Bernardo started as Director when he was just 30 years old, something that has provided him with several interesting anecdotes, like when clients ask for him and then are surprised when they meet him, because they never expect him to be so young. For us Bernardo is an example of the fact that talent and experience do not necessarily go hand in hand with age.
Riu Plaza Berlin- Manuel Cid
Twenty-five years ago, Manuel Cid was working for the chain as a receptionist in Lanzarote. Some time later he joined the 5th edition of the RIU Director training program, and after a couple of years of employment in various hotels and resorts in the Canary Islands, he began as a production manager in the Hotel Riu Don Miguel. He remembers it as "an amazing experience in a hotel known for its outstanding value for money." He then went on to work in other destinations, such as Madeira, which he is particularly fond of because he says he participated "actively in the social life of the island and made friendships that will stay with me forever."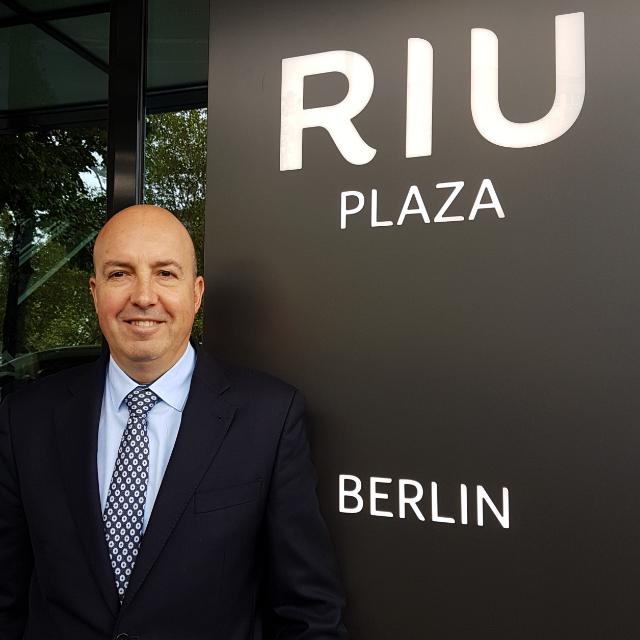 It was in 2017 when " the possibility came up to make a change of course both professionally and personally. The company had launched the innovative Riu Plaza urban hotels and offered me the opportunity to manage the Berlin hotel, which had been open for a year and a half and was the chain's first establishment in Europe." After several years dedicated to beach destinations, Manuel decided to meet this new challenge in Berlin and now says that "it is amazing being able to live in a city like Berlin, of course it is very different from what I experienced previously, but that is precisely what makes it interesting." At RIU, we applaud his ability to adapt, because he has talked to us about each destination with great fondness. Finally, he wants to encourage you to visit his destination, and of course, the hotel. He says you won't regret it, and we, of course, believe him!
Riu Plaza The Gresham Dublin – Paul McCracken
Paul McCracken was already the Director of this hotel when we acquired it in 2017 and turned it into the Riu Plaza The Gresham Dublin. The day RIU unveiled this establishment, he made a beautiful speech in which he spoke of "the new era of the hotel", which at the same time was celebrating its 200th anniversary. It is one of the most historic hotels in the city, located in Dublin's iconic O'Conell Street.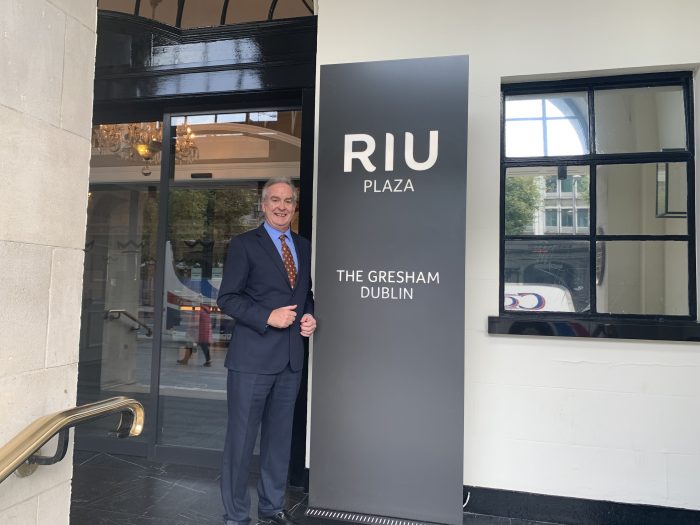 In that speech, he also said that both he and the team that made up the hotel were "very excited about this new phase, because when it was announced that RIU was finally buying the hotel we knew that the future of the hotel was assured." Now, three years later, he is still with us. Undoubtedly, even if we blindfolded him, he would still recognize and be able to navigate every nook and cranny of this hotel he has left his stamp on. We are honored to have you on the RIU team as we know that the Riu Plaza The Gresham Dublin could not be in better hands than yours.
Riu Plaza New York Times Square – Katharina Doehler
Our beloved Katharina Doehler has been at RIU since 2005 in the Riu Ocho Rios where her story with the chain began when she was only 23. After ten years on that island, where she also worked at the Riu Negril and Riu Montego Bay, she moved to Miami to work at the Riu Plaza Miami Beach hotel. It was in 2016, 11 years after she joined the chain, that Katharina came to the Big Apple as the director of the Riu Plaza New York Times Square.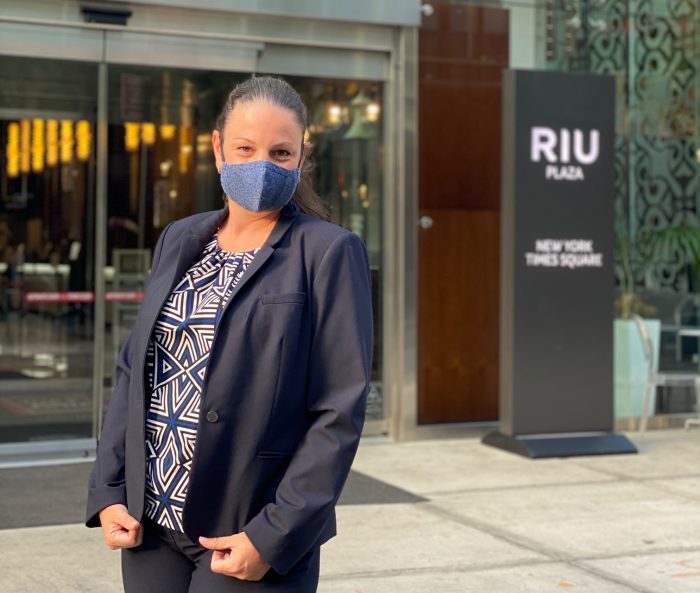 Even after her many years with us, she confesses that she cannot decide between the beach and the city. According to her, "one has to appreciate both and enjoy the best of each world. I have enjoyed the beach, the weather, the sun, the relaxed life and the slow pace of everything while living in the Caribbean, but living in the city and having everything you need within walking distance is not bad either." For her, living in New York is like being on "a Hollywood movie set" and one of her first memories when she had just arrived in the city is "when we had a false fire alarm, the FDNY showed up within minutes, but they couldn't leave straight away because the guests were lining up to take photos with them and the fire truck.
Katharina, who since her beginnings at RIU has stepped up to the plate, is the only female director of a Riu Plaza, for now…
Riu Plaza España – Manel Jaile
In 1997 Manel Jaile joined the RIU chain as the Director of the hotel Riu Palace Maspalomas where he stayed for about four years. After that, he became the Zone Delegate for the island of Gran Canaria, a period that he remembers with great affection and nostalgia. We can say that he is one of the chain's islanders, since he has spent practically his entire career with us in the Canary Islands. In fact, he also managed Lanzarote and Madeira for a while, both times as Delegate. After several years of dedication and effort devoted to the islands, he got the opportunity to go to Madrid as the Delegate and General Manager of the Riu Plaza España, which opened its doors last year.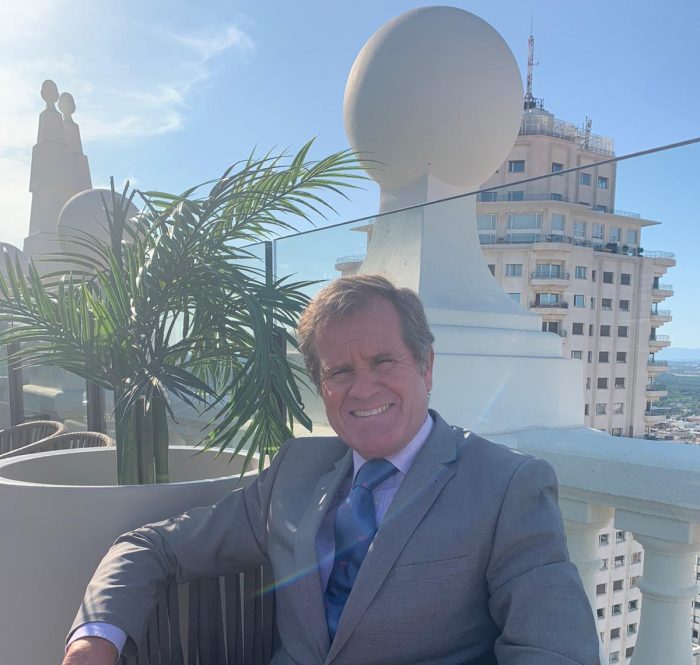 This is not Manel's first time in a city hotel, since he had already managed a number of hotels in his time working for other chains. Although, as he says, despite that previous experience, managing the RIU hotel in Madrid "has been a new personal challenge for me in terms of motivation and knowledge of how RIU manages city hotels." Now in charge of this great hotel, we can say that he has gone back to his beginnings. He has already had many special moments in Madrid, the most important being the opening of the hotel, which for him was "enormously motivating and very exciting because the company was relying on me to open this great hotel." In addition, he emphasizes that it is "a building that means a lot to the city, for the residents it represents a historical monument that has come back to life." Manel also wanted to highlight the "amazing human and professional team that has been created from scratch."
Between laughs he says that in the hotel "so many things happen every day that I could write a book", but what has struck him the most is the media coverage and the success of the 360º terrace that gets up to 4,000 visits a day. Without a doubt, this successful hotel that presides over the Plaza de España in Madrid is a reflection of the outstanding Director behind it, as well as his team.
Riu Plaza Fisherman's Wharf – Javier Huertas
The last person we are going to introduce is Javier Huertas. He is the newest Riu Plaza Director, as he has only been part of this project since the acquisition of the San Francisco hotel last year, but he is already part of this great family! Since his arrival he has had to tackle the change of brand and to cope with this, according to him, he has, in just a few months, had to "raise the quality levels of an establishment that has been operating in the same way for almost 44 years, up to the standards of a Riu Plaza hotel. Without the support and commitment of the corporations, this would have been almost impossible. Both the RIU team and the employees of the old hotel have been able to adapt to the new operation and style of Riu Plaza." His experience in a city hotel has been brief so far, as shortly after his arrival he had to face the crisis caused by the COVID-19 pandemic that led to the closure of the hotel.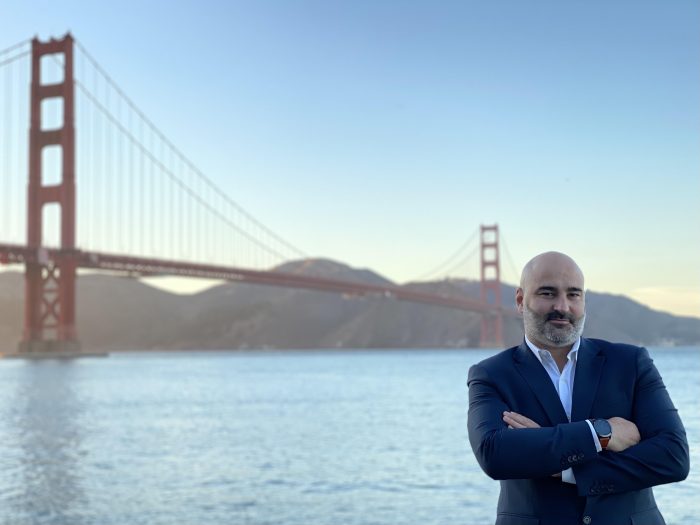 But do not think that his story ends here, because he has been at RIU since 2011, when he started in Puerto Vallarta as Deputy Director, then moved to Jamaica as Deputy Director and where he later became Director. For him, "working in an expanding chain is very stimulating because the growth is something tangible and it makes you feel part of the project." Without a doubt, thanks to people like him, our projects succeed, especially because of the strength they bring to bear in difficult times when they show that the hotel teams are small families that together make up RIU.
At this point, we would like to thank you all for the tremendous effort you make every day to ensure that the hotels are able to move forward, and, above, all for your energy during these difficult months. These people, who are always looking after the entire hotel team and all its visitors, deserve this small recognition. Happy anniversary to all of you!