Riu Plaza is 10 years old!
date_range 29 September, 2020
question_answer
Leave your thoughts
An emotional sense of joy and pride are the words that best describe how we feel now that Riu Plaza is 10 years old! It was in 2010 when the RIU chain opened its first city property with great enthusiasm for a new project that was a world apart from its traditional beach hotel destinations.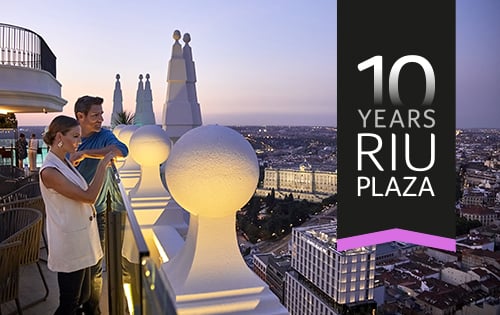 Now the chain can look back on ten marvellous years of city tourism starting with the Riu Plaza Panama and then adding seven more properties located in some of the world's leading cities: Guadalajara, Miami, Berlin, Dublin, New York, Madrid and San Francisco. The chain therefore has eight city hotels in total:
RIU notches up 10 years of city hotel experience
If we look back to when it all began it is clear that, despite the chain's long track record, RIU was branching out into totally unknown territory which has now become an essential pillar of the business. Back then it was an unprecedented challenge, in that RIU was taking on a project requiring entirely different knowledge from that gained through operating holiday hotels. The client base, marketing and almost all of the operational details had to be revised in order to adapt to the needs of the city.
Corporate travel
The Riu Plaza range of hotels gives you the opportunity to visit some of the world's leading cities, either for leisure or a business trip. Another of the major innovations these hotels provided us with is that they are perfectly equipped (with meeting rooms, conference facilities, work spaces, banqueting services, etc.) for your corporate events and social celebrations. Riu Plaza hotels feature modern and innovative facilities to ensure your trip is successful, be it for business or pleasure.
Central location
Another of the great advantages is that these hotels are ideally situated for getting to know the city as they are always centrally located close to all the main points of interest. We are delighted to have a presence in these destinations and to help you in making the most of your tourist experience of the city.
Upcoming Riu Plaza destinations
The Riu Plaza story does not end here as the chain continues to write new chapters of this wonderful book. RIU is currently working on opening three new city hotels: a second one in New York, another in London and one in Toronto. It only remains for us to add how enthused we are with the idea that the Riu Plaza range continues to expand and that you remain at our side to see it happen and to help us with our growth.
Happy birthday to Riu Plaza!